It's a dark night on the Juan de Fuca Strait. A few distant buoys are flashing. The wind whistles down at near-gale force speeds and the tide is ebbing fast, creating strong currents. An outbound cargo ship, its outlines lit and green starboard light winking, is moving west toward the Pacific Ocean. A Victoria-based pilot launch (a type of boat) lurches through the whitecaps, ready to collect the onboard coast pilot (an expert in navigation and seamanship) from the ship. As the launch thrusts its fenders against the ship's hull, the pilot, wearing a lifejacket and a water-activated strobe light, clambers down a 30-foot rope ladder that bangs back and forth against the ship's steel surface. Once the pilot nears the ladder's bottom steps, the launch moves forward and the pilot must time his step onto the launch as it heaves up in the swelling waves. The launch's deckhand is there to steady him.
"Ships' ladders are regulated," says Capt. Nathan Boutilier, one of marine pilots based out of Victoria. "The International Convention for the Safety of Life at Sea [SOLAS] stipulates that if a ladder's length exceeds nine metres, the ship must combine it with a metal gangway, called an 'accommodation ladder.' Once you descend that, you step onto a shorter rope ladder. And the ship's always moving. Naturally, I prefer conditions to be dead calm."
"The ladder doesn't bother me," says Capt. Greg Keeling. "I've gotten used to it." But Capt. Peter Vivian views the "on-and-off boarding" the trickiest part of a pilot's life. "If the swells are high, it's a very big step to get on and off the ladder. You move from a stable to an unstable platform." He points out that, in the last year, two marine pilots died in Sandy Hook, New Jersey, both by falling off ladders.
"Obviously, we take such accidents very seriously," adds Capt. Roy Haakonson, who's serving a two-year term as the Coast Pilots' president. "The fatalities have motivated the International Marine Pilots Association to again launch a campaign to gather information on how closely vessels follow the SOLAS regulations."
Fortunately, the last BC ladder fall took place in 1997, when a rotten rope ladder broke apart while Capt. Fred Denning was mounting it. He was dumped into the 4°C water at Triple Island, the Prince Rupert pilot station, but wasn't seriously hurt.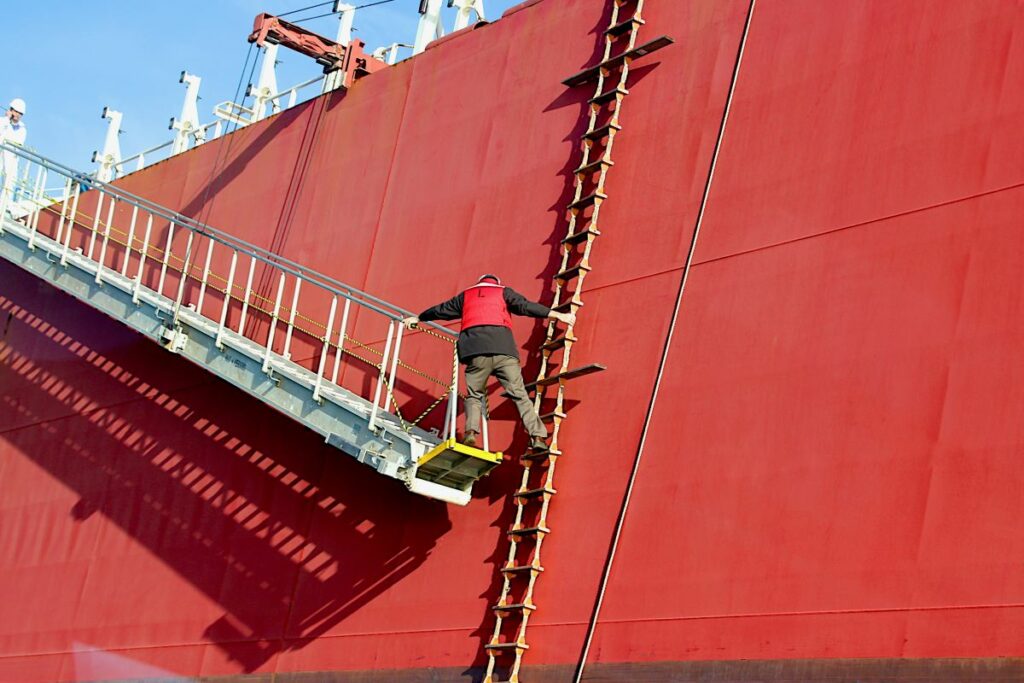 With more than 6,000 islands, British Columbia has a longer coastline than any other Canadian province, 15,000 kilometres, or roughly three times the width of Canada at its widest. Pacific Ocean gales and storms buffet the reef-littered shores often shrouded by heavy fogs. Strong tides and currents course through hundreds of narrow waterways and fjords. Many a ship has foundered on this turbulent coast. That's why, like most countries, Canada legally requires any foreign-registered ship exceeding 350 tonnes to take a pilot aboard to find the safest route through our local waters. Pilotage in BC has been compulsory since 1875.
BC Coast Pilots Ltd. provides the service, with about 120 licensed pilots as shareholders. The company has a contract with Pacific Pilotage Authority Canada, a crown corporation that sets pilotage rates and enforces regulations. "We are mandated by the Government of Canada," explains Haakonson, "as a single service model to protect ship-and-crew safety, the environment and the efficient movement of goods. As such, we're never under commercial pressure to cut corners. To make sure conditions are safe, a pilot can ask for extra tugs or delay leaving a dock."
Pilot boarding stations are distributed around the province and include Sand Heads, off Steveston; Brotchie Ledge near Victoria; Cape Beale serving Port Alberni; Triple Island serving Prince Rupert; and Pine Island, off Port Hardy. Pilots also board vessels in Vancouver, Canada's busiest port. In 2019, its facilities handled 144 million metric tonnes of cargo, transported by such freighters as dry bulk loaders, container ships and tankers.
Pilot fees pay for Pacific Pilotage and pilot expenses—taxpayers don't contribute a cent. A ship's piloting costs depend on size and destination. According to the Pilotage's Paul Devries, a ship, say 190-200 metres, sailing from the pilot pick-up location at Brotchie Ledge off Victoria to Vancouver, pays a basic fee of around $2,400. Added to that cost are fees for the number of hours a pilot spends aboard, approximately $1,800, plus pilot boat fees and other incidentals. The tally for that one run into the Port of Vancouver is $5,600. If the ship requires assistance from tugs while sailing or berthing, additional fees are incurred. Pilot travel and accommodation expenses are also added to the final bill. Larger cargo vessels pay proportionally higher fees and expenses. And ships cannot clear Customs until fees are paid.
What do foreign vessels receive for these fees? Safety. No captain or crew can know the intricacies of the waterways and ports where they deliver and collect them (90 percent of the world's goods are transported by ship). Therefore, pilots, using their training, experience and technology fulfil the need for local knowledge. "Deep-sea vessel crew aren't fully trained in ship handling," says Boutilier. "That's what we do. We determine the safest route to port. We're very conservative in our decision making."
The schedule pilots keep isn't nine-to-five. They're on call for 20 days, then off for 10. They must have 12 hours off between shifts and, if their voyage lasts more than 8 hours—for cruise ships, for example—two pilots go aboard to ensure maximum safety. They average from 11 to 15 jobs on a 20-day shift.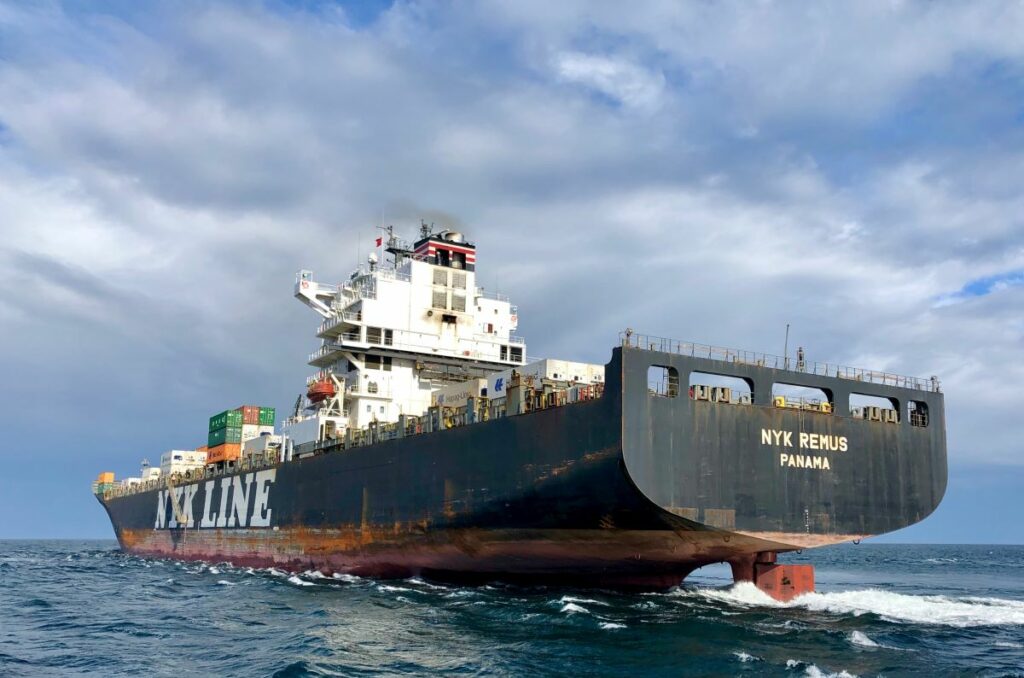 To become a pilot, the background and training requirements are formidable. To qualify, he (and until now, only men have served) must earn a combination of seatime (at least 1,000 days as mate and 637 days as master on the BC coast), mariner certifications from Transport Canada and an intimate knowledge of the coast. Most pilots have salt in their veins and start their seafaring long before they envisage piloting as a career.
"As a kid, I began working summers on fishboats," says Haakonson. "I fished in the Bering Strait's halibut fleet. Then, after a four-year stint on tankers in the Beaufort Sea, I went back to fishing, until a pilot—a guy with a tie—recommended I look into this career path. It looked like a cool job. I've been a pilot now for 20 years. I love the job."
Boutilier followed a similar track. "I was a deckhand at 15 on commercial fishboats," he tells me. "I was always on boats. I got a captain's licence by age 26 and by that time had experience on fishboats, tugs and cargo vessels. A friend had passed the pilot's exam and I'd kept on eye on the profession, getting my certifications along the way and learning the coast. I passed the exams at 32, became a pilot by 33 [the average age for pilot certification is around 40]. It's a terrific career."
Peter Vivian was in love with boating from childhood. He began fishing with his dad at age five, and was given responsibility for sliding their 16-foot boat into its slip a year later. He—like the other pilots—now berths ships measuring up to 366 metres (1,200 feet or 3.3 times the length of a US football field). Through his teens, he ran the family run-about, studied navigation with the Power Squadron and met a pilot who planted this potential career move into his head. He earned seatime on East Coast tankers, then joined Imperial Oil tankers in BC. He earned his certifications along the way, and by the time he'd worked 12 years and earned 2,000 seadays, a regulation change allowed him to apply for the pilotage. Since 1986, he's piloted about 3,600 cargo and cruise ships around BC.
Namaimo-based Greg Keeling's granddad was also a commercial fisherman. "I grew up around boats," Keeling says. "My first experience trolling for fish was at age six. I was 13 when I got a taste of West Coast fishing at Dixon Entrance. A rough introduction." In his late teens, he worked for fishing companies, trawling near Haida Gwaii and longlining for salmon and halibut. Along the way, he earned his certifications. He enjoyed the life until pilot Joe Higgs told him, "fishing is fun, but so is piloting." Having already completed 15 years of seatime, he studied hard and passed his pilot qualifications at age 33. Like the others, he finds piloting a terrific career. "My kids are jealous I got to pilot the 294-metre Disney Wonder," he says with a chuckle.
Besides seatime at various levels of responsibility (deckhand, watchkeeping first and second mate, master, and so on), aspiring pilots must have earned a 500-ton master's certificate, plus gained knowledge of radar, radio, bridge management and first aid courses to name only a few qualifications. But critically, pilots must pass examinations demonstrating their coastal knowledge. That's not just identifying waterways and islands on a chart—it's actually drawing a chart.
"I was asked to draw the entry from Point Grey to Burnaby Shoal," recalls Vivian. "And you have to be able to draw from memory all the critical parts of the coast. You get a piece of blank paper, or one with a few faint outlines. You must fill in islands, navigation marks and rocks from scratch. And we're asked to describe exactly how we will handle a ship in tricky conditions and locations."
"You must have knowledge of the coast in your mind's eye," says Keeling about his exams. "And how weather and tides will affect conditions. Plus know all the maritime rules and regulations."
After aspiring pilots pass the exams, they spend the next nine to 24 months apprenticing with a senior pilot to ensure they can handle the big ships. Training doesn't end there, however. All pilots attend regular simulated sessions updating their knowledge of berthing the ever larger vessels, or practicing maneuvers to manage difficult situations. They also rehearse collision avoidance on scaled ship models on a lake in France. "We train continually because there's a lot of trust on our shoulders," says Vivian.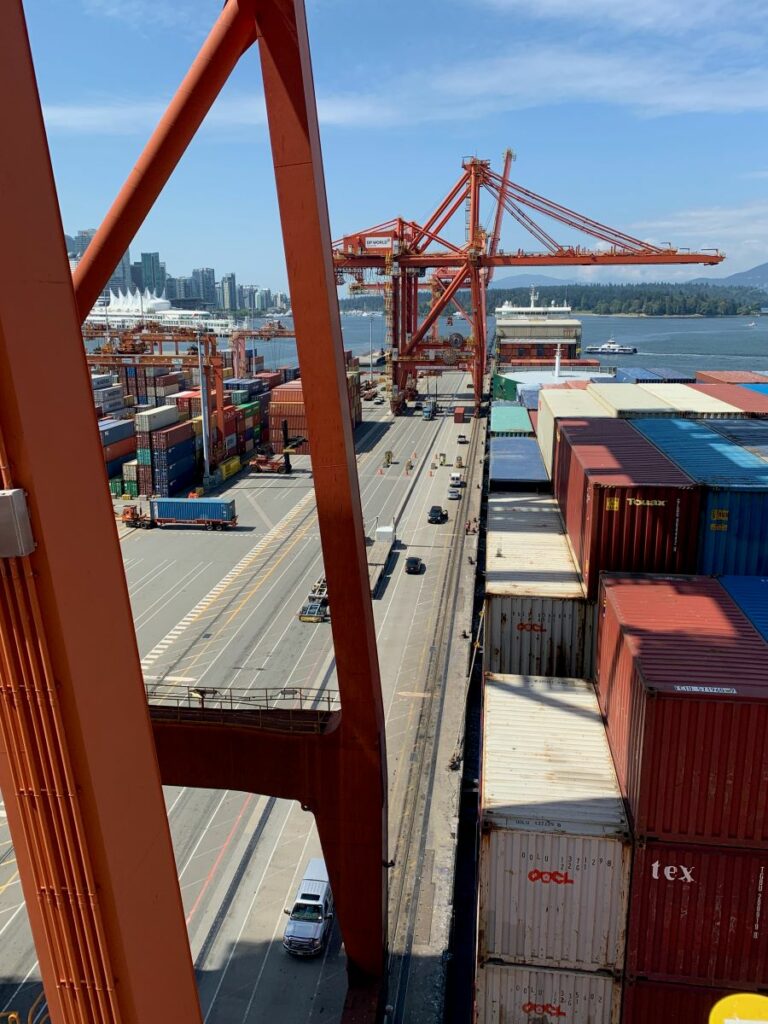 Recent technology innovations help pilots operate the huge vessels of today. "The introduction of the automatic identification system (AIS) receivers is a great situational tool for pilots," says Haakonson. "In the past, Vessel Traffic Services would tell pilots about nearby vessels that might not be visible, say, in fog. Now, through a pilot plug, pilots can see the ships, their names and data on the chart, making it simpler to contact them."
Pilots carry their own Pilot Portable Units (PPUs) with charting software customized specifically to our coast's unique features. The software is continually updated with tide and weather bulletins. The PPU is independent from the ship's navigation systems so in case of breakdown, the pilot can continue to direct the ship. Pilots also use Russia-developed GLONASS satellite systems, which are more precise than traditional GPSes.
Another pilot-aid—the rate-of-turn generator—was developed in Canada. "Previously, pilots would judge by eye how much time and distance they needed to change a ship's direction," Haakonson says. "The software now predicts where a ship will be in five minutes. It allows the pilot to know exactly when to turn, neither too early or too late. It's especially useful in tight places with heavy traffic, like Vancouver's Second Narrows area."
All pilots I've spoken with over the years have had a close call. "Rocks don't move," says Keeling. "But in Seymour Narrows, a pleasure craft came at me, and with the ship's height it's impossible to see it down low in the water. Stopping or turning isn't an option. I urge all yachties to keep their distance, especially in busy places."
Vivian recalls a 30-foot sailboat leaving Howe Sound claiming the ancient right-of-way rule for sailing ships over power. "All he had to do was luff up a little to avoid us," he says. "I was piloting a cruise ship. A quick turn might easily rock the ship and upset our more fragile passengers. The sailor radioed Traffic Services and made snide remarks. I just brushed it off. He finally changed course, still fuming."
The pilots love their profession. Despite their sometimes long hours in dark, demanding conditions, they enjoy the challenge. "Every time I have a good run, it's most rewarding and I feel satisfied," says Boutilier. "Knowing I'm well prepared is key. And our tech committee makes sure we have the latest safety equipment."
Boutilier believes piloting is the pinnacle of a maritime career. "We take the protection of our coast very seriously," he says. "It's a key part of the safe and efficient movement of ships." Haakonson considers pilots "dedicated environmental stewards."
"On some freighters I note the relief of captain and crew when I come aboard, especially in super busy places like Vancouver," adds Keeling.
Recently, when Vivian had carefully berthed a Norwegian behemoth into a tight spot while strong winds and currents buffeted the ship, the crusty captain turned to him and said, "Well, pilot, I guess you've done this a few times before."
"And that," says Vivian, "is what brings us such great satisfaction."