If you've only ever transited through Nanaimo by way of B.C. Ferries, it is time to explore this coastal community! Residents love the city's unique balance of urban living and outdoor adventure. Thanks to Nanaimo's long shoreline locals enjoy sailing, kayaking and stand-up paddle boarding. Underwater teems with sealife and divers come from all over to explore artificial reefs.  On land, Nanaimo is enveloped by forests that are well suited for hiking and mountain biking. With Georgia Straight to the east and mountains to the west, Nanaimo's horizon is well positioned to see incredible sunrises and sunsets. Here are 8 gorgeous examples.
Many thanks to Tourism Nanaimo for helping us put this slideshow together.
Departure Bay Sunrise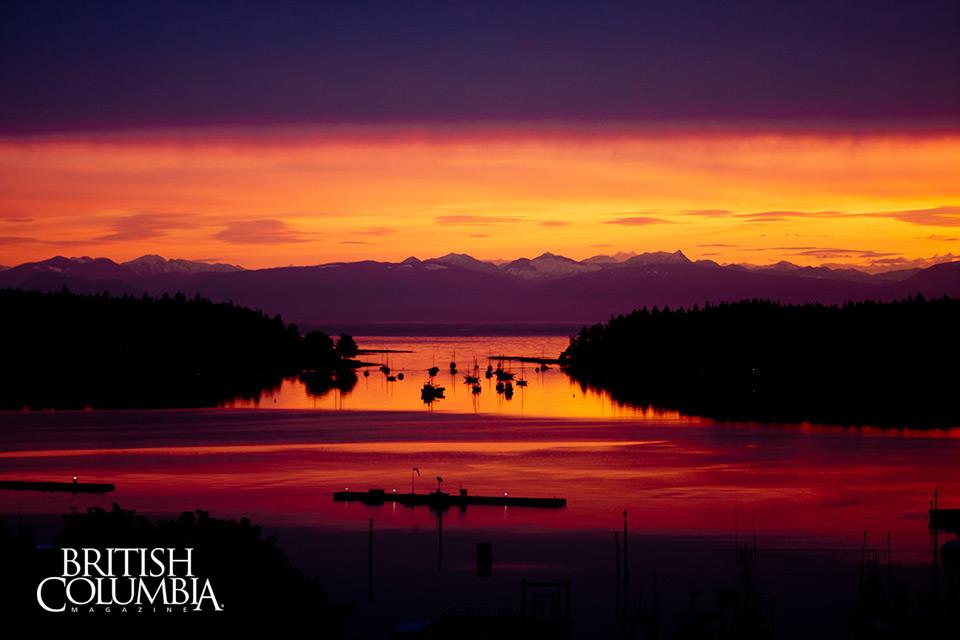 The sun rises over Departure Bay, Nanaimo. Home to a major passenger ferry terminal Nanaimo is one of the primary gateways for accessing Vancouver Island. Savvy locals know that drivers should arrive early and make reservations in advance when traveling over busy summer weekends.
Photographer: Amanda Graham
Follow Amanda on Flickr: Yukon White Light
Sunrise over the Nanaimo Waterfront Walkway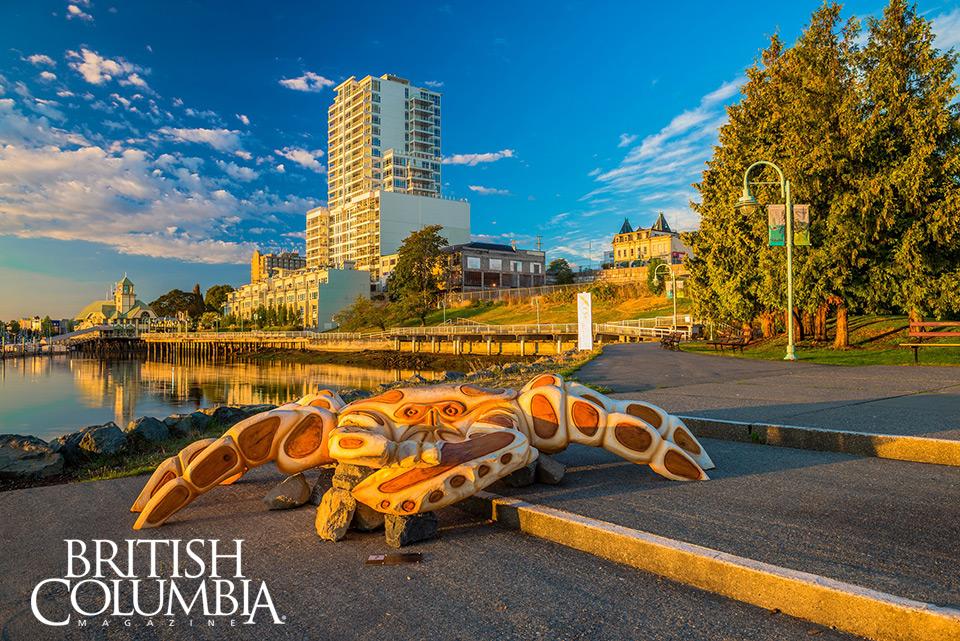 The sun peeks over the Nanaimo waterfront walkway. In just a couple of hours locals will flood the path for their morning walk, and children will play in the seaside park. The friendly critter in the foreground is the pier's trademark crab.
Photographer: Tourism Nanaimo/Tristan Van der Werld
Keel Cove Sunset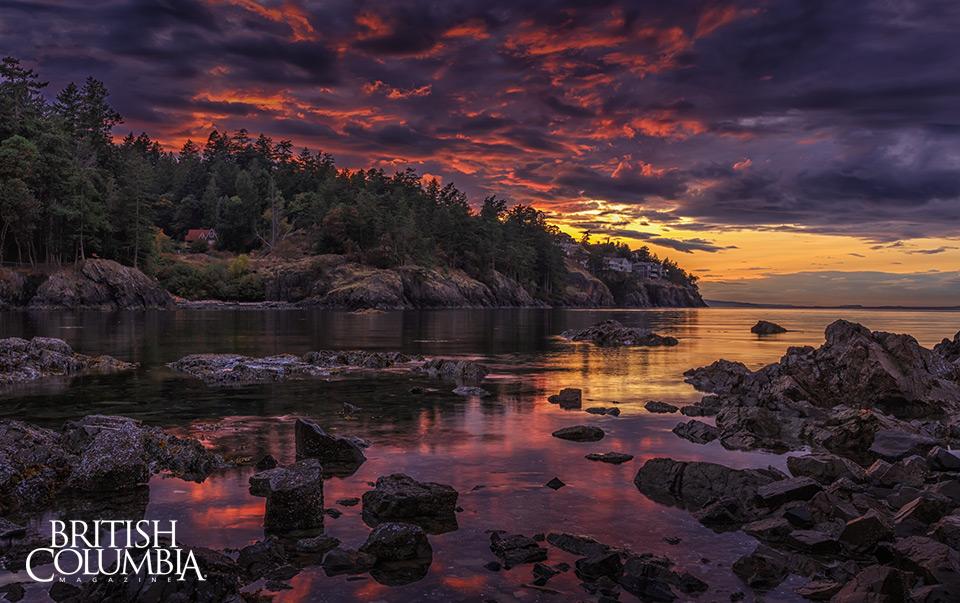 Keel Cove Sunset. This photo was taken from Sunset Beach at Neck Point Park. As you can see, it was a very dramatic sky that evening and the color didn't last long.
Photographer: Pius Sullivan
Follow Pius on Facebook: facebook.com/PiusSullivanPhotography
Neck Point Sunset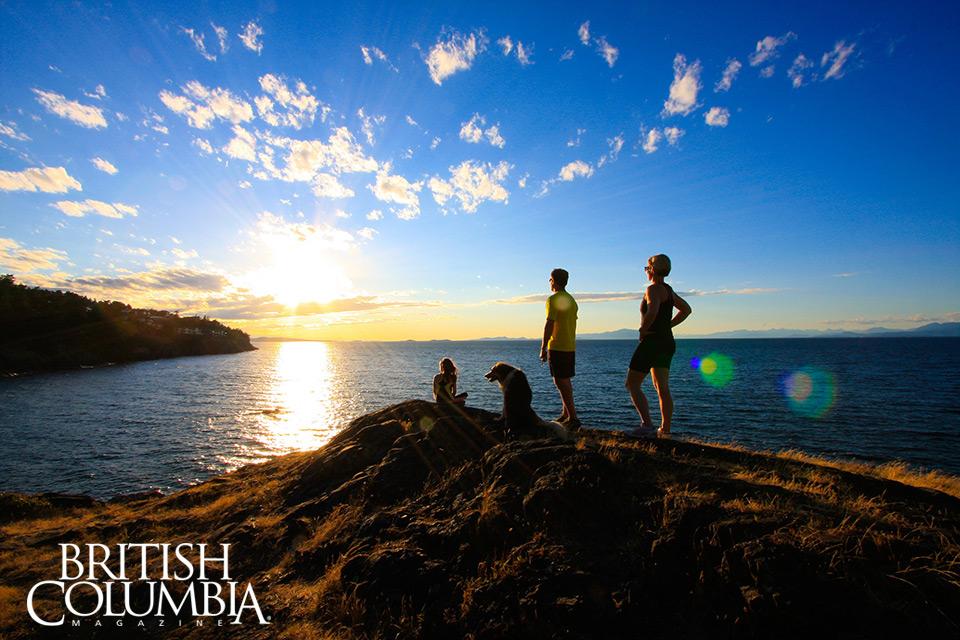 Neck Point Park affords a great lookout point for catching a sunset. One of the most beloved parks and beach hangouts in Nanaimo, its rocky headland attracts scuba divers. The outcrop or 'neck' is teeming with sea life and is said to be home to a friendly octopus.
Photographer: Tourism Nanaimo/Landon Sveinson
Jack Point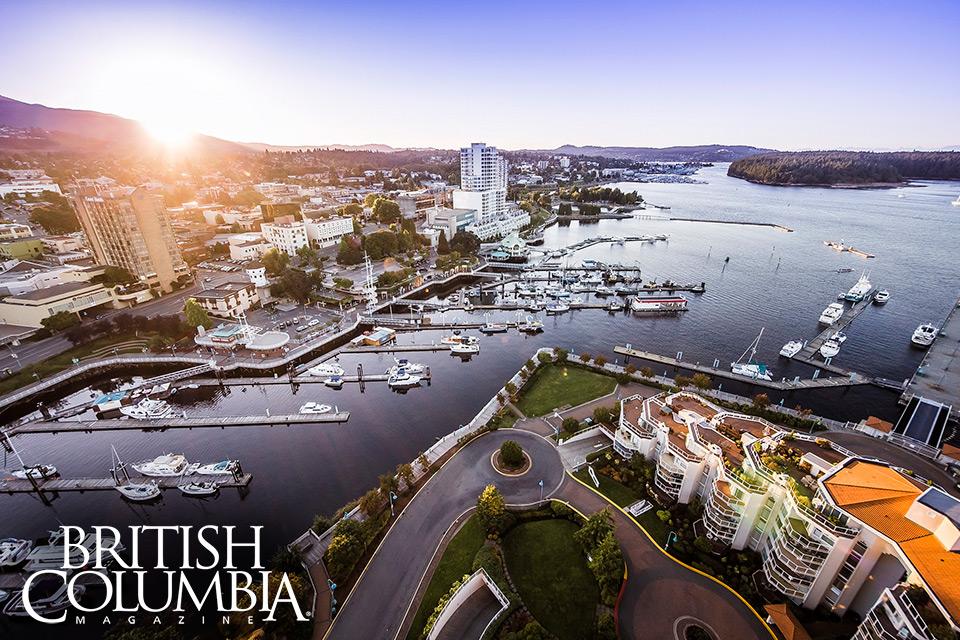 This image was taken from a Cameron Island condo, looking back towards Mount Benson. The mountain stands 3,300 feet tall, making it the highest in the city's proximity. Popular recreational trails include Rock Bottom, Te'tuxw'tun and Lake.
Photographer: Tourism Nanaimo/Cinnabar Vista Productions
Sun Fades Over the Pier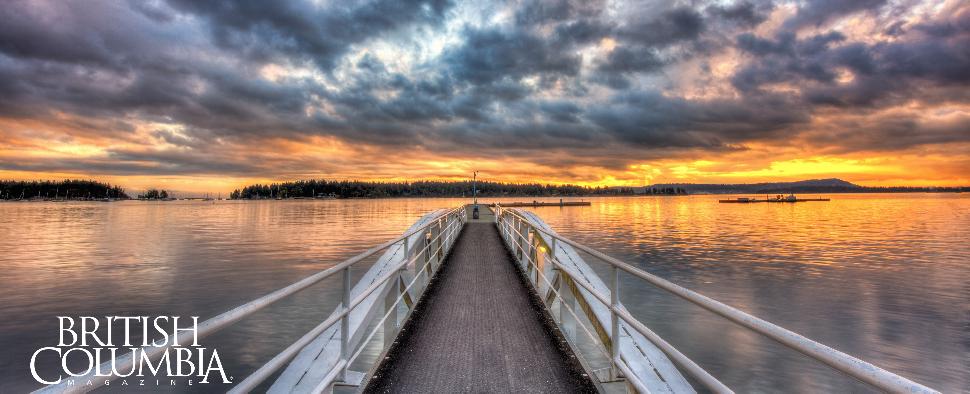 Photographer: Ron Kirk
Follow Ron Kirk Photography on Facebook
Georgia Straight Sunset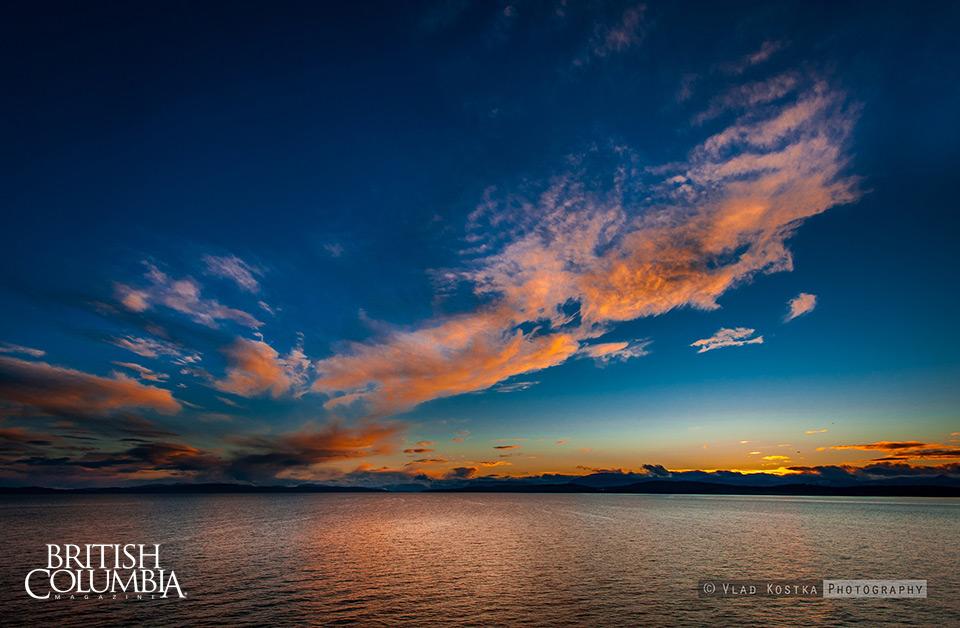 Sunset from the deck of B.C. Ferries, departing Departure Bay. This ferry route transits 30 nautical miles across the Georgia Straight, depositing passengers in Horseshoe Bay. Did you know that some Nanaimo residents commute to Vancouver for work?
Photographer: Vladimir Kostka
See more of Vladimir's incredible photography: vladimirkostka.com/
Shack Island Sunrise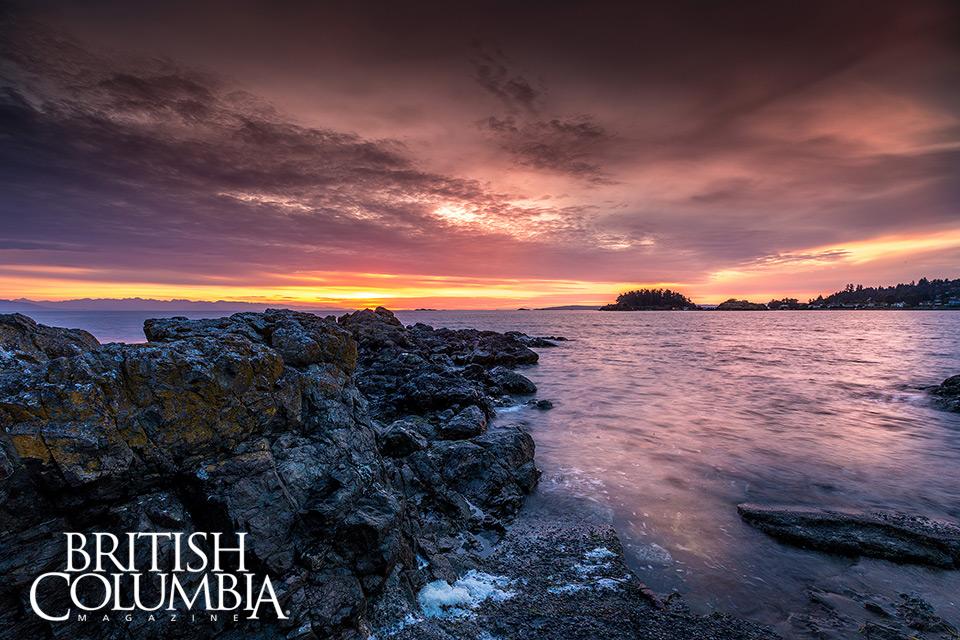 Shack Island Sunrise. This photo was taken from Neck Point Park on a beautiful September morning in 2013.
Historical tidbit: During the Great Depression hard hit residents moved to Shack Island and constructed cabins because at the time it was a Crown owned island. This meant the property they built on was rent-free. Approximately 20 or so cabins still exist today.
Photographer: Pius Sullivan
Follow Pius on Facebook: facebook.com/PiusSullivanPhotography
Fair at North Ridge Centre in Nanaimo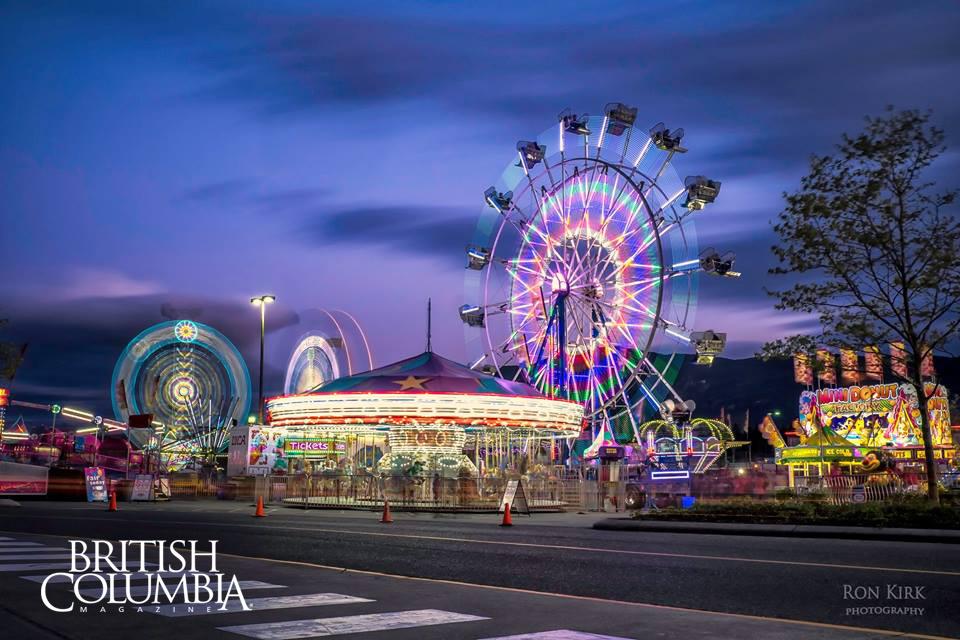 North Ridge centre in Nanaimo had the fair visit ! My kids loved it. Shot this beauty with a fuji X-T1 18-55mm 200 iso at F16 with a Lee Big stopper !
Photographer: Ron Kirk
Follow Ron on Facebook: https://www.facebook.com/pages/Ron-Kirk-Photography/1477133745889013