"Look outside your tent," Steve Ogle's voice calls casually from where he's camped a few metres away.
I woke earlier this morning to what I thought was the sound of gentle footfalls on the meadow—and chewing. Then I had drifted dreamily back to sleep, fatigued after a long drive from the coast followed by a stiff hike with heavy packs to our campsite at the base of Gimli Peak. With a weather window of high pressure in our favour, three friends and I had made a beeline to southeastern British Columbia's Valhalla Provincial Park for three days of soul-nourishing, late-September climbing on beautiful alpine spires.
Yesterday was a whirlwind. Twilight had quickly faded after we left the trailhead and soon followed the beam of headlamps, eerie shadows flickering among the trees. It was 10:30 p.m. when we set up tents by the light of a crescent moon and a night sky sparkling with diamonds, full of promise. Daybreak unfolded beneath a cobalt sky.
As instructed by Steve, I unzip the tent door and fly, then come face to face with a handsome billy goat, coat as brilliant white as fresh fallen snow and a set of sharp horns not to be messed with.
"Holy crap!" I'm startled awake, not sure whether to grab for my camera or recoil to the false security of the sleeping bag next to my tent-mate, Guy Ridler. The goat looks at me with its oval-shaped yellow eyes. Then he rises to his feet and retreats to a regal perch atop a nearby two-storey-high boulder from where he can observe the dozen or so kids and nannies grazing around the campsite.
I had heard about the resident mountain goats of Gimli Peak's south ridge, who have grown acclimated to the salt and mineral rich supply of human urine, but nothing prepared me for such a close encounter with a normally
people-shy creature. I step out of the tent and into the sunshine, then set about the routine of an alpine breakfast—boil water, make coffee, eat oatmeal. Morning light creeps slowly down into the deep forested valley from where we came last night.
This lakeshore to mountain paradise was established as a Class A provincial park in 1983 following one of the most assertive public advocacy campaigns in BC history. The decade-long battle was at times bitter, pitting conservation against logging interests in the Slocan Valley, and was spearheaded by the late Colleen McCrory and her biologist brother Wayne. The siblings cofounded the Valhalla Wilderness Society, a grassroots New Denver-based non-profit that went on to champion several other successful park creation efforts including the Khutzeymateen Grizzly Bear Sanctuary and Goat Range Provincial Park. Before succumbing to cancer in 2007, Colleen McCrory had been recognized for her conservation work many times over, earning the Governor General's Conservation Award in 1983 and a spot on the United Nations Roll of Honour in 1992. Valhalla Wilderness Society lives on and the preservation of rugged Valhalla Provincial Park, a 50,000-hectare mountain wilderness in the McCrory's backyard, would always be a crowning achievement.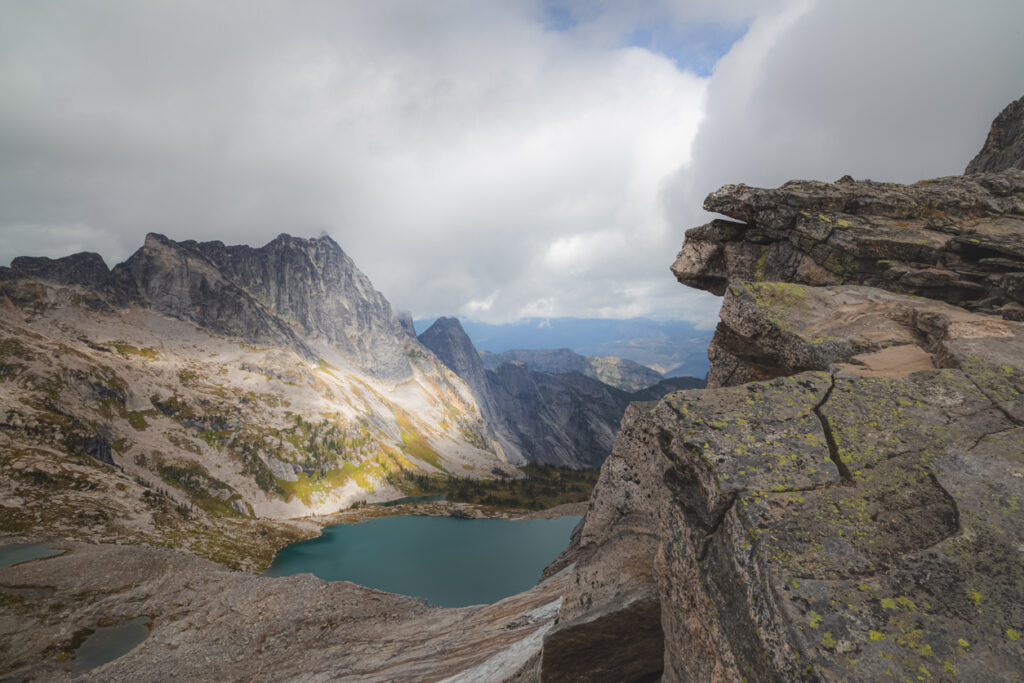 We enjoy a lazy breakfast in the close company of wildlife, feeling conspicuously like intruders in mountain goat country. Afterwards, we sort climbing gear, coil ropes, pack lunch, then go in search of freshwater to fill our water bottles for a day on Gimli Peak. After an hour we find some seeping from a gully amongst a profusion of Indian hellebore. Water bottles filled; we slog uphill toward a peak that from this angle is like the prow of a massive ship. Three goats follow us circumspectly. Gimli's south ridge route is without doubt the most popular technical alpine objective in the Valhalla Range. Its popularity is well deserved, ascending the ridge in 10 pitches of solid, sun-kissed rock split with finger and hand sized cracks. Each pitch is varied, interesting and moderate in difficulty, except, of course, the first one—a stout 5.10b crack and roof puzzle that has humbled many a climber and is a notorious wake-up call. Chad Sayers, being the kid in our group, is unanimously nominated to take first lead. The weather is perfect, T-shirt warm and barely a puff of wind.
"Sure, I'll give it a go," Chad says, cheerfully.
Steve belays, Chad dips his hands contemplatively into the chalk bag. Then he engages with the rock. It starts with five vertical metres of run-out, unprotected bouldering, then transitions into sustained and strenuous hand and finger-jamming on immaculate stone. Gneiss, an metamorphic  rock composed of granitic and granodiorite formations, dominates Valhalla geology and is similar in character to the famous walls of Penticton's Skaha Bluffs.
As nervous spectators, Guy and I have seen enough of pitch one, so we opt for a 5.8 variation still in morning shade on the other side of the arete that links with the main south ridge after a few pitches. We rope-up and I take the lead, relieved not to be wrestling with a 10b finger crack after months away from climbing. I'm also thankful for the shade as I set off up low-angle parallel cracks that lead into a prominent steep corner. I'm tentative and slow at first, unnecessarily triple-checking holds and foot placements. Soon a level of comfort with the rock and a fluidity of motion sets in. Myriad vertical and horizontal fissures offer ample opportunities for protection forcing me to carefully ration gear for a long pitch. The corner ends in a telephone box alcove. Water oozes from a mossy crevice at nose height. I pause to ponder this gymnastic puzzle. Looking below I spot the three goats, having lost interest in us, now descending scree to the meadows to investigate the arrival of five more campers. For these mountain ungulates that can deftly scale cliffs with their cloven hoofs, our vertical endeavours must seem pointless and cumbersome in the extreme. I gather a few deep breaths before committing to an awkward stem and arm's length reach for a hold that allows me to pull over the roof onto a ledge wide enough for two.
"On belay!" I call out to Guy, after building an anchor, securing myself and hauling up the remaining rope.
"Climbing," comes a faint reply carried on a gentle updraft.
Guy and I settle into the rhythm of the multi-pitch climb, meeting for brief conversations at the belay stances before switching leads. Our tents, splashes of blue in the meadow, grow smaller as we go higher. An hour later we reunite with Steve and Chad, both of whose hands are raw and bleeding as though they had just emerged from a bare-knuckle brawl.
We balance up the airy ridgeline for a few more rope lengths before arriving at the base of pitch six. After making the first one-day ascent with a friend in 1973, Peter Rowat described this pitch with a few nonchalant, prosaic words scribbled into Volume 16 of The Kootenay Karabiner, the Kootenay Mountaineering Club's journal: "Continue up, circumventing overhang on left."
The words "continue up" can be universally applied to any mountain, anywhere, anytime. The rest of Rowat's description is equally stingy. The pitch starts pleasantly, following a vertical hand-crack peppered with comfortable foot placements and rests. Things get interesting when the crack abuts a leftward-arcing roof. Steve fills in some route description blanks, informing me that the only protectable pocket beneath the roof accepts a purple TCU (tri-camming unit). It takes a moment for me to summon resolve and trade the security of the crack for the nebulous insecurity of the blank wall beneath the roof. Stretching onto the face with my left leg, I search for purchase on scant footholds. I grasp the sharp edge of the overhang, shift my weight back, and hang above the stomach-churning void. Then I pad my right foot onto the smooth vertical wall, relying only on sticky rubber, before making a Hail Mary reach around the corner for an invisible pocket that Steve assures is there. Some desperate pawing at the rock and my hand sinks into an in-cut hold. Immediately I relax and exhale loudly as I pull around the roof and on to easier ground.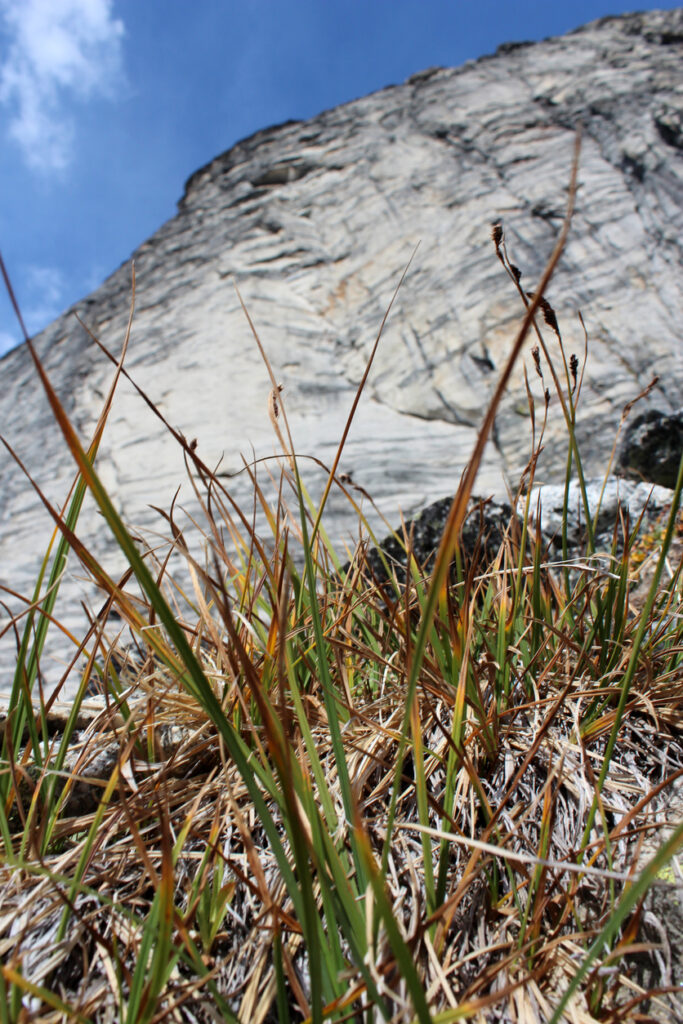 Nelson mountain guide Dave Lussier has spent the better part of three decades climbing and exploring the vertical world of the Valhallas. He estimates he's pioneered or co-pioneered 100 new routes. Some of them are on Gimli, which is now home to more than 35 alpine routes. Others are on more remote walls like The Wedge, where he forged an 1,100-metre route, more than a vertical-kilometre of rock climbing that he notes is higher than El Capitan, the famous granite batholith in California's Yosemite Valley. Since 2013, Lussier has been chipping away at a Valhalla guidebook, a passion project that he says is near completion. Since his first trip into the Valhallas in the early 1990s, he has witnessed Gimli Peak and Gwillim Lakes grow exponentially in popularity. But beyond these two areas he says the park still retains the wild and remote feel that he loves.
"On a peak summer day, you can drop into Mulvey Basin on the north side of Gimli and have it all to yourself," Lussier says.
The south ridge's final three pitches ease off in difficulty and steepness. We move swiftly, two rope teams of two toward Gimli's rounded peak and in another hour are meeting for a celebration at the summit cairn. To the north,
spectacular Mulvey Basin is cast in the purple-grey light of late afternoon shade.
Though alpine climbing is one of Valhalla park's big draws, for the pioneering McCrorys and their fellow conservationists who first envisioned a park in the 1970s, adrenaline pursuits were a distant, secondary concern to the biodiversity values of this rugged chunk of southern BC. With nearly 30 kilometres of Slocan Lake shoreline within its boundaries, the park protects a wide range of habitats. In a day's hike from lakeshore to mountaintop you can pass through six different bio-geoclimatic zones, from low-elevation cedar hemlock forest reminiscent of the West Coast, to the high altitude engelmann spruce and sub-alpine fir forest that fades into treeless alpine tundra where pikas and Columbia ground squirrels whistle among the boulders and rocks.
As noted in the park masterplan, difficulty of access and the park's natural character sustain a "rich diversity of wildlife," from mule and whitetail deer, to grizzlies, black bear, cougar, elk and mountain goats, which are there in numbers to greet us when we arrive back in camp from Gimli. So seemingly unperturbed are they by the presence of humans that it would be easy to mistake these goats for tame animals rather than wildlife. In late spring and early summer, mountain goats have a powerful drive to acquire salt and minerals, and often travel great distances to find naturally occurring salt licks. In the Gimli meadows, goats have become acclimated to an easy, readily available but unnatural source of this dietary supplement, creating a tenuous human-wildlife dynamic. Kim Poole, a Nelson biologist who has studied and conducted inventories of mountain goats in the Kootenays, calls it a very unusual situation.
"Gimli is ideal mountain goat habitat. When goats see people, their normal response is to avoid them and move to escape habitat," Poole says, explaining how these alpine specialists use cliffs to stay safe. "They avoid us the way they do other predators."
According to Poole, the only other place in BC where mountain goats and humans are getting too close for comfort is a backcountry campsite in Cathedral Provincial Park near Keremeos. South of the border in 2017, a hiker was killed by an aggressive mountain goat in Washington State's Olympic National Park, where goats had been introduced more then 80 years ago in an ill-advised effort to boost hunting opportunities. That is the only known case of a goat attacking and killing a human. Though there have been no recorded human-goat incidents or close calls in the Gimli meadows, BC Parks knows it has a potential problem on its hands. Park managers have already taken some important steps by installing toilet and urinal facilities that are enclosed and fully self-contained. Parks staff have also placed signs at the trailhead and the campsite describing the goat issue and informing hikers that dogs are not permitted.
"BC Parks recognizes that changing the habits of habituated goats will take time and that requires the full cooperation of the public," according to Ministry of Environment and Climate Change Strategy spokesperson David Karns, adding that BC Parks is planning further studies and monitoring of the issue.
On our second morning, we wake to see a half-dozen more tents in the Gimli meadows. Early morning day hikers are already arriving, several with unleashed dogs in tow in a gesture of defiance or ignorance. It reminds me why climbers like Dave Lussier worry that the thoughtlessness of a few could jeopardize future access for the many. It's the weekend rush, and it suddenly feels crowded. Chad, Steve and Guy share my angst. Breakfast is a quick affair. We repack for the day, and don't bother looking for drinking water before setting off toward Asgard Peak, expecting to find snowmelt when we drop over the col between Gimli and Nisleheim peaks.
We retrace our route from yesterday then angle onto a trail that traverses the talus around Gimli's soaring west walls. Twenty minutes later we scramble among shattered boulders where a massive rockfall a few years back obliterated the trail. I gaze at the wall above and the scar of lighter coloured rock exposed by the mountain's sudden and violent exfoliation. Less than an hour after leaving camp, we're at the col and looking down into Mulvey Basin. Emerald lakes dot meadows of lush green that wrap around copses of hardy
alpine fir. Lateral moraines left behind by long since disappeared glaciers angle toward the basin, like spokes of a wheel. Sun catches the sparkle of cascades nourished by lingering patches of snow in the alpine. Further down the valley, steep forests untouched by human endeavour, reach toward the Molars, soaring towers that draw the alpinist's eye.
In the time it took us to reach the col from camp, ominous grey clouds have assembled to the west of Asgard, adding a threatening note of tension to our day's climbing objective on this triangular peak's west ridge. If foul weather intervenes, then so be it. I'll be content to ramble through the meadows of Mulvey Basin, a sanctuary of nature's perfection that is sure to nourish the soul.
If You Go
Gimli's Goats
Hikers and climbers visiting Gimli Ridge are guests in mountain goat habitat. Continued recreational access in this stunning corner of Valhalla Provincial Park depends on responsible visitor behaviour. Though they have become habituated to human presence, mountain goats are wild animals and should be treated as such. By practising no-trace camping and avoiding the feeding of wildlife, visitors can mitigate our impact on these magnificent creatures. BC Parks prohibits dogs in Gimli Ridge and all other backcountry areas in Valhalla Park. Respecting this closure goes a long way toward keeping our footprint light and minimizing the chances of negative human-wildlife encounters.