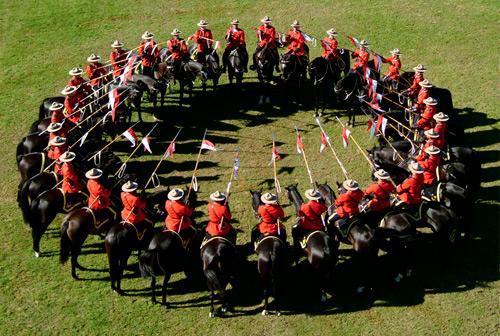 It's part of Canadian mythology: an RCMP officer dressed in full red serge galloping on a horse through the wilderness, off to commit a good deed. But Canucks don't often get to see a red-coated Mountie on horseback—except during the musical ride, a tradition as Canadian as toques and toonies.
The RCMP Musical Ride dates back to 1887, when the first event took place in Regina, intended as a show of the officers' riding ability. The goal of the North-West Mounted Police (as they were then known) was providing entertainment for both the officers and the observers—and the same holds true today. Some of the formations of the ride have even become iconic, such as "The Dome," which was once featured on the $50 bill.
This summer's musical ride tour includes more than 20 locations in British Columbia, beginning in Fort St. John on July 11, and ending in Hope at Hope Brigade Days on September 7 and 8. These days, along with promoting goodwill, the musical rides also act as fundraisers for charities. For example, the musical ride at the Saanich Fairgrounds on August 17 and 18 led by local Lions Clubs will benefit the Victoria Therapeutic Riding Assocation and the BC Easter Seals Camp Shawnigan. Check out the entire summer schedule here and make your plans to experience a Canadian legacy.