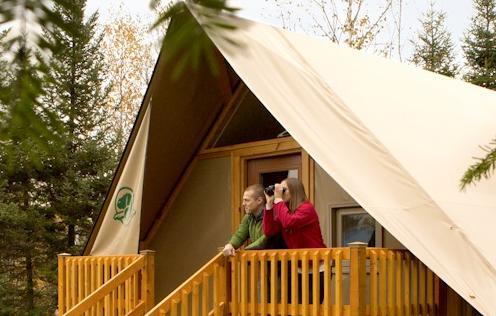 A family tries an oTENTik, which are being introduced to several Parks Canada sites.
Fort Rodd Hill in Colwood is offering a new, unusual way for visitors to live and breathe the past. The soldiers who bunked there may have pined for home, but you can camp in comfort this summer at the fort, a popular national historic site managed by Parks Canada.
For the first time, visitors can book overnight stays at the new oTENTiks, which are turnkey camping structures with wooden floors and beds. There are five structures at Fort Rodd Hill, a coastal artillery base built in the late 1890s, which offers stunning views of Juan de Fuca strait and the picturesque Fisgard Lighthouse, which dates back to 1860.
The oTENTiks are available May 17 to September 2 this year. Each one costs $120 a night (taxes included) plus a $13.50 reservation fee and a modest daily entry fee. The structure can accommodate up to six people. For reservations call 250-478-5849 or e-mail: fort.rodd@pc.gc.ca.