That August day in British Columbia's South Chilcotin Mountains began the way any mountain biker would hope— a bluebird sky, the air fresh and cool and trees sparkling with early morning dew. Kennedy and his wife Andrea Schaeppi know this area well. Though they live on Vancouver Island, the couple has owned a getaway cabin in the old mining town of Bralorne since around 2010. It's been their base for winter ski touring and summer mountain biking in this rugged region that's crisscrossed with old horse and prospector trails.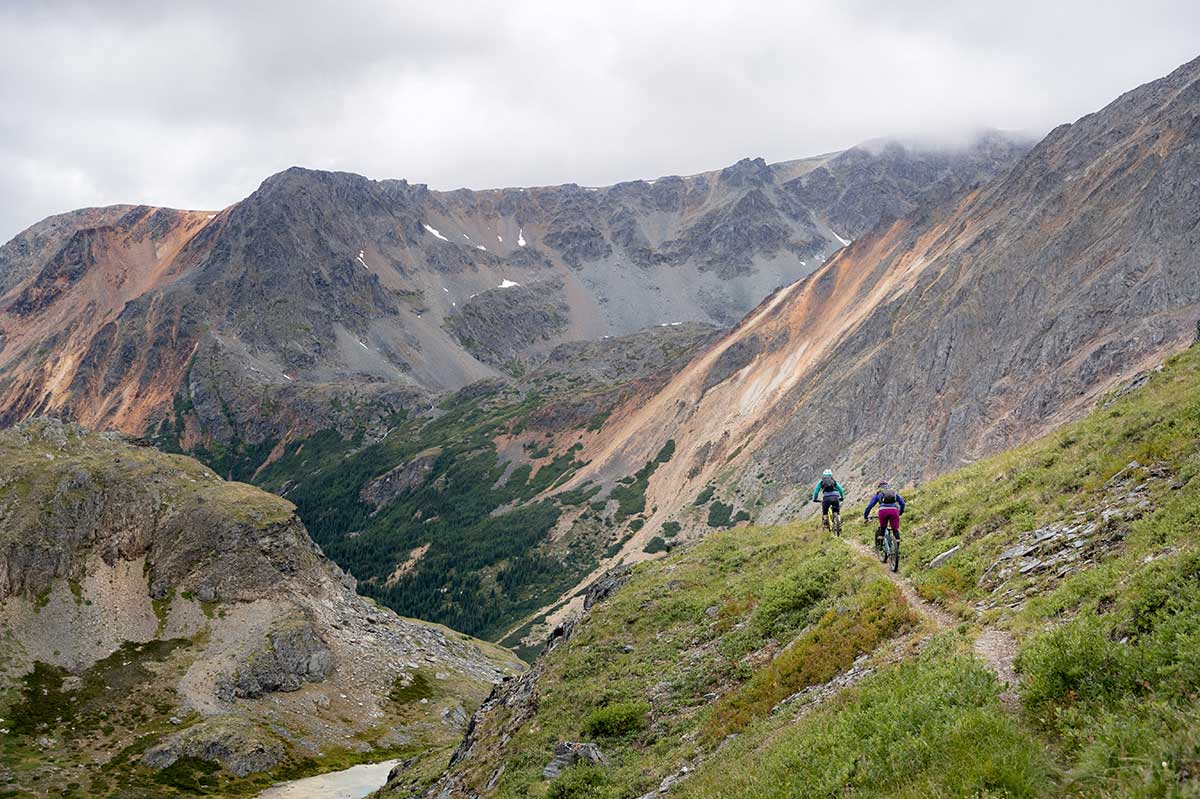 "It was a stunning day, perfect for riding. It was the first time for us on this route," Tom says.
They had planned an epic ride to cap two glorious summer months of pedalling and exploring the South Chilcotins—a 50-kilometre backcountry adventure ride that would take them up Paradise Creek into the alpine, west around Cardtable Mountain, over Castle Pass, and back down to Lower Tyaughton Creek and their truck.
They left at around 9:00 a.m. on August 16, 2020, spinning up forest service roads at first before hitting Paradise Creek singletrack. There was a light breeze. It was t-shirt warm. The first 20 kilometres were tough. They were on and off the bikes, pushing when it got too steep, pedalling when the grade relented enough to granny gear upwards. The spruce and pine trees grew more fragrant as sunlight flooded the valley. They were just outside the eastern boundary of South Chilcotin Mountains Provincial Park, north of Gold Bridge, an area that has seen a steady increase in backcountry biking over the past 15 years.
"Twelve years ago, if you had mentioned mountain biking in the Chilcotins, a few people knew about it. Now everybody knows about it," Tom says.
It's popular for good reason. The Chilcotins sit on the dry, eastern slopes of BC's Coast Mountains. The geology has rainbow hues. Windswept mountain passes link deep valleys and meadows that blossom chest-deep in wildflowers. It's also rich in wildlife, and in particular grizzly bears. The South Chilcotin Ranges Grizzly Bear Population Unit, one of 55 management units in BC, is home to 222 bears. The population is growing at a rate of between two and six percent annually. That means it could double by 2035, according to government biologists. The takeaway message—when you bike in these mountains, you're in bear country. That's a fact.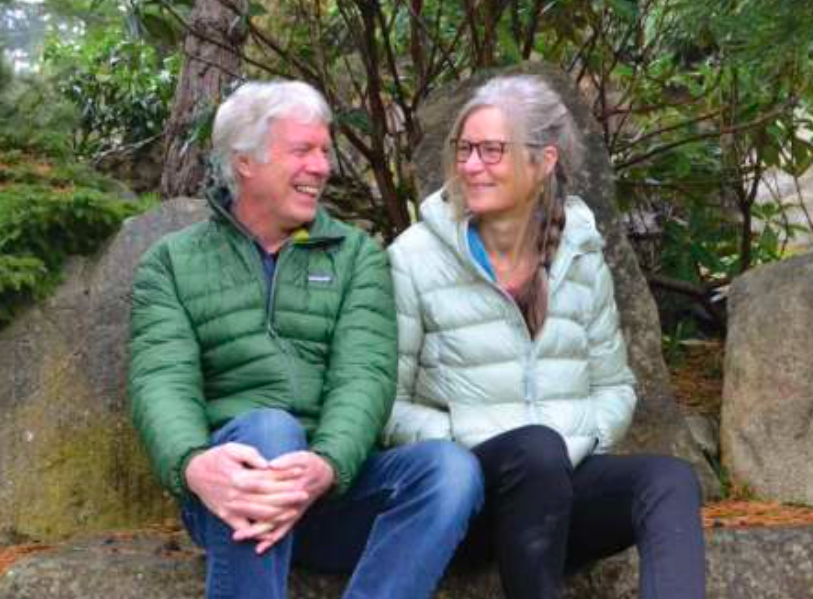 Tom and Andrea knew it and they were prepared as always. Between them they carried two bear sprays, a first aid kit, a Garmin InReach and a satellite phone. Despite its popularity, the Chilcotins are remote. A quick rescue, should something go wrong, is far from a given. Bad wildlife encounters can be like a game of hidden odds. Though the couple would have had no way of knowing it, as they fought for elevation on their bikes, the odds were stacking up against them.
By 2:00 p.m., they had pushed and pedalled above treeline, reaching Castle Pass. They were already five hours into a long day. Horse flies buzzed around them between gusts of wind. They stopped for a snack and water. To the west, Spruce Lake sparkled like an emerald pool. So far, they had seen scant sign of bears, other than a few telltale depressions of flattened grass where one had bedded for a rest. Otherwise, they spotted no fresh diggings, no claw marks on trees, no fresh bear scat.
"The fun was about to begin," Tom says.
A well-earned reward of alpine single track and descending awaited them following a long ascent. They hopped back on their bikes, at first traversing along the ridges. Few trails in the South Chilcotins are purpose-built for bikes; most are old horse-packing and mining prospector routes, which gives them a rugged, unique character. Minutes later they came across a park ranger with two others hiking in the opposite direction. It was a surprise, Tom says, because they had never seen a ranger in the park backcountry before.
After a friendly chat they carried on through wide open meadows and bench-cut scree. It was the sort of sublime alpine riding with expansive panoramas for which the Chilcotins are renowned. But soon the riders dropped elevation and dipped back into the timber, at first through small clumps of stunted conifers, interspersed with open pastures lush with grasses and the broad leaves of Indian hellebore. The sight lines shortened as the trail cornered and wove among the trees. Naturally, they started thinking about bears; not obsessively, but with a heightened awareness. Tom is—or was—comfortable in bear country, having worked in the bush for much of his life. For BC's interior grizzlies, it was the calorie-consumption time of year. These apex predators have seven months to meet a year's worth of nutritional requirement. As Tom and Andrea sunk into the rhythm of their mid-August descent from Castle Pass, the grizzlies of the South Chilcotin were foraging huckleberries and blueberries, digging for the starchy roots of hedysarum and other plants, and hunting ground squirrels and marmots. The cooling nights of late summer signaled one thing to the bears—that winter's hibernation loomed. Tom led, a few bike lengths in front, shouting out frequently as he always does to alert wildlife.
"He went around the corner and disappeared. I could hear him calling out," Andrea says.
Then, something changed suddenly, a startling sound, a tortured howl that she says she never wants to hear again. Just out of view, Tom had rounded a corner to find himself between a 350-kilogram grizzly sow and her two cubs.
"I could see her shimmering in the light and dust coming off her fur. I saw her face and immediately thought, this is not going to go well," Tom says.
Instinct told him to put his bike between himself and the animal. But he had no time to complete the thought let alone execute the action.
"It was instantaneous. She was on me so fast. The acceleration was incredible," he says.
Seconds later when Andrea rounded the corner, all she could see was the muscular haunches of a bear. Underneath was Tom. The grizzly had charged him, striking his chest and knocking him flat. Andrea, acting on adrenalin, was already reaching for her bear spray. Tom was dazed and winded, as the bear chomped into his lower right abdomen, tearing through muscle and fat. He looked up to see an open jaw, a millisecond before the animal locked onto his bike helmet, cracking it like a pumpkin dropped on pavement. Tom can still hear the crunch of plastic.
Then Andrea came at the bear, finger on the trigger, unleashing pepper spray.
"I was walking through a cloud of pepper spray. I couldn't see anything," Andrea recalls.
Through hazy blurred vision, she saw the bear scamper 10 metres away. It paused, looked back at the couple as if assessing a threat, then disappeared into the woods with its cubs.
In a matter of seconds, the attack was over. Tom and Andrea have been talking a lot as they share their story, going back and forth as details of the day crystallize in real time. But they are suddenly quiet, as quiet as it was following the attack. Silence. Tears mist Andreas eyes momentarily. Tom puts a hand on her shoulder. She dabs her face with a sleeve then squares her shoulders.
"Andrea was a hero. She saved my life," Tom says softly.
The mauling happened so quick, there was no time for Tom to get scared. But after, as he huddled on the ground beneath a down jacket blanket, seriously injured but conscious, terror started to sink in. Wind rustled the aspen trees. Then suddenly the loud crashing of branches prompted Tom to yell, thinking that it was the bear returning, but it was only the sound of a tree randomly falling—ironic timing, Tom says, thinking back.
Andrea went into first-aid mode. When she exposed the gaping wound near his groin, she wasn't sure if she was looking at intestine. There was hardly any bleeding: a blessing. Andrea isn't squeamish, but she covered the wound with a shirt. That was all she could do. The bear had raked one of his shins with a claw into a mess of lacerated flesh and skin. But incredibly, there was just one tiny scratch on his right cheek—the only wound from the bear's helmet-crunching bite. Tom was scared but lucid. He sent out an emergency signal on his satellite communicator.
"I'm terrible with technology but I remembered all the steps," he says, shaking his head.
Survival is a powerful prerogative. Then they waited for a response, for any indication that someone knew they needed help. It was 15 minutes, but it felt like an hour. Time seemed to slow to a crawl, seconds ticked like minutes. At a little before 4:00 p.m., they got confirmation—message received. But relief was quickly followed by a frustrating satellite phone conversation with a call-centre operator.
"They asked us what city we were in," Tom says, laughing.
After a long conversation, they got word that an air ambulance from Kamloops would be dispatched. Then more agonizing waiting. They needed something to happen. Tom started calling numbers—the police detachments in Pemberton and Lillooet.
"Nobody was picking up," Tom says. "So, I phoned my friend who volunteers with the Comox Valley Search and Rescue [on Vancouver Island]."
Tom told him what happened and where. His friend said, "I'm on it." After hanging up, his friend in Comox dialed a contact with Pemberton Search and Rescue. Things started rolling. Meanwhile Tom shivered on the ground, the first signs of shock, while Andrea did her best to reassure him. Dale Douglas, owner and chief pilot at Tyax Adventures, says when news of the attack crackled over the radio, he had a sinking feeling that he would know the victim.
"It raises the hair on the back of your neck," says Douglas. "It could have happened to anyone."
Bears are something Douglas thinks about a lot, especially when he sends out a guided group of mountain bikers into the Chilcotin backcountry. Sometimes, despite best efforts, things can go sideways. Following the release last summer of a University of British Columbia study of grizzlies in the South Chilcotin, Douglas says media reports over-emphasized the impact of biking on bears and minimized the impact of clear-cut logging and loss of habitat adjacent to the park.
"The other side of the valley from where Tom was attacked is outside the park and it's been heavily logged over the last two years. You have to ask how this affected that sow's behaviour?" Douglas says.
As Pemberton Search and Rescue mustered at the heli hangar, Tom and Andrea were getting anxious. Though there were still hours of daylight left, the spectre of darkness hung over their heads. The thought of spending a night alone in the mountains was too much to bear. Then a chopper thundered into view, circled overhead before disappearing. It went silent again. Another two hours slipped past. They wondered what was happening. Only later would they learn that it was the air ambulance helicopter; a big Sikorsky S-76 crewed by ambulance attendants not equipped for backcountry rescue. Protocol required them to land and await search and rescue support. After an eternity, the sound of another helicopter lifted their hopes. This time it was a nimble Jet Ranger, loaded with a Pemberton rescue volunteer and a volunteer doctor. The pilot found a clearing half a mile away. Minutes later the rescuers were kneeling next to Tom. The doctor had Fentanyl.
"I didn't know you could give that stuff out," Tom says, with a laugh.
A sense of euphoric relief washed over him as the powerful analgesic worked its magic. They stabilized Tom, packaged him into a stretcher, then carried it to the waiting helicopter. After loading up in the smaller Jet Ranger, the pilot bumped them up to the ridge for a quick transfer to the S-76 air ambulance. Andrea kissed Tom on the forehead, said I love you; I'll see you soon, and hopped back into the search-and-rescue helicopter. Six hours after the attack, Tom was in the ER at Royal Inland Hospital in Kamloops. Andrea was already driving there to meet him.
The following day, conservation officers flew up to retrieve the mountain bikes and investigate the scene of the attack. They quickly determined that they weren't dealing with a problem bear that needed to be tracked and destroyed. It was a textbook case of wrong place, wrong time. They called Andrea's response heroic and said the couple had done everything right; they were making noise and were equipped with bear spray, rescue and first aid equipment.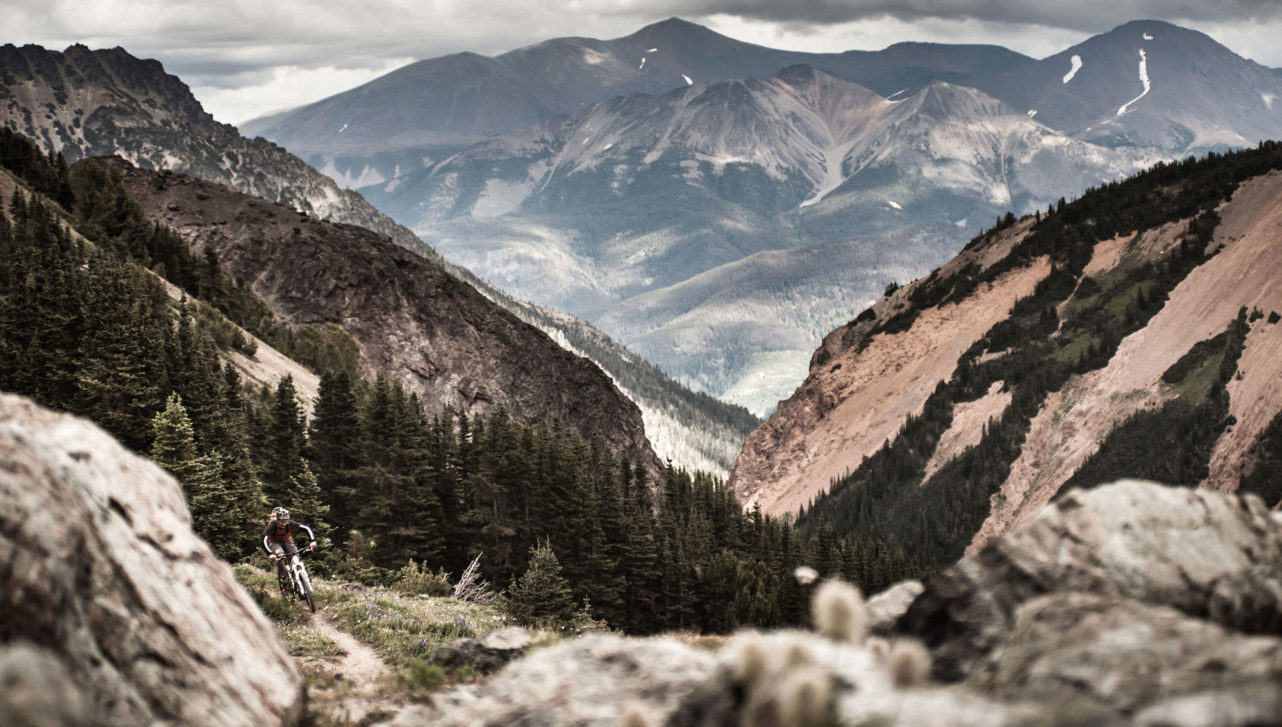 The only thing Tom says he would do differently is to have his bear spray on his body not his bike frame. But then again, he questions whether it would have made any difference given the ferocity and swiftness of the attack.
Tom and Andrea have had months to process and ponder, and even ask the unanswerable question—why Tom, why then? This is the realm of metaphysics, of fate, and in the absence of a reasonable explanation, it would be easy to latch onto something as illogical as ill will toward a wild animal that has evolved to the top of the food chain. But not Tom and Andrea.
"The bear was doing what it is supposed to do—protecting its cubs," Tom says.
There is much to be thankful for. A year after the attack he had made a near 100 percent recovery, except for some tingling nerve damage. He has scars as souvenirs, physical and likely emotional ones. It's still too fresh to know how the attack has impacted them emotionally. The question, will they return to ride bikes in the Chilcotin backcountry, elicits silence, a shrug and the exchange of searching glances. Both mention PTSD. In many ways Andrea had the worst seat in the house— watching her husband being mauled by a protective grizzly sow that would kill for its offspring. You can't unsee it. "The shocking thing is how quickly a day can change, in five seconds," Andrea says. "I remember the stress. It's hard and it's not. Tom is still here."
Still here, and thankfully able to ride and ski again after that fateful encounter at Castle Pass.