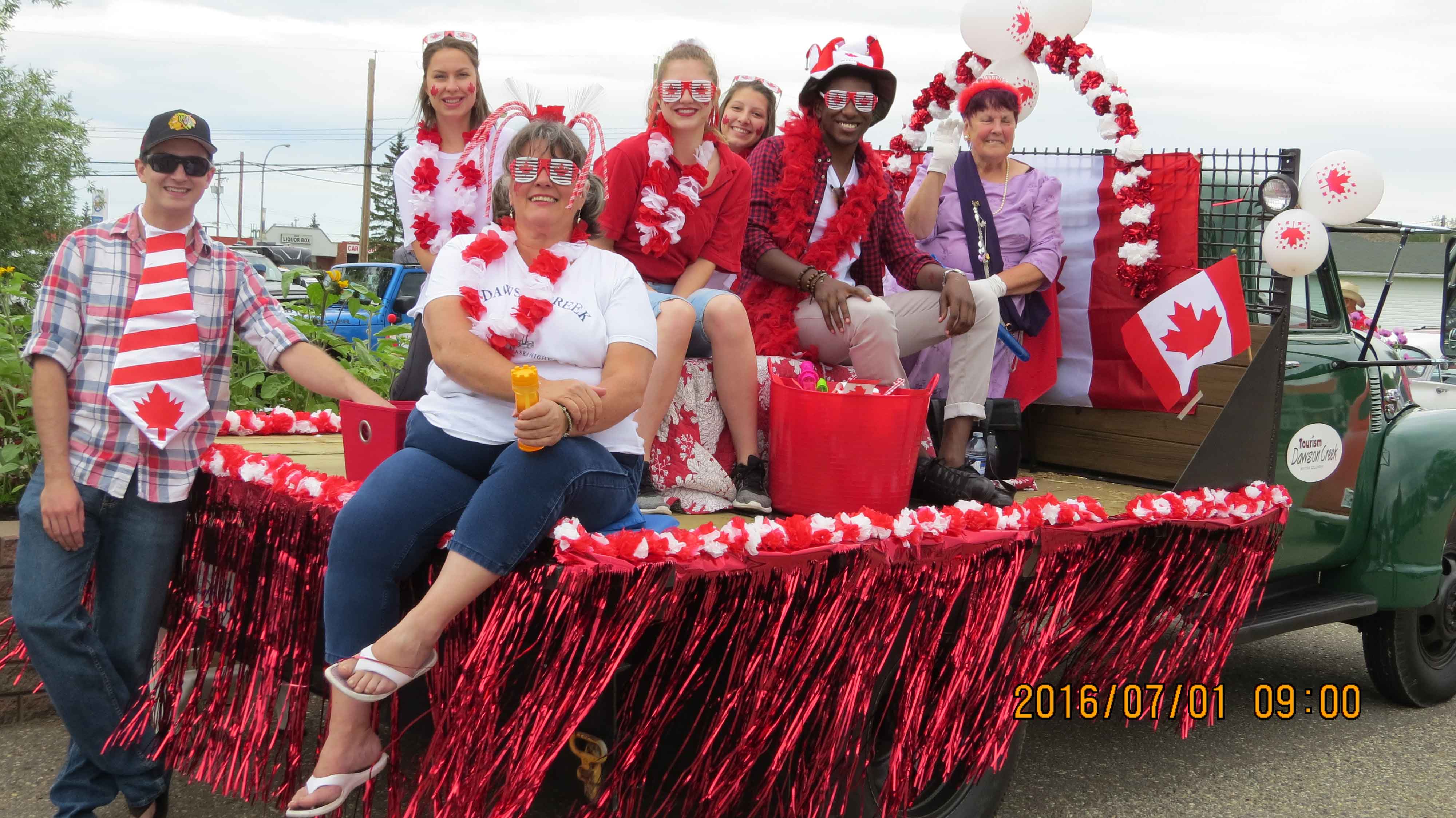 As if Canucks aren't proud enough already, our 150th anniversary of Canadian Confederation is the time to get patriotic and celebrate being Strong, Proud and Free. The sesquicentennial marks 150 years since the colonies of Canada, Nova Scotia and New Brunswick formed the Canadian Confederation on July 1, 1867. Birthday bashes across British Columbia have gone all out, from food to fireworks. So dress up in red and white, wave the Maple Leaf flag and get ready to party!
Barkerville
British Columbia didn't join the Confederation until 1871, but Barkerville was the first place to celebrate Canada Day, on July 1st, 1868 (mere hours before Fort Langley followed suit). Dominion Day/Canada Day has always been a special occasion in Barkerville, but this year the community is upping their game. Mark Donnelly, the voice of the Vancouver Canucks home-game national anthems, will sing O Canada twice. At the Visitors' Reception Centre an original 1949 AY Jackson (Group of Seven) painting of Barkerville's Chinatown is viewable July 1, but get in line: up to 3,000 people are expected.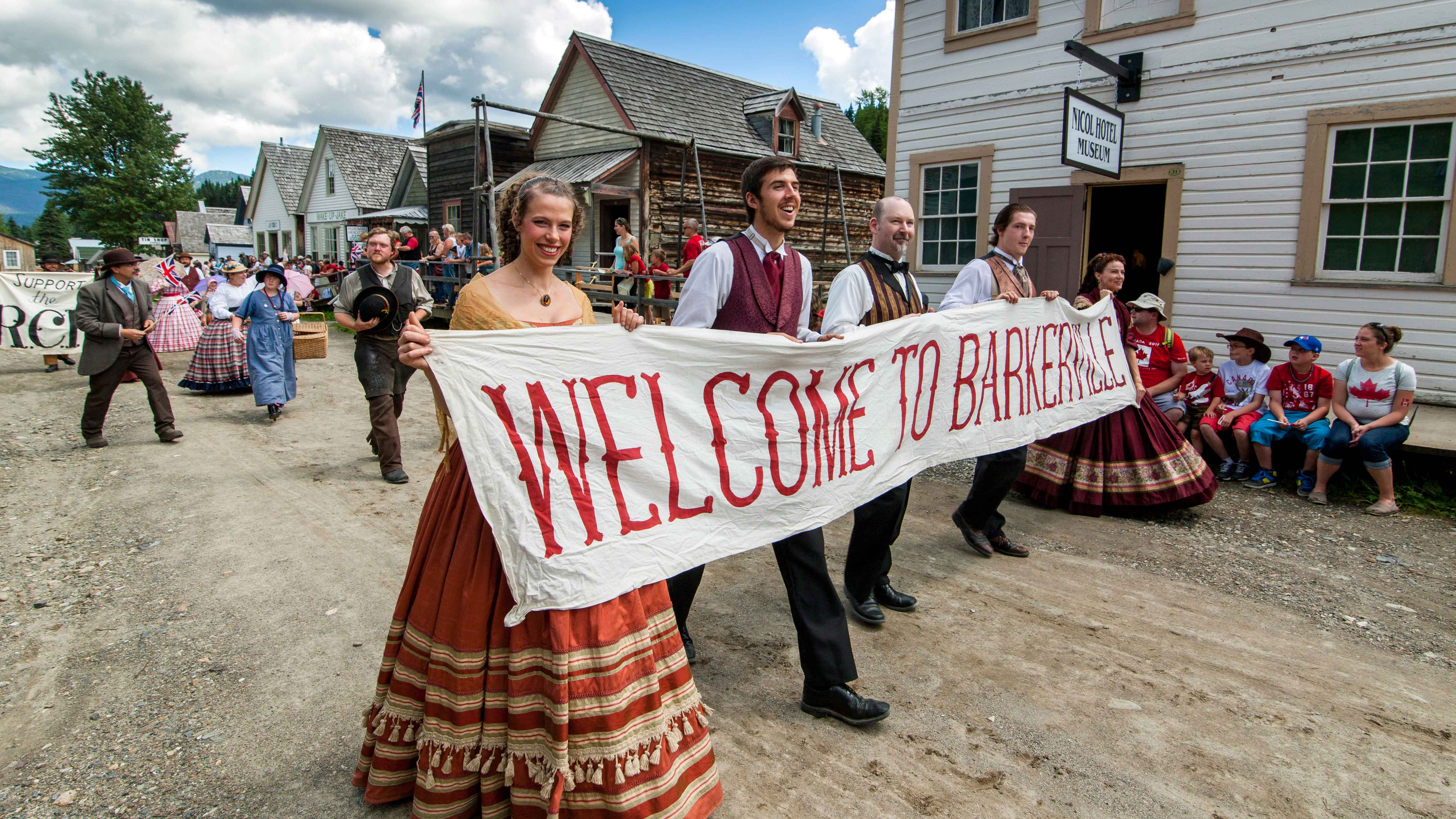 Dawson Creek has lots to celebrate this year. Not only does 2017 mark Canada's 150th anniversary, it also marks the 75th Anniversary of the Alaska Highway. And Mile 0 is at Dawson Creek.
"Canada's centennial year in 1967 helped create many important legacies that have had a lasting impact on our society, including the time capsule," says Mayor Dale Bumstead, who will open the copper cylinder at a ceremony July 1. As for the contents, no one knows. "Our history is built on agriculture so it likely contains grain seed. One story says it contains a bottle of rum, another story says the old timers drank it and put a note inside, saying how good it was. I don't know what else is inside so there is some suspense."
Students at Northern Lights College are building another time capsule to be opened 50 years from now. "It will include a flash drive promoting our city, a cell phone and other stuff, maybe a bottle of rum," says Mayor Bumstead, laughing.
Although Pouce Coupe is a small bedroom community of Dawson Creek, they put on the traditional Canada Day parade. "We respect that. We participate, but they get the glory," adds the Mayor, in typical Canuck fashion. Along with a pancake breakfast at the Legion, the community will serve a cupcake cake to the first 500 people.
Victoria
The year before confederation, in 1866, the colonies of British Columbia and Vancouver Island came together. This year B.C.'s capital has lined up two days of mainstage shows on the legislative lawns, including Canadian rock band the Arkells. And coming back from what used to be Folk Fest (15 years ago) are about a dozen food kiosks from multi-cultural associations serving their dishes by donation – monies raised by these non-profit groups will help promote their culture.
If you want to be a part of history, show up on the legislative lawns at 2 p.m. "We will attempt to break the bragging record for the Canadian Living Flag," says Alan Lowe, chair of the Greater Victoria Spirit Committee. "We have red and white t-shirts for participants, and there will be areal shots." Lowe anticipates that 5,000 t-shirts will be given out.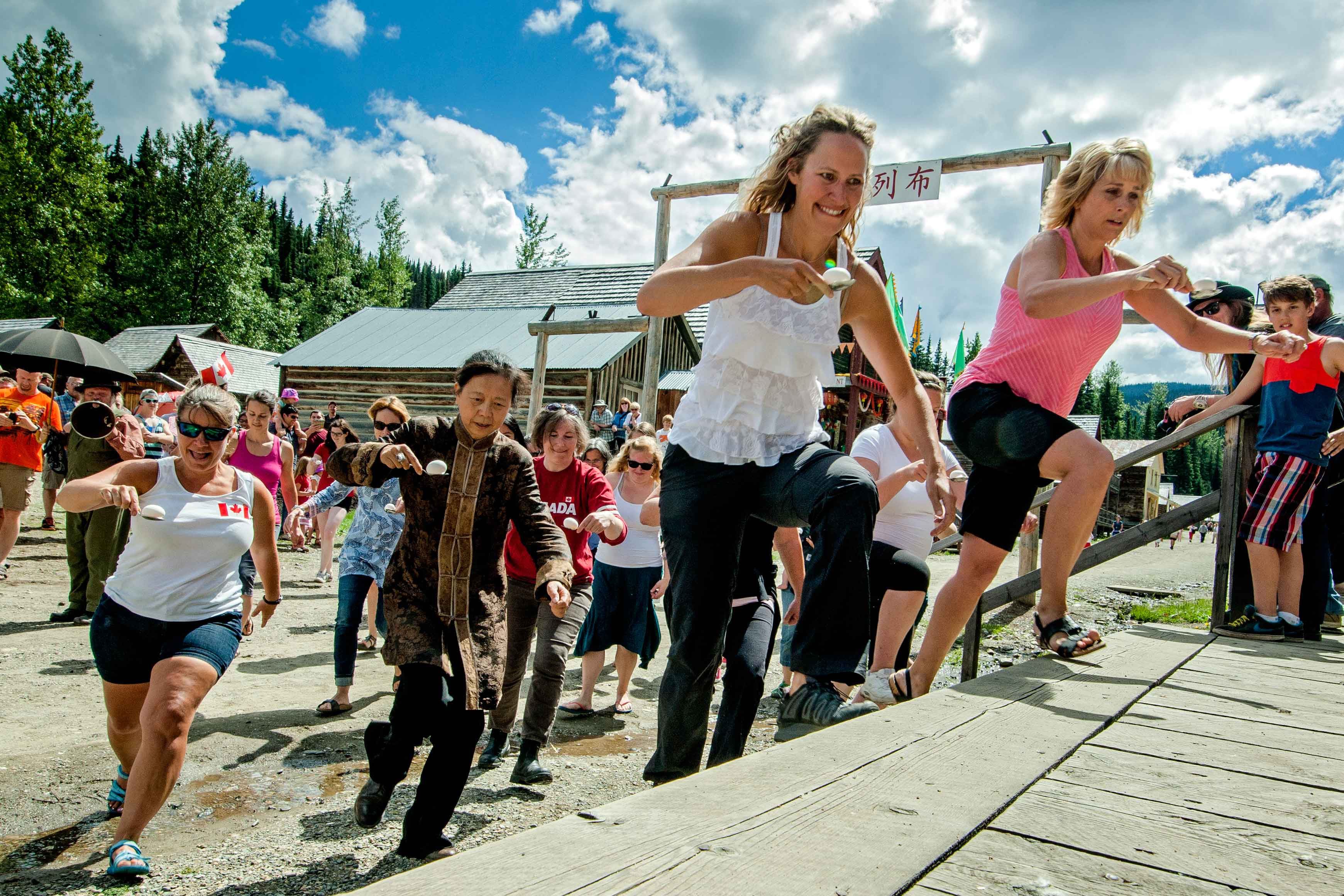 In & Around Vancouver
Grouse Mountain is attempting to break the Guinness Record for the "largest human maple leaf" in the world. Either take the sky ride or hike the grind wearing your best red outfit. Reach the cut by 1pm and you too can be part of history! Can't make the cut? You can – potentially – see the shape being formed from the city.
Canada Place is hosting the second biggest Canada Day celebration outside of Ottawa. There are more headliners than ever before, with big-name bands on five stages. The mainstage is programmed right through to the fireworks at 10.30 pm. The north point lounge at Canada Place will be serving beer and wine (it's family friendly) all day, and can accommodate 2,000 people. Party all day!
On Day 2 come back for a pancake breakfast (donations go to Strathcona Community Centre's "Food Security for Children" program) at the north point of Canada Place, which just got renovated and it doesn't look at all like Expo 86 –that's when the building opened. The parade at 5pm marks the grand finale.
At Creekside Park, Chinese Canadians at Vancouver-based Legacy 150 Celebrations Society hope to drum up a new Guinness World Record. "At 11am on July 1, eight cities across Canada will start drumming," says project manager Helen Yu. "We need 50 nationalities to celebrate Canada's multicultural fabric by drumming." If you want to drum but can't get to the park, take a video and send it to Canada150 drumming. Yu says you must have a valid passport and be in Canada on July 1.
Richmond and Steveston
"We're taking Canada Day to a new level, there's lots going on," says Mayor Malcom Brodie, "kicking off with a morning parade and a street party in Steveston. This is food central: the salmon festival has been going on for generations (since 1945) and in addition, lots of food trucks are pitching in. Around Steveston village will be multiple stages with major performers such as Harpoonist & The Axe Murderer. "I think axe refers to a guitar. I'm told these two guys are popular but hey, I'm just the messenger." And the mayor. Historically, over 70,000 people spend Canada Day here.
No matter where you celebrate, it's going to get crowded. So come on down (or up) and celebrate being a Canuck. It'll go down as a great day in our country's history.
Links
Barkerville celebration: http://www.barkerville.ca/dominionday/
Dawson Creek celebration: http://www.tourismdawsoncreek.com/calendar/74/2270-Canada-Day-Parade-BBQ-Celebration-Pouce-Coupe
Victoria celebration: http://www.tourismvictoria.com/events/canada150/
Grouse Mountain celebration: https://www.grousemountain.com/events/canada-day-at-the-peak-of-vancouver-4dba6050-44b8-41ae-87a4-eeef67f3a404#.WU_Yj-msi5Q
Canada Place: http://www.canadaplace.ca/events/canada-day/
Steveston celebration: http://stevestonsalmonfest.ca