You may not be familiar with the Comox Valley but if you've eaten an oyster lately, it was more than likely a product of the waters enveloping its coastal communities. I'm lucky enough to call Comox my hometown and I'll make a candid admission, I sampled moules-frites for the first time only two years ago, and raw oysters just last Christmas. I know, I know, I've arrived to the shellfish party more than a little late. So it was just my luck that a long overdue trip home coincided with the 2015 BC Seafood and Shellfish Festival (BCSSF). I packed up my fiancé, some hometown nostalgia, a newly mature palate and hit the road.
Fresh Fest
The BCSSF runs a full ten day schedule of culinary events, dinners, aquaculture workshops, tours and competitions. It's the largest of its kind and now in its ninth year the festival attracts the talent of celebrity chefs. This year features chefs Hamid Salimian (Captain of Culinary Team Canada for the World Culinary Olympics), Andrew Stigant (Russell Food Equipment) and Ned Bell (executive chef at Yew Bar, Vancouver Four Seasons).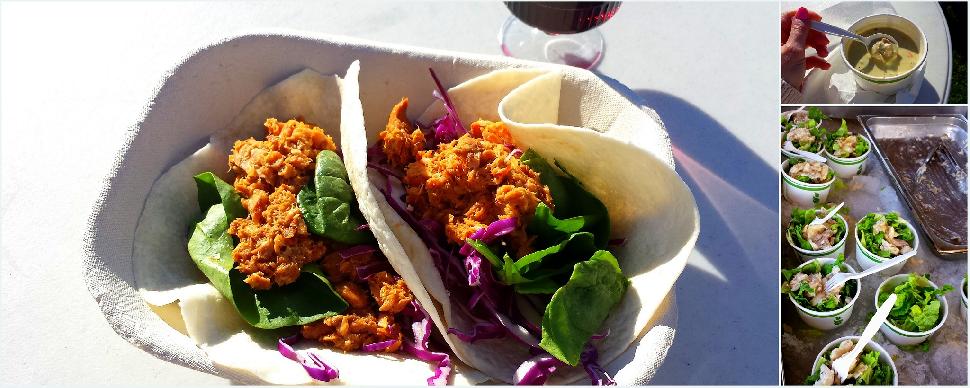 BCSSF kicked off last Friday with Fresh Fest in Comox Marina Park. An open air event, the chilled-out tunes of the River, the Road & Luke Blu Guthrie, and Zerbin floated along coastal breezes while festival-goers contemplated their dinner choices. It was a green salad topped with poached miso-ginger sablefish and Japanese pepper flakes, or a smoked coho pasta salad tossed with a basil vinaigrette to start. The choice was made easy: one of each! The soup dish was a rich, creamy seafood chowder. Local Manila clams, oysters, mussels and veggies heartily satisfied. The entrées provoked the greater argument. The argula-pesto dressing on the grilled salmon burger looked intriguing, but would we regret not sampling the salmon rice bowl garnished with blackberry ginger sauce? Yes, we would likely regret missing that. To further complicate the matter, the chef said she preferred the steelhead tacos above all. This presented a true foodie FOMO dilemma. (That's fear-of-missing-out for the acronym-challenged.) The verdict: tacos and the rice bowl. Perched at a tall cocktail table we dug into the main and took in the ambient setting. Families stretched across the park, laying out on colourful beach blankets. Girls in long flowing dresses and a man sporting dreadlocks swayed in rhythm with the band as they jammed into the night. Children spun wildly and laughed and danced. The sun dipped towards the horizon, wrapping up another gentle Comox day.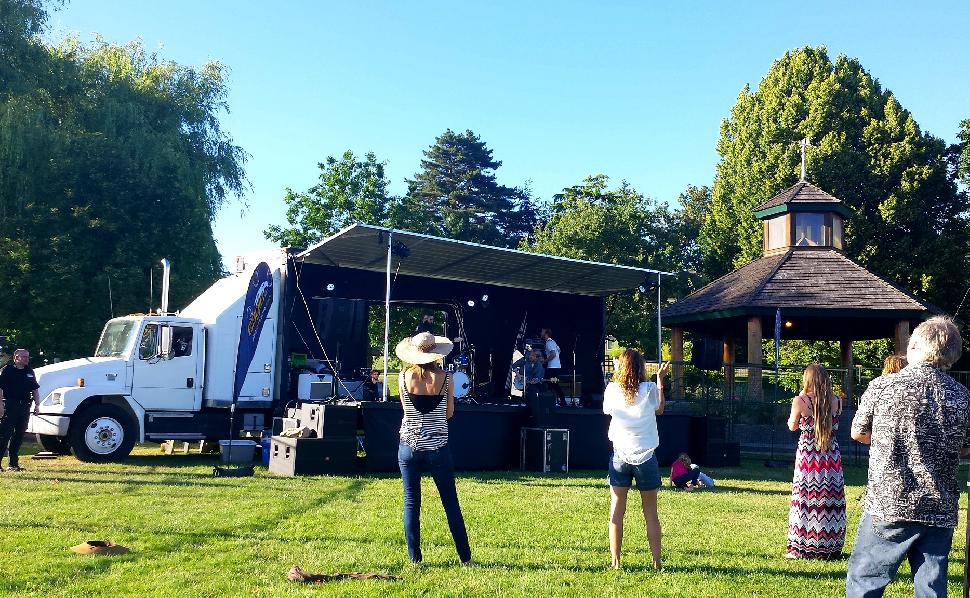 BCSSF Schedule of Events
If you missed Fresh Fest, don't worry there is still a lot of the BC Shellfish and Seafood Festival to be enjoyed. Here is a rundown of upcoming events:
Tuesday (16)
Macs Oyster Beach Tours – various times at low tide ($10)
Manatee Holdings Hatchery Tour – 11 a.m. (45 minutes, free)
Fanny Bay Oysters Plant Tours – 10 a.m. & 2 p.m. ($10)
Deep Water Oyster Farm Tour with Comox Harbour Charters – 1-4 p.m. ($55) SOLD OUT
Wednesday (17)
Macs Oyster Beach Tours – various times at low tide ($10)
Manatee Holdings Hatchery Tour – 11 a.m. (45 minutes, free)
Fanny Bay Oysters Plant Tours – 10 a.m. & 2 p.m. ($10)
Salmon Farm Tours – 9 a.m. – 1:30 p.m. in Campbell River ($50)
Foraging for Wild Edibles – 11 a.m. – 4 p.m. in Deep Bay ($125)
Thursday (18)
Macs Oyster Beach Tours – various times at low tide ($10)
Manatee Holdings Hatchery Tour – 11 a.m. (45 minutes, free)
Fanny Bay Oysters Plant Tours – 10 a.m. & 2 p.m. ($10)
Oysters 101 – An Evening of Oyster Fun for Oyster Lovers – 5:30 p.m. – 9 p.m. in Deep Bay ($60)
Friday (19)
Deep Water Oyster Farm Tour with Comox Harbour Charters – 10 a.m. -1 p.m. ($55) SOLD OUT
Manatee Holdings Hatchery Tour – 11 a.m. (45 minutes, free)
Oyster Shucking Demonstration – 1-2 p.m. at Quality Foods, Comox (free)
Oyster and Wine Pairing – 3-3:45 p.m. at Cascadia Liquor Store ($5)
Chef's Gala Dinner – Filberg Heritage Lodge & Park ($150) SOLD OUT
Saturday (20)
Comox by the Sea Celebration – noon – 5 p.m. at the Filberg Heritage Lodge ($15)
Casino Royal & Seafood Feast – 5 p.m. – midnight at the Old House Hotel & Spa ($99 or $125 stay package)
I'd Like to Be…Under the Sea Wine Maker's Dinner – 6 p.m. at Blue Moon Estate Winery ($95)
Sunday (21)
Fisherman's Wharf Tour – 11 a.m. (free)
For specific event details click here: discovercomoxvalley.com/shellfish-schedule-events
Comox Valley Weekend Itineraries
If you're considering making a weekend getaway to the Comox Valley here are a few suggested highlights to fill a two day itinerary:
Hike in Paradise Meadows (half day)
Kayak the Courtenay River Estuary (half – full day)
Bike the Bear Bait Trail & Stoten Falls (half – full day)
Tube the Puntledge River (half day)
Golf – Crown Isle, Glacier Greens, Sunnydale or Comox Golf Club (half day)
A spa day at the Kingfisher – don't miss the Pacific Mist Hydrospa! (half day)
Explore Denman and Hornby Island (full day)
Are you attending any of the events during the 2015 BC Seafood and Shellfish Festival?
Leave us a comment below or tag us on Instagram (@BritishColumbiaMagazine) to show us! #ILoveBC