This cluster of islands and islets just off-shore from Nanoose Bay is perfect for a relaxed day of paddling.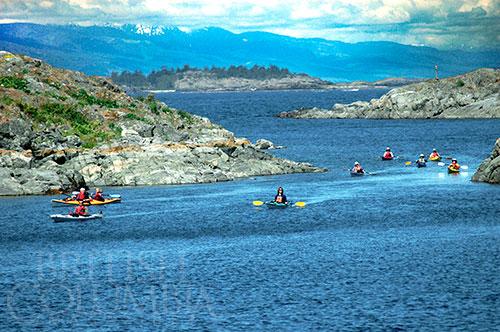 Paddlers explore Ballenas-Winchelsea archipelago, made up of 19 islands.
Bald eagles carve lazy circles on a carefree sky as we thread our ocean kayaks through a labyrinth of rocky out-crops caressed by a royal-blue sea.
It is the July long weekend when the four of us—two 50-something couples—come ashore on the west side of South Winchelsea Island, one of 19 that comprise the Ballenas-Winchelsea archipelago, off Nanoose Bay north of Nanaimo.
We inhale the aromatherapy of salt air on a warm forest, then walk 100 metres down a trail bordered by golden waist-high grasses toward a beach over-looking Vancouver Island.
Purchased in 1998 by the Land Conservancy of British Columbia, 10.4-hectare South Winchelsea is an ecological reserve where arbutus trees and Garry oaks grow on windy outcrops in a mild Mediterranean climate.
Scores of smaller plants grow here, too, including oceanspray, chocolate lily, sea blush, yellow monkey-flower, and camas, long a source of nourishment for the Coast Salish.
Spring is best for viewing wildflowers, but wildlife can be observed year-round.
Retracing our steps along the path, we divert along a loose trail of shore pines to a clump of rocks rising above the island's northern shore. Looking into the distance, we spot the spray of at least a dozen Pacific white-sided dolphins igniting the waters of the Strait of Georgia.
The archipelago is clearly all about nature. Killer whales can be sighted on occasion in these waters. And in winter, both California and the larger Steller sea lions haul out on the rocks. Harbour seals are ubiquitous year-round.
After a rewarding day of exploring, we look forward to the relaxing paddle home. The four-kilometre straight-line distance from Schooner Cove on Vancouver Island to South Winchelsea can be accomplished in under one hour. You can also take a day or more to explore the entire archipelago, venturing across Ballenas Channel to South Ballenas Island, a federal defence property that is off-limits to the public (despite the occasional camping kayaker), and privately owned West Ballenas, which was recently up for sale for $1.45-million. Whatever your choice, the lee side of the islands offers some protection against winds, which prevail from the northwest in summer and southeast in winter.
Although the archipelago is not overrun with visitors, you may get the feeling of being watched. North Winchelsea Island bristles with communications arrays as operations centre of Canadian Forces Maritime Experimental and Test Ranges. Kayakers are not permitted to land on the island but can safely paddle along the shore. The firing of unarmed torpedoes occurs in a closed hazard area extending north and east of the archipelago.
A less intimidating excursion is to 12-hectare Gerald Island Provincial Park, established in 2013 as a "rocky coastal bluff ecosystem rarely found undisturbed in the Coastal Douglas-fir biogeoclimatic zone in the southern Strait of Georgia"
As our day ends, we watch a magenta sunset bleed across the archipelago, already dreaming of our next visit to these rocky gems.
Getting there
The Ballenas-Winchelsea archipelago is located off Vancouver Island's Nanoose Bay, a 25-kilometre drive northwest of Nanaimo on Highway 19.
Info
Schooner Cove Marina (fairwinds.ca/marina/) in Nanoose Bay charges a launch fee of $4 per kayak. Parking is free. Adventuress Sea Kayaking (adventuress.ca) rents kayaks and conducts tours. Use marine chart #3512. Closures to the military exercise zone are announced on Weather Channel #3.