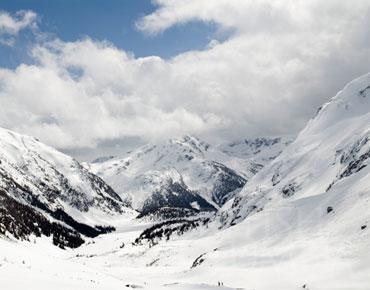 For the Winter 2010 issue of British Columbia Magazine, writer Larry Pynn had the pleasure of donning skis and exploring the Sunshine Coast's little-used Tetrahedron Provincial Park. As he noted, it can be exhilarating to cut tracks in virgin snow, to explore wilderness with hardly anyone else in sight. But there's also a serious risk to traversing mountainous terrain in the winter—avalanches. Here are a few tips and resources to help you stay safe in avalanche country.
Before heading into the backcountry during winter, consider hiring a knowledgeable guide, or take appropriate training. See the Association of Canadian Mountain Guides website to search for local certified guides: www.acmgguides.com/html/guides/guide_search.asp.
The Canadian Avalanche Centre (CAC) offers a free Online Avalanche Course at www.avalanche.ca, as well as information on its Avalanche Skills Training programs, administered by independent instructors. Click here for an interactive map listing courses across the province.
Prior to setting out on your trip, check the CAC's "Avaluator," an online tool that provides an estimate of avalanche risk in a given area: www.avalanche.ca/avaluator.
Carry avalanche rescue gear—probe, beacon/transceiver, shovel, etc—at all times when traveling in the winter backcountry.
Avalanches can be associated with sunshine and daily warming. Consider travelling early while everything is frozen, or at night. The CAC website lists conditions that may lead to avalanches and how to avoid problems: www.avalanche.ca/cac/pre-trip-planning/decisionmaking.
Watch for cracks across the snow surface and listen for the tell-tale "whump" noise associated with a slope collapse.
In avalanche country, always travel in a group and ensure everyone stays within sight of one another.
The U.S.'s National Snow and Ice Data Center recommends that before travelers cross a slope where there's the possibility of a slide, they should fasten clothing securely to keep out snow, loosen backpack straps, and remove ski pole straps, then proceed one at a time.
If caught in an avalanche, use a swimming motion to try and stay at the surface. If possible, move to the side of the avalanche. If you're not at the surface when the slide stops, quickly punch the snow to create an air pocket with one arm and push your other arm toward the surface to help rescuers locate you.
For more information, visit www.avalanche.ca