It doesn't get any better than this:
The lapis-coloured sky perfectly mirrored on the tranquil surface of the lake, the prow of our canoe gently parting the glass in one silent rhythmic incision as our paddles dip above and below the gunwales in unison. There's not even a rumour of wind. Two other canoes trail in our wake, their animated passengers belting out the lyrics to "Land of the Silver Birch" in a parade of uninhibited revelry.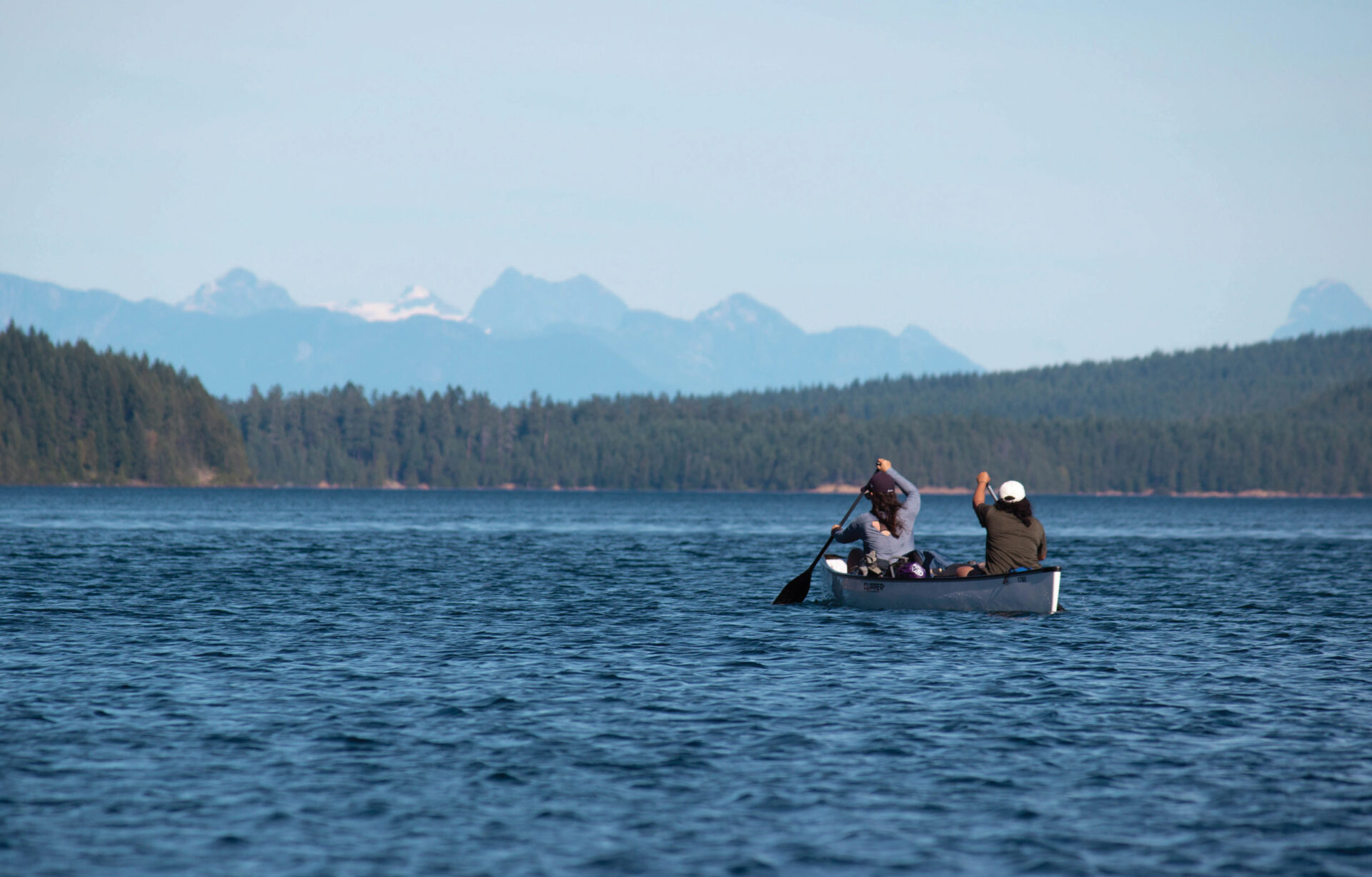 "My paddle's keen and bright, flashing with silver, follow the wild goose flight, dip, dip and swing."
Life is good.
Our crew, made up of two solid Clipper canoes, one behemoth (deadweight) plastic canoe and six wannabe voyageurs, had just completed the most intense portage of the Sayward Forest Canoe Route—a 300-metre slog up a rooted, rocky trail that we had been apprehensively anticipating since first casting our eyes over the map of the circuit.
The Sayward Forest Canoe Route is a 47.4-kilometre loop situated within the Sayward Provincial Forest, northwest of Campbell River on Vancouver Island, in the traditional territory of the Kwakwaka'wakw people. In the summer of 1938, a huge wildfire spread throughout the Sayward forest, razing 30,000 hectares of land and destroying most of the large old-growth trees in the process. The intense blaze raged for over a month before firefighters were finally able to extinguish it. One year later, the BC Forest Service replanted the forest with over 800,000 douglas-fir trees in a period of just one month. Since then, it has become a working forest as well as a recreational destination. There have been several portage trails constructed on old railways in the area, which together form a circuit between the 14 crystal-clear lakes that make up the Sayward Forest Canoe Route. The route is the premier multi-day canoe opportunity on the island, and is situated on low-lying, undulating terrain. The monumental peaks of the Vancouver Island range to the west, and the Coast Range to the east, dominate the horizon.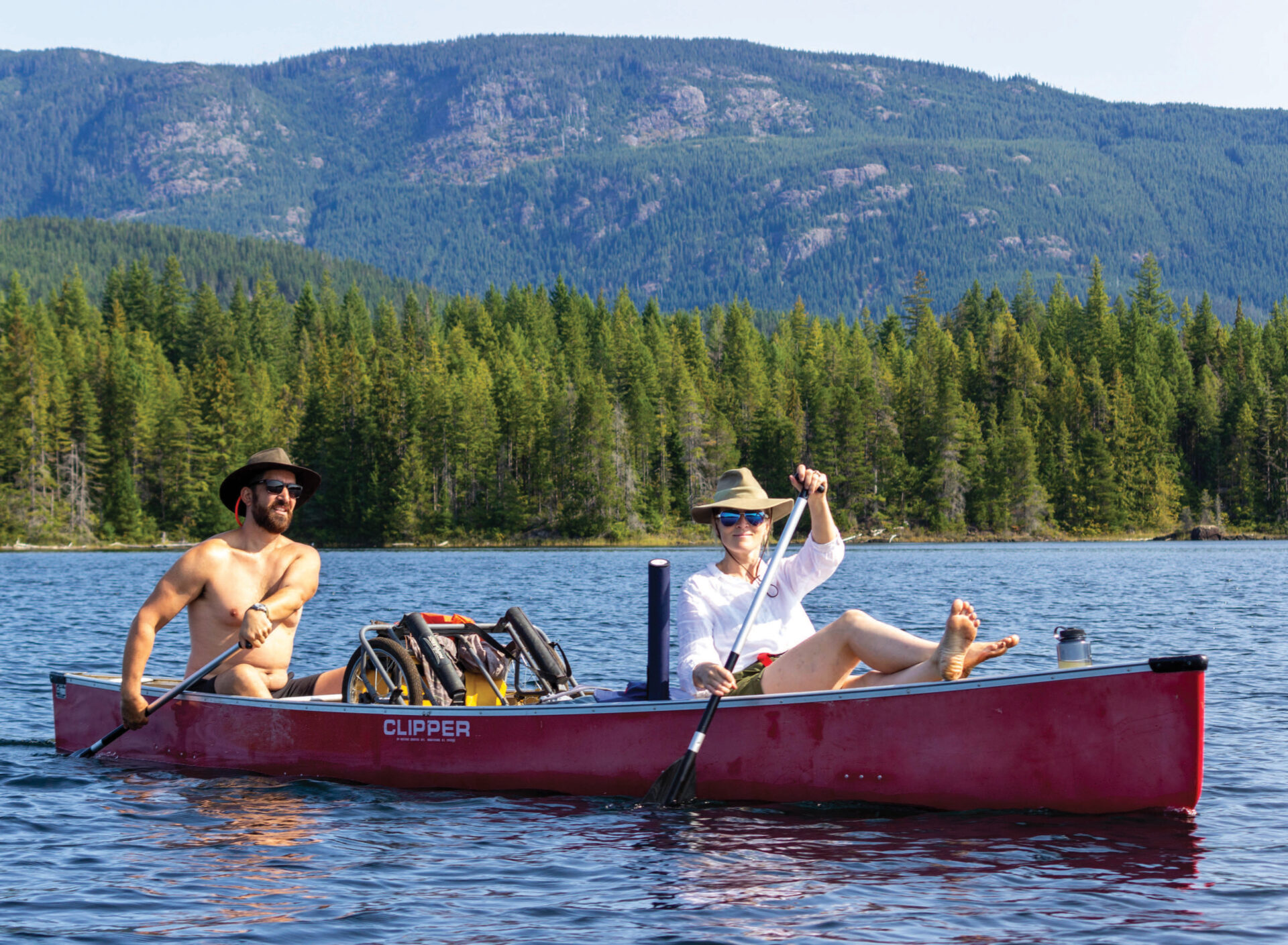 The first day started later than we expected. It wasn't until 3:30 in the afternoon that we finally managed to cast ourselves off from the beach at Morton Lake Provincial Park, the starting point of our journey. The late start necessitated a steady paddle tempo as we worked our way north from Mohun Lake, into Goose Lake and toward the first portage of our trip.
In the middle of Goose Lake, we started waxing lyrical to each other about how easy canoeing was compared to hiking, how this trip was such a good decision—the luxurious escape we all needed. The problem was that none of us had ever actually done a multi-day or multi-lake canoe trip, so we had no idea what highs and lows were awaiting us.
Just days before the start of the trip, in a brief yet frenetic research impulsion to try and better understand the general premise of canoe journeys, I read a quote from Canadian paddling pioneer Bill Mason that said: "Portaging is like hitting yourself in the head with a hammer: it feels so good when you stop." The prophecy didn't sink in at the time, but during our first portage at the north end of Goose Lake, those words resounded in my head on a sadistically comical loop.
Then the wheels fell off, literally and figuratively, because although we thought we were clever for having opted for canoe carts over the traditional shoulder-carry portage approach, we had failed to realize that one meagre strap connecting the cart to the canoe was about as effective as a floss lead on a bucking bronco. For the next 1,600 metres we took turns horsing each other's canoes around the tight trails, while unsuccessfully attempting to steer the bucking ships to prevent them from sliding off into the adjacent ocean of salal and huckleberry bushes.
Next came the river, or what was left of it. During the summer months, the river level is so low that in places all that's left is a muddy mire. The only practical way through is to take off your shoes, roll up your pants and channel your inner rugby player—push, pull, fall and repeat. At this point in the proceedings, we collectively came to the realization that what we had signed up for was not a level-one "nature bath," it was a level-five sweat fest.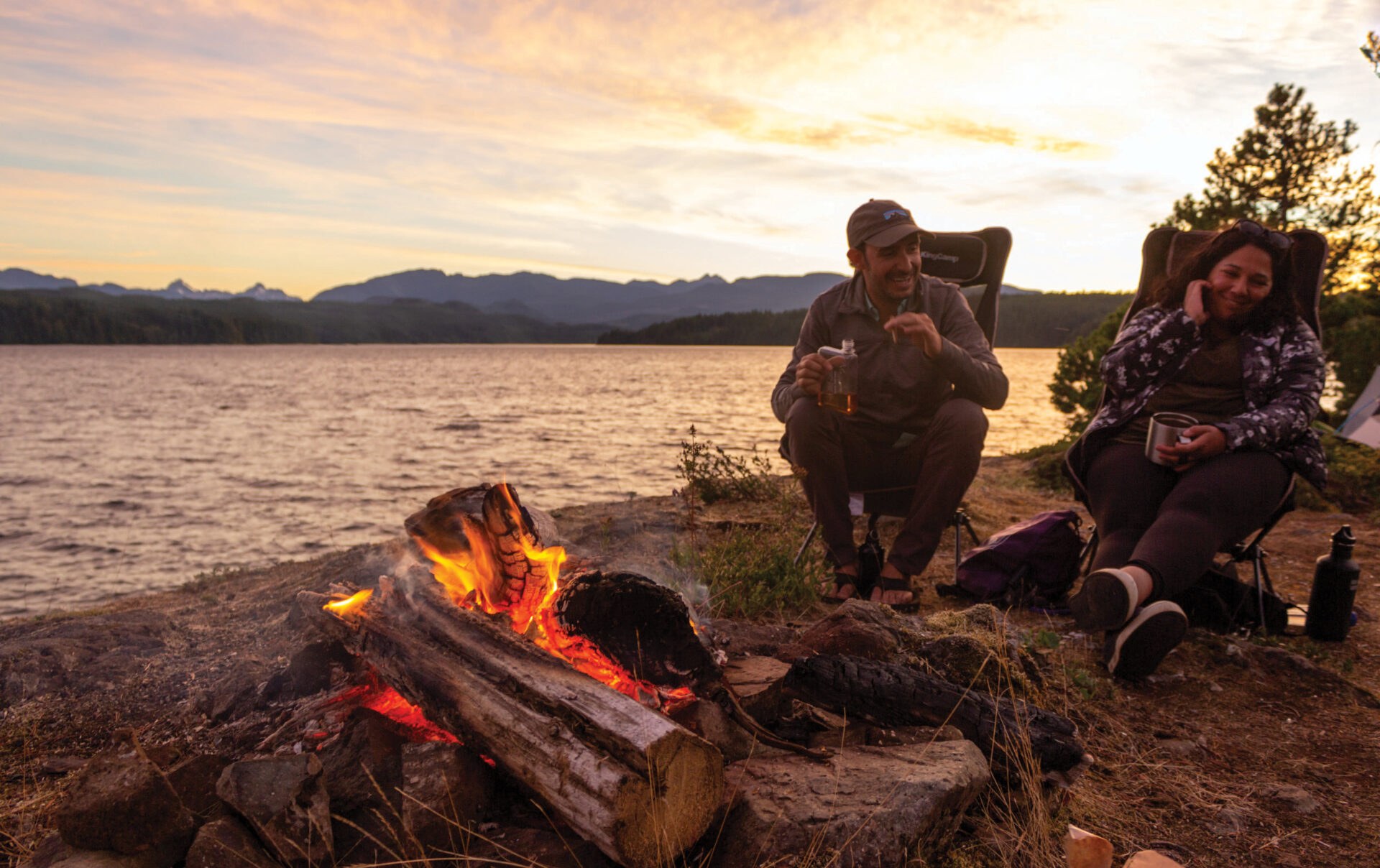 Sunlight and energy levels were beginning to fade by the time we finally arrived at the Twin Lake rec site. We scanned the campground in the vain hope of finding a free spot, but it was completely full: children everywhere, dogs barking and fires at every campsite. After a brief team huddle, we decided that our only option was to push on to the next potential campsite, another 900-metre portage and substantial paddle section away. We quickly chowed down on some dried mango, slurped some goon-bag wine and then we crushed the portage using a combination of teamwork and fantasies of our cosy sleeping bags to pull us onward.
When we reached the next lake, Amor, the stars were out in their wild magnificence, completely unencumbered by light pollution. A warm summer breeze carried the earthy smell of the forest across the water, and a mercifully bright campfire highlighted the Lak La More beach campsite from afar. We eased our canoes onto the beach and then sluggishly went to work setting up our tents, rousing a fire and voraciously devouring our freeze-dried butter chicken. Then we retreated to our tents for the night. As I lay in my tent reflecting on the day, I realized that all I could hear was pure silence, a far cry from the loud sounds of traffic and people I am usually serenaded by in downtown Victoria.
On the morning of day two, I awoke to moans of pain and suffering from the tents nearby. Bodies were sore and motivation was at an all-time low. "I can't even move," came the miserable cry from our friend Mike, who had made the questionable decision to do a legs session at the gym the day before starting our trip. "I don't feel sorry for you Mike," I quipped back, "just think how shredded those pins of yours are going to be this time next week."
One by one we poked our heads out of our tent flaps, stood up, stretched and felt the dawning sun hit our faces. The weather was spectacular, no amount of pessimism could deny that. A couple of pots of coffee, a quick swim and several ibuprofen later, and our bodies and minds were ready to accept whatever the day would bring.
Stroke after stroke, we traversed the main body of Amor Lake, noticing several beautiful beach campsites to the left and right of us. At the south end, we had a tiny 100-metre portage that led us into Surprise Lake, and then a 2,300-metre marathon from Surprise into Brewster Lake, the longest portage of the trip. By this time, we had pooled our resources and located a couple of extra straps to secure the canoes to the carts. Each canoe was now more or less behaving like a well-trained steed, with only the occasional leaping outburst. With this new system, we made good time on the long portage. We were getting the hang of things.
We reached Brewster Lake in the late-afternoon and decided it was a good place to try to find a campsite for the night. As we made our way south in the still-baking sun, we tied some beer cans securely to a rope that we trailed behind us in the cool depths of the lake. Our campsite popped out at us from a small peninsula that jutted out from the eastern shore: another spectacular sandy beach that we had entirely to ourselves, complete with a seated fire pit and a huge picnic table, worthy of a feast.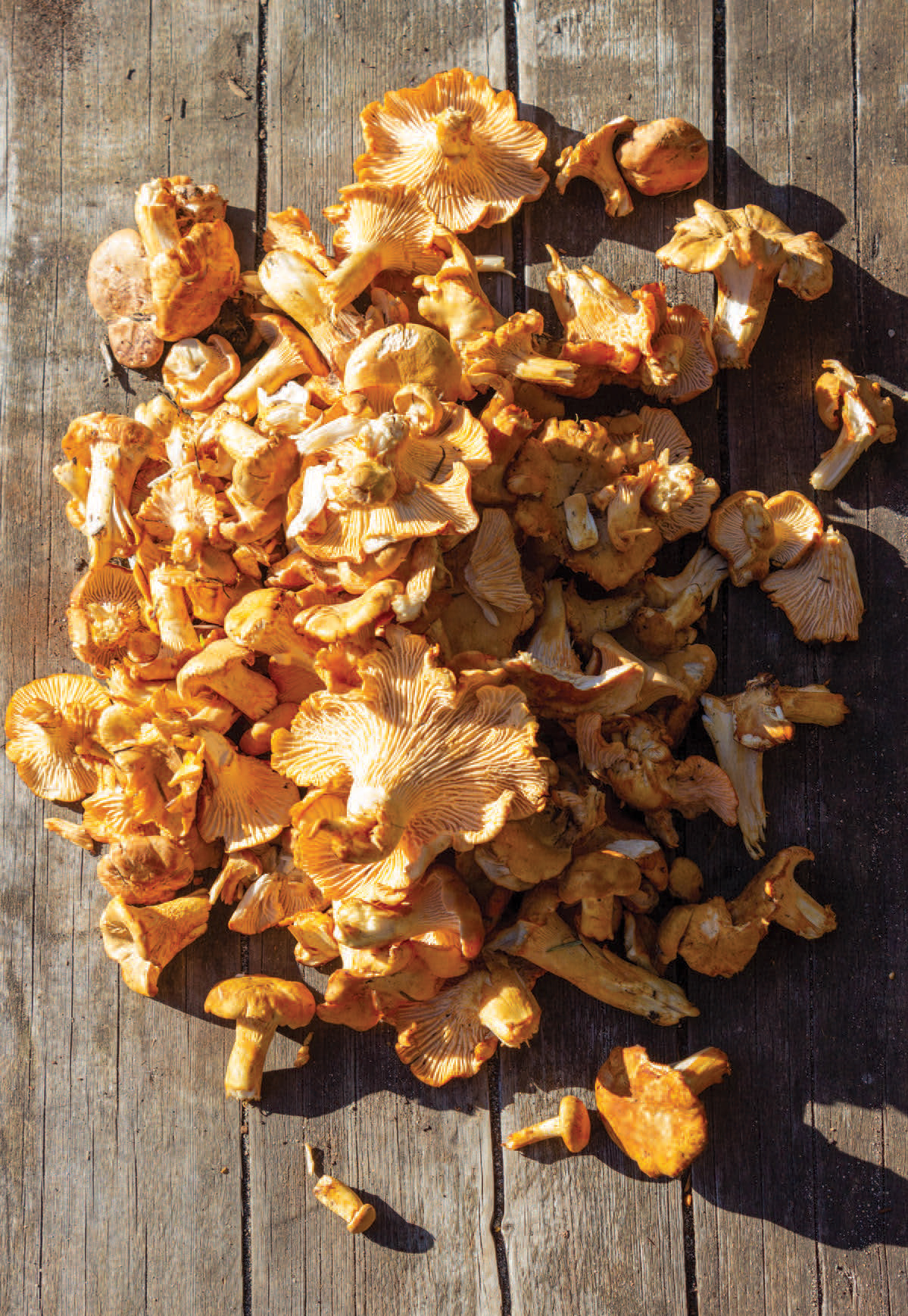 After drinking our cold beers and cooling off in the sublime pellucid waters of the lake, we set about collecting wood for the fire. We split up into pairs and marched off into the moss-laden forest surrounding the campsite. In moments there were loud exclamations coming from all directions announcing simultaneous discoveries of the ultimate forest treasure: golden chanterelle mushrooms. We collected dozens of prime lustrous specimens in just a few minutes, our mouths watering and our morale high.
We ate well that evening, feasting on sautéed mushrooms and sirloin steaks that we had stashed frozen at the bottom of a dry bag. As the sun set over the nearby mountain peaks and the stars began their nightly advent out of darkness—they just didn't stop coming. By the time we were due for bed, none of us could tear our eyes away from the impossibly vast, blazing celestial light show.
Our third day began with a glorious crimson sunrise. The birds started twittering their morning song as the expansive sky transitioned to a vibrant cobalt blue. A slight wind roused the lake, but we quickly determined that it was a backwind and would work in our favour. After breakfast and pack-up, we refilled our water filter bags and slid out onto the lake in unison. I caught the others stealing a glance back at our campsite, a truly magical place where we all felt we'd like to stay longer, but the route beckoned us onward. Breath by breath, paddle by paddle, we descended the remainder of Brewster Lake, toward our next portage.
Three hundred metres across flat land was all it took to get us across to Gray Lake, then a short paddle down Gray, and another couple of short portages book-ending Whymper Lake. There was another shallow river to traverse too, but this one was of the freestone variety and not muddy at all. We opted to stop for lunch at the river mouth, where we relished our delicious freeze-dried meals: Italian sausage with quinoa and Persian paprika rice with beef. Prepared by West Coast Kitchen, a Vancouver Island family business, each spoonful tasted like a hearty homemade meal. Bellies full, we took to the water again in Fry Lake and were eventually spat out into Lower Campbell Lake: an immense, clear water-body, and easily the longest paddle on our route at more than eight kilometres. This leg became all about paddling, and that we did. Pushing into the burn, we set our sights on the distant Coast Mountain peaks to the east and churned out stroke after stroke. The one heavy plastic canoe in our fleet fell drastically behind, its passengers working twice as hard yet moving twice as slowly. We cursed that colossal albatross and christened it "Big Bertha."
As we reached the end of the day, we started noticing that all the campgrounds around us were full. It seemed as though the entire population of Campbell River was on the lake that day, and I don't blame them—the weather was unbeatable. Panic and frustration started to seep in. We had finally felt like things were going well, we'd made it through the initial portage-shock of that first day and we were getting into a good rhythm, but now we were stuck with nowhere to camp.
Things got progressively worse as the late-evening wind started to howl. In desperation we started paddling nearby shores, scouting the beaches for any sign of habitable terrain, but this stretch of lake was rocky, with dense forest awnings and undergrowth forming an impenetrable barrier inland. With few options left to entertain, we miraculously stumbled across a small island: 30-metres long, 10-metres wide and worthy of Robinson Crusoe. The wind buffeted our canoes as we stashed them in a small, sheltered bay, making sure to pull them high up the beach as assurance against the rising chop.
Glancing around at our new island home, we quickly realized that we had struck gold. No matter the wind direction, there was protection on the opposite side. There was a flat, soft middle section that could perfectly house three tents behind a copse of small trees. Feeling fortunate, we set about pitching our tents and stirring a fi re. The night unfolded into absolute bliss, with all the usual actors playing a role; a verbose sunset gave way to another heavenly star panorama and we drank and ate ourselves into a state of merriment.
The last morning was bittersweet. We were all excited for our last day of paddling, but we were still dreading the final portages, especially the rocky climb. Part of me was also yearning for a shower and all the vices of modern society, but another part wanted to stay out there. I think the simpler lifestyle resonated with all of us, and I noticed everyone stalling during our morning pack-up, drinking in the last of it.
We fought a slight headwind as we made our way back to the Gosling Bay take-out, but it took us less than 20 minutes of steady paddling to arrive. We got into a rhythm of portage, paddle, portage, paddle, portage, between the remaining lakes. The 300-metre rocky uphill haul was a challenge and required all six of us working hard (particularly to migrate our ol' friend Big Bertha), but the temporary discomfort quickly gave way to celebrations when we realized that we had completed all the portages of the trip.
As we entered Mohun Lake again, this time from the south, the crew's merry songs drifted across the water and filled the bays as we voyaged past. We stopped for a last supper and jovial swim at the Mohun Island rec site, then made our final thrust toward Morton Lake Provincial Park, where our cars sat waiting to ferry us back to civilization. We raced each other the last few hundred metres into the bay, laughing and carrying-on as we reached the culmination of our communal victory.
On the beach we walked around handing out double high fives and big smiles, genuinely appreciating the time spent together. I felt that warm glow of satisfaction that only comes from achievement through hard work. I am so glad we did this trip, I thought to myself. And before I could stop myself, I spat out: "Let's do this again next year."
If You Go
The Route by the Numbers:
39.3 km paddle
8.1 km portage
Route Guidebook:
Sayward Forest Canoe Circuit, by Michel Gauthier. Dogwood Avenue Books, 2010
Canoe Rentals:
Coastal Expression
Nanaimo
coastalexpression.com
Comox Valley Kayaks & Canoes
Courtenay
cvkayaks.com