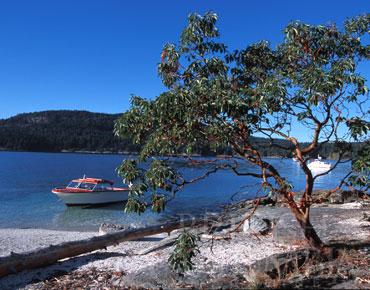 On a day like today, I can understand why Hawaiians might have wanted to settle in British Columbia. Heat rays rise off a tidal flat, and a light breeze carries the smell of salt, seaweed, and sand. Come the first week of grey and rain—about the time my wife starts scouting flights to Maui—it gets harder to comprehend.
I knew the basics. Historians estimate that at least 1,000 Hawaiians ventured to the Pacific Northwest between the late-18th and mid-19th centuries, many to work in the fur trade or as seamen. After the work ended, some chose to stay in the Gulf Islands. The south end of Saltspring Island was home to the largest Kanaka community, as expat Hawaiians are known.
Wanting to know more, my wife, daughter, and I launch our canoe from Saltspring Island's Fulford Harbour and paddle southeast towards Russell Island, the best place to learn about this province's Hawaiian heritage.
As we skim along Saltspring's forested shoreline, the envy-spurring homes eventually run out and the shoreline disappears into wilderness. Taking a break in the shade of an eroded sandstone cliff, my six-year-old daughter looks down at starfish and anemones below the surface as small waves whisper along the shore.
We land on a sandy beach at the west end of Russell Island, drag the canoe above the high-tide line, and wander down a loop trail through mature Douglas fir. Midway along the north shore, we come upon a clearing of overgrown gardens and freshly mowed grass. At the far end is a small home with a view through the arbutus onto the water. Richard Gardiner, a descendant of the early Hawaiians who settled here, shares his family's history.
Maria Mahoi came to B.C. in the 1870s and inherited Russell Island in 1902 from William Haumea, who some believe was her father. By 1906, she and her second husband, George Fisher, had built a home and were growing strawberries, tending an orchard, and raising livestock. She also raised 13 kids.
"At one point, nine of them lived in this house," says Gardiner, looking around the tiny home. "I don't know where they all slept."
Mahoi lived on the island until she died in 1936. Even after it was sold in 1959 to a dentist from California, her family members kept coming back, camping on the beach or among the apple trees. Eventually the island was purchased by government and in 2003 became part of the Gulf Island National Park Reserve. In 2009, 40 members of the Mahoi family volunteered to take turns spending a week on the island teaching visitors about their Hawaiian heritage.
"Most people only know their family history from the computer. Here's mine," says Gardiner, looking from the overgrown orchard to the creaky porch. "And I can share it with my kids. When people come here, and you tell them you're a descendant, their mouths always drop."
I say goodbye and walk down the warm wooden porch stairs to the pebble beach six metres away. Reluctantly, we launch our canoe and head home.
Getting there:
Launch small motor boats, kayaks, and canoes at Drummond Children's Playground near Fulford Harbour on Saltspring Island. From there, it's an easy, 1.5-hour, five-km paddle. Hosts are on the island from mid-June until early September.
Info:
Gulf Islands National Park Reserve (pc.gc.ca). Follow the links to find out more about Russell Island.
Maria Mahoi of the Islands by Jean Barman (New Star Books, 2004).