It's a beautiful morning in Vancouver's English Bay. A storm has just passed through, shaking up the waters and washing ashore some marine debris. But this isn't just the plastic bottles we hear about in the news, it is something much bigger. Now, stuck in the middle of the beach is a 30-foot sailboat. The hull is firmly planted into the sand, the mast snapped in two and everything that was once inside is spilling onto the shore.
Interesting to look at and impossible to ignore, the boat captures the attention of locals and tourists walking by. While most can appreciate the allure of a modern-day shipwreck, few fully appreciate the scope of the effort and cost it takes to remove it. Abandoned and wrecked boats are a problem that have plagued communities around the coast for decades, and until recently something that few could do anything about.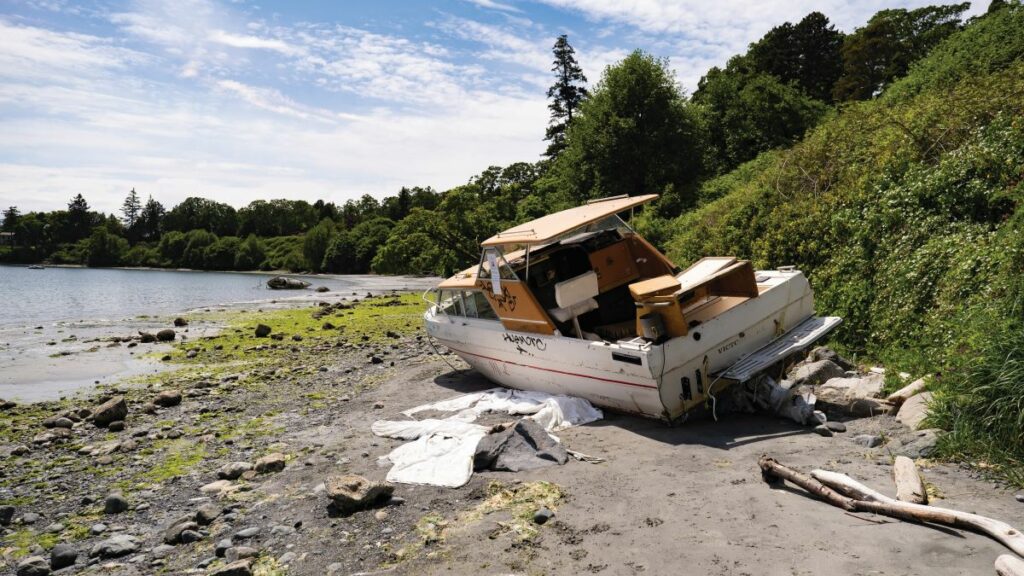 British Columbia's coast is one of the best cruising grounds in the world. Destinations like Desolation Sound and Haida Gwaii are the envy of boaters from all over the globe.
With hundreds of islands, thousands of anchorages and relatively uncrowded waterways, BC offers a lifetime of adventure and exploration to anyone interested in getting a boat. This lifestyle isn't just for the rich and affluent either, a perfectly cruisable boat—something that can take a couple or small family for an overnight trip—can be bought for less than the price of a new car, and annual maintenance and moorage fees are comparable to the strata fees in a downtown apartment. Boating in BC truly is a sport for anyone and enjoyed by thousands of individuals and families each year.
Your average pleasure boat was built and designed for decades of cruising. After the original owner has aged-out of their boat, or is ready for a change, they sell it. Typically, the boat will find another loving owner and the cycle will repeat until parts start to fail, break or decay beyond repair. Or, an owner gets sick, can't manage it any longer or dies, and the boat is given to a family member or friend who cannot take care of it for a number of reasons: not a boater, cost, maintenance and so on. Whatever the reason, as a boat's ownership cycle winds down there comes a point when it needs to be disposed of. Unfortunately, though, it's not as simple as taking a car to the wrecker.
"One may buy an old rundown boat and want to love and take care of it, and put the investment into restoring it," says Lisa Geddes, manager of special projects at Boating BC. "But there are those who no longer want their boat, and are unable to dispose of it easily or responsibly due to complexity or cost. They will leave it tied up to a mooring buoy or on a remote shoreline and never come back."
Since these boats are still technically someone's property, and so long as the vessel is not in a restricted area, or a hazard to navigation or the environment, Canadian common law allows boats to anchor indefinitely. Much to the frustration of active boaters and coastal communities, this means that most safe anchorages with easy access to a town or city will have at least a few boats that sit idle for years on end.
In some cases, the anchor lines corrode or break and the boats wash ashore. In others, the boats become damaged and sink. This raises a number of environmental concerns, including leaking fuels, oils, grease and other toxic materials that can disrupt and damage natural habitats for marine wildlife.
Popular Salish Sea anchorages like Victoria's Cadboro Bay, Ganges on Salt Spring Island, the Saanich Peninsula and Pender Harbour are just some of the areas seeing a concentration of these boats. While many communities like Bowen Island and Gabriola Island have put in great effort to clear what they can and clean up their bays, more boats keep coming.
The problem has been accelerated by BC's historically high housing prices. For someone who is struggling to pay rent, a $1,000 boat off Craigslist can provide a cheap place to live. But boats require constant maintenance and attention, and for someone inexperienced and without the funds to fix issues, these boats can quickly fall into disrepair.
It's not just old recreational boats that end up clogging our waterways, there is a serious issue with commercial boats too. When a large commercial fishing boat, tug or ferry reaches the end of its service life, they are often put up for auction to the highest bidder. Sometimes they are moved to other countries and put back into service, but often they end up in places like the Fraser River, whose banks are lined with dilapidated commercial vessels. This is currently the fate of the floating restaurant McBarge from Expo 86, and the ex-BC Ferry the Queen of Sidney, plus many others, which have all been left to rot in BC's longest and most important river.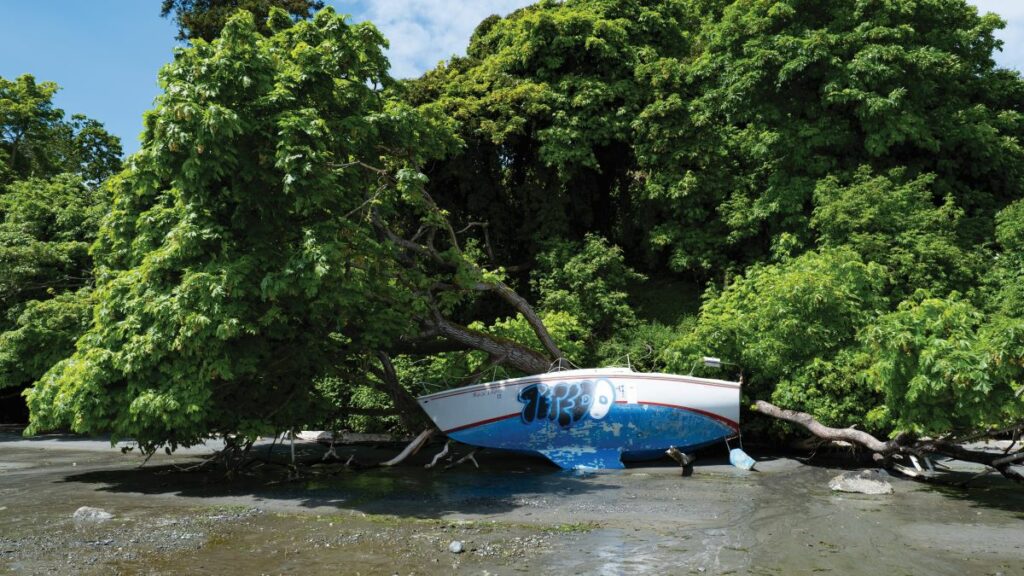 Historically, boats in BC were made of wood and most pleasure craft were converted logging or fishing vessels. Pleasure boating didn't exist as we know it today, and was largely reserved for those who could afford it. When these boats reached the end of their lifespan they were simply left to decompose or burned on the beach, with just a few scraps of metal left behind.
After the introduction of fibreglass boats in the 1950s and '60s, everything changed. Fibreglass was hailed as indestructible, low maintenance and affordable. For the first time ever, boating became accessible for working families and the sport boomed.
Peter Robson, former editor of Pacific Yachting magazine is now the president of the Pender Harbour and Area Residents Association on the Sunshine Coast. They have seen a significant increase in the amount of abandoned and dilapidated vessels in their bays and it is one of the organization's mandates to manage the issue.
"The 1970s and '80s saw a huge surge in boat-building and working people were able to buy and experience boating," says Robson. "Now, 40 years later, we are seeing many family cruisers at the end of their useable lives, with worn-out engines and equipment. Fibreglass hulls however, were built to last forever, and now that's the
problem, they don't break down and are actually lasting forever."
Some boaters are happy to replace engines and worn out gear, but in many cases those costs will outweigh the price of a new boat. While metal and wood can be recycled, there are no viable recycling options for fibreglass hulls, so they end up in landfills, sunk or broken-up on shores, where they often remain.
With owners nowhere to be found, the removal and disposal of abandoned boats has to fall on someone's shoulders. Until recently, there has been a circle of finger pointing between municipal, provincial and federal levels of government, along with the Coast Guard and Transport Canada, and no one agency with the budget or mandate to solve the problem on their own.
"Until the recent collaboration between government agencies, there was not one singular agency that dealt with abandoned boats," says Geddes. "If a boat was a safety hazard or posed a navigational hazard or hazard to the environment, meaning it was leaking something into the ocean, then a government agency like the Coast Guard or Transport Canada would come and deal with it. But if not, then nobody had the resources to deal with these boats properly."
Often, it's been left up to volunteers and community members to take it upon themselves to sort out the money and lengthy process of removal. It can take months of energy to serve notice, get approval to remove the boat and organize the contractors to get the work done.
John Roe of the Dead Boats Disposal Society has been working on marine cleanup since the '90s. The Dead Boats Disposal Society focuses on inventory, assessment, testing, removal and disposal of dead boats. The majority of their members are volunteers, and through their network on Facebook they have become a go-to for many of the BC communities struggling with what to do when bays start filling up with problematic vessels.
"At one time I had a nostalgic value in my heart for boats but not anymore. It's mostly garbage we are dealing with, and a lot of it," says Roe. "For me, the piece and quiet of living in the Gulf Islands and enjoying our beautiful nature, and then seeing these things get broken up on our beaches disheartens me every single time."
On just one weekday in May of this year, Cadboro Bay had three boats wash up on the beach, one on shore and another sunken in the shallow waters. Locals walk by pondering what will happen to the boats, and who is responsible for the cleanup. Roe calls it dead boat season, when storms bring in a wave of dilapidated boats. He has already served notice to the boats but estimates that when the full process is complete, the removal will happen in October—five months later.
By the end of this fiscal year, Roe estimates the Dead Boats Disposal Society will have removed 89 boats in and around Vancouver Island and the Gulf Islands. While it's hard to pin point the exact number of boats abandoned, documented aerial footage and community assessments estimate at least 800, and likely hundreds more remain.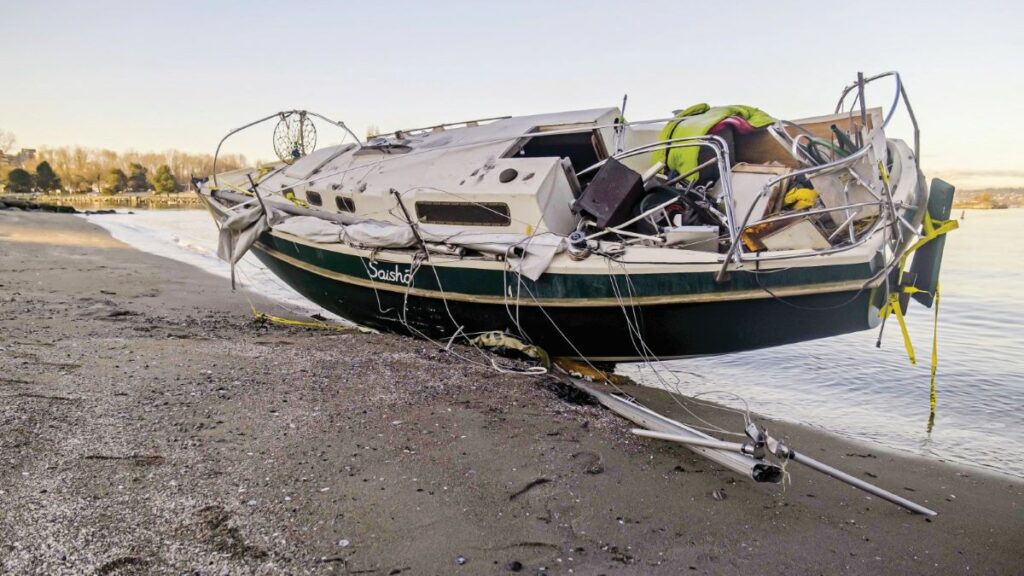 Community organizations, boaters and government officials have long advocated for a solution to the problem. It's been a complicated and expensive issue to address and it wasn't until 2017 that there was a light at the end of the tunnel. This is when the federal government decided to dig in and unpack the complexities by launching a number of initiatives simultaneously to address this issue as part of a national abandoned boats program.
In March 2019, the government announced Bill C-64: Wrecked, Abandoned or Hazardous Vessels Act. The Act recognizes that these vessels pose environmental, economic and safety hazards and are a concern for coastal and inland water communities across the country. Through the Oceans Protection Plan, the Government of Canada is hoping to increase owner
responsibility and liability for vessels, address irresponsible vessel management and enable the Government of Canada to remove problematic vessels.
Boating BC has launched an awareness and outreach campaign in BC to remind boaters of their responsibility to dispose of their boat properly when it comes to the end of its useful life. Funded by a grant from Transport Canada, their website offers a wealth or resources for boaters, including information on boat disposal services in all regions of BC.
Along with public awareness, the act also includes funding for some of the removal. Although it's not nearly enough to deal with all of the vessels, it is a start. The cost for removal varies based on where the boat is located, whether it's intact or in pieces, if it's submerged and so on. Disposal can range from a basic tow away, to having to contract a diver, a barge, a tug and more. The costs can go from a few thousand to tens of thousands of dollars and as the government funding covers only a part of the expenses, volunteers are still left to find funding in other ways.
While this new act is a step in the right direction, there is a long way to go toward a lasting impact and clean bays and beaches along BC's waterways. We need more affordable and accessible boat disposal options, innovative ideas for fibreglass recycling and a comprehensive system for tracking boat ownership and holding negligent boaters accountable.
But boaters and coastal community members who have been frustrated by this issue now have something they've been lacking for decades: Hope.