"Deserts are where people go when they're thrown out of Paradise." —poet-laureate George Bowering, on Okanagan grasslands
Climbing upward past cow pies and cattle-grates, past the ruins of century-old ranches, past desert arroyos full of yellowing aspen, past fading NO NATIONAL PARK signs, Kruger Mountains Road becomes an obscure, muffler-threatening, dirt track where antelope brush scrapes the vehicle's doors and the ghost town of Nighthawk lies ahead. At a bluff where bunchgrass and sage yields to rock, ecologist Don Gayton, 74, stops to survey a bit of the hundreds of square kilometres slated to form Canada's newest national park. An eagle rides the thermals high above. The wind sifts through fields that run southward to the American border in the valley directly below—and extends 2,500 kilometres further south to Mexico. This high desert is the hottest and driest place in Canada. Summer temperatures can exceed 40°C. Rain seldom falls. It is the place where Parks Canada has decided to defend one of the country's most endangered ecosystems against the onrush of Okanagan urbanization—vineyards, sub-divisions, malls and all.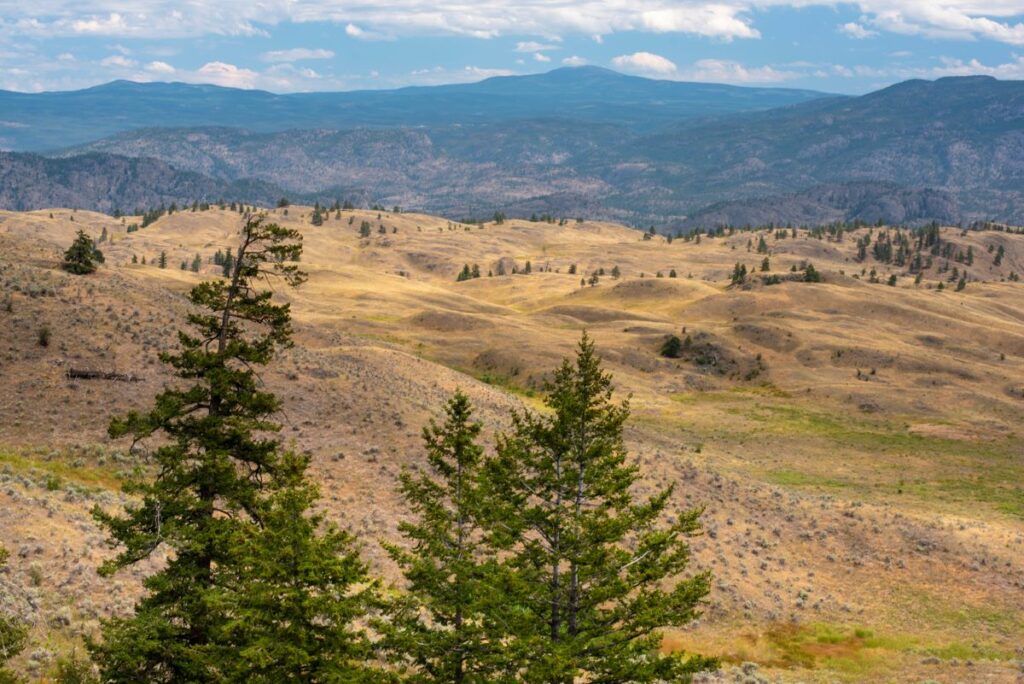 Gayton grew up outside Los Angeles, California, at the edge of its grasslands—and came to love the desert's elusive, often understated mysteries. "There are no majestic mountains," he says today, surveying a largely treeless South Okanagan panorama of burnished slopes, dotted with sagebrush and occasional Ponderosa pines. It is rattlesnake country. It is nighthawk country. It is scorpion country. It's a place where things hide from the sun. "This landscape doesn't do it all," he says of the absence of traditional British Columbia beauty. "You have to let it work on you. If you crave solitude, if you crave silence, grasslands are a good place to find them. The magical thing…" and he pauses to emphasize the observation… "is there's just the sound of wind."
The idea that a section of BC's southernmost Okanagan should become a national park has its origins 25 years ago in the realization the region is a tiny finger of desert that protrudes into Canada from the arid inland Great Basin to the south. It's an aperture for millions of migratory birds whose annual transits utilize the Okanagan Valley's marshes and lakes on their journeys north and south. It is, as well, a place which supports 30 percent of BC's most-troubled RED List species-at-risk: 149 different animals and plants that are extirpated (regionally gone); endangered; or threatened. Even more, anthropologists know the region has been populated for over 6,000 years by the Syilx First Nations people whose ceremonial sites, pictographs and sources of food and medicinal plants are important to the survival of this desert-dwelling culture. Without protection, these would, in time, disappear. One simply has to drive the highways from Keremeos to Osoyoos or from there to Oliver today—and compare the roadside view to two decades ago—to see the juggernaut coming.
Doreen Olson, 72, a naturalist and retired flight attendant, began driving these South Okanagan highways in the late-'90s just as discussions about a new national park became contentious. Over the past decades, Olson has become the proposed park's godmother. She has faced down ATV-driving, pro-hunting critics who were determined to stop the park's development. She has argued in favour of the park's economic benefits, local First Nations reconciliation and the urgency of species' protection. Almost a year ago, the federal government announced the national park plan was officially on. (The actual name, the requisite agreements among stakeholders, the park's specific parameters and the plans for facilities are to be determined in the next couple of years.)
On this September day, however, Olson is giving a visitor a preview of what the park might contain. There's bizarre Spotted Lake above Osoyoos, its mineral salts used by First Nations for millennia. There's 1,860-metre Mount Kobau, with alpine hiking trails accessible via a 20-kilometre pothole-filled, gravel road. There's the Osoyoos Oxbows, a critically important, bird-filled marshland that developers are eyeing. There's Fairview, a once-sizeable, early-20th century gold mining town above Oliver that now exists only in overgrown foundations and legend. And then there's White Lake, a shallow, eight-hectare alkaline pond—with a surrounding ecosystem that contains 57 BC species-at-risk, including one of the most endangered creatures in Canada. Olson stops. Each evening during the spring and early fall, she explains, she drives out to the pond, puts her car's flashers on, pulls on a reflective vest, and begins carrying White Lake's nearly-extinct tiger salamanders across adjacent White Lake Road, helping them in their annual migration to and from the hilly grasslands that lie above. Otherwise these mottled, olive-green, sausage-sized salamanders—like their migratory rattlesnake and spadefoot toad companions—would get squished by passing vehicles. For years, she has done this—joined on occasion by sympathetic passersby—saving, on a good night, 100 or more salamanders, plus a few road-crossing snakes and toads.
"It's not like Africa… with its big animals" says Olson, gesturing beyond her parked car at the White Lake roadside. "It's not like Banff… with its scenery. We have more bats species here than anywhere else in Canada. We get 5,000 sandhill cranes in that lake there," and she points to her left. "This is critical habitat for migratory birds." And turning to the yellow-brown hills to her right, she adds, "This is the largest intact grassland in the Okanagan. Lots of antelope brush. It's not terribly pretty. Especially at the end of summer. But it's home to scores of desert species at the northern limit of their North American range."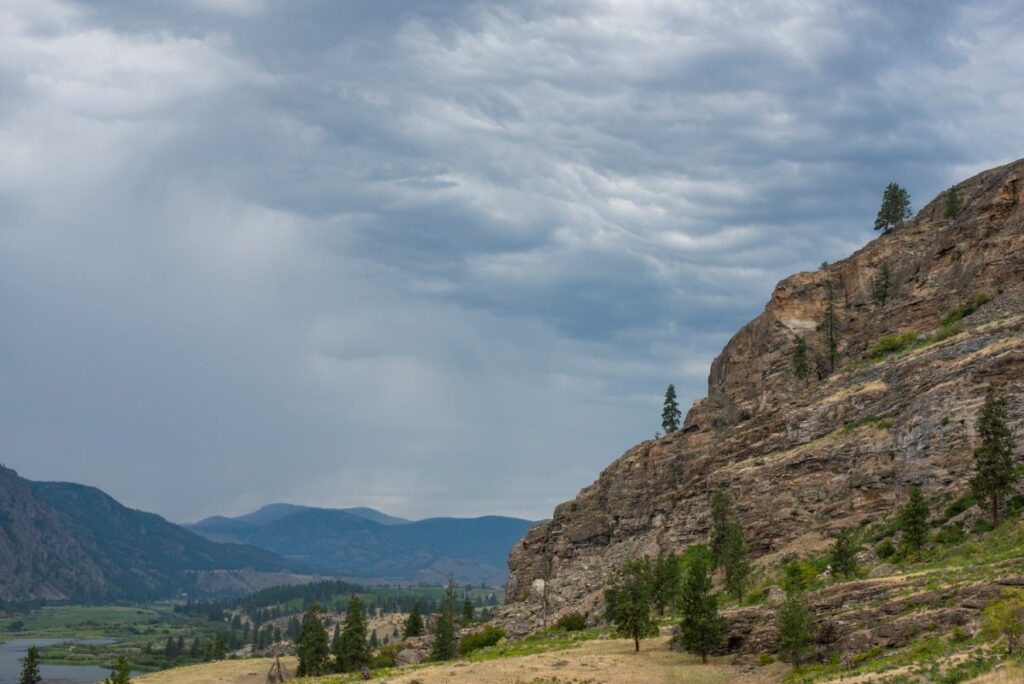 If Olson, after almost 20 years lobbying, is the park's godmother, then conservation biologist Sarah Boyle is the park's mother. As Project Manager for Parks Canada, Boyle is responsible—along with dozens of stakeholders and scientists—for creating the park reserve. Hers is not an easy task. She has to balance, for example, the long-established tenure rights of ranchers who utilize local Crown land for grassland grazing with the consequences of the cattle's hooves occasionally crushing the underground nests of the region's near-extinct burrowing owls. She has to weigh the traditional Syilx rights to hunt deer and harvest wild vegetables in the proposed park against the general prohibition against hunting and harvesting within Canada's National Parks. Should paragliders be allowed, but ATVs be banned? (Says ecologist Don Gayton of the park's creation: "It's Rubik's Cube of contending issues.")
In its most recent iteration, the mountainous 384-square-kilometre park is—on a map—a ragged triangle with its base the US-Canada border southwest of Osoyoos and its apex northwest of Oliver. Within this area, 56 different stakeholders—the BC government, private landowners, conservation NGOs, Syilx First Nations, tenured grassland lease-holders—have divergent opinions about what boundaries and what rules should be established. It's not like setting up a new national park on, say, Ellesmere Island where there are few people and fewer opinions. With a South Okanagan population of 20,000, with dozens of cattle ranches, 50 wineries and a million tourists, creating a big, new national park there is like trying to land an Airbus in a Safeway parking lot.
"This is a rare ecosystem," says Boyle. "One of the rarest in the world. Like coral reefs and old-growth forests, most of the world's grasslands are gone. You go up Mount Kobau at sunset. You cross through five climatic zones—from bunchgrass desert to subalpine fir up high. You see the Similkameen River. You see a place that's got more biodiversity than anywhere in Canada. It's quiet. The stars come out. It puts things into perspective."
Timelessness. The long view. Quiet reflection. These are essential to the spiritual practices of the Syilx people who live below. And who have lived there for over 200 generations. The purposes of the park, Boyle explains, is to strengthen protection of the area's ecosystems. And to enhance reconciliation with local First Nations by integrating their nature-bound philosophy into the park's purpose.
Just west of Mount Kobau's summit—and 1,000 metres below—sits Lauren Terbasket, community coordinator for the Lower Similkameen Indian Band and passionate advocate for Syilx influence on the new park. Outside the windows of the band office in one direction is a colourful billboard on Highway 3 south of Cawston that reads: RESILIENCE. WE'RE STILL HERE! And in the other direction, sloping grassland ascends to near-vertical cliffs where rattlesnakes hibernate. "We have a history of adversity. It creates strength. It creates determination," she says of her aboriginal nation, reiterating the words on the billboard outside. "Our beliefs survived throughout the time of our oppression. Our culture is alive within us."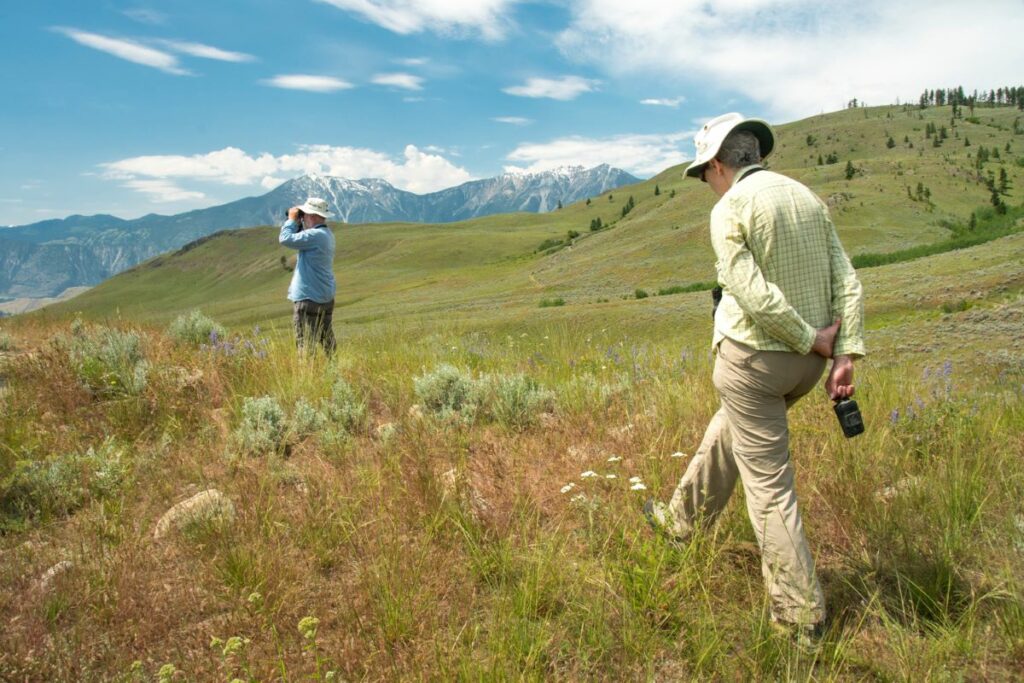 Terbasket grew up along the Similkameen River and spent her childhood wandering Similkameen reserve lands, which will, when negotiations are done, form a sizeable portion of the national park. She has headed into the mountains to harvest pine pitch and medicinal plants and wild vegetables. She has eaten its deer and bear. And the river's salmon. She's seen the natives' sacred places where they've gone for millennia for rituals or vision quests. And has witnessed the effects of 20th century intrusions on the land: the logging of its forests; the animals' disappearance; the loss of grassland to agriculture.
"When we commodify the world, it makes it easy to destroy," she says. "We lose our reverence for nature. It's just things. Trees are wood. Grassland's fodder. But humans are a part of nature. We don't have—as the Bible says—'dominion' over nature. We're part of it. We've lived here for thousands of years. My great-great-great grandfather… and 999 more grandfathers before him. We eat the food here: we are this place! And when we die, we become—at the molecular level—the land again. We have to manage it well. Because we'll still be here thousands of years from now."
The story comes full circle.
Two-lane Nighthawk Road heads south from Highway 3 below Kruger Mountain toward a desolate US border post and the nearby ghost town for which the road is named. Biologist Lauren Meads, 38, turns onto an obscure track and parks amid a cluster of curious horses who nose at her open window hoping for a handout. But the contents of the backpack she's unloading—dead, day-old chicks—are not for horses. But for burrowing owls whose underground nests lie ahead amid the Lower Similkameen grasslands. It is here that Meads and her associates have dug eleven clusters of twisting, covered tunnels and holes—100 in all—to encourage the rarest of owls to nest at the southernmost edge of the new national park reserve. (Burrowing owls have previously utilized abandoned badger holes for their nests, but BC's badgers are now extirpated, adding to the urgency of the owl rescue effort.)
For 10 years, Meads has done this, working often with BC's ranchers whose grasslands, if managed properly, can sustain recent efforts to reintroduce the owls where they're almost extinct. She stoops at one of a series of hillside holes and from the excrement extracts some dinner detritus: the jaw of a mouse, the beak of a small bird, the wings of insects. This tells her how the owls are doing. From nearby, a burrowing owl erupts in a flash of tawny feathers. At the next cluster of holes, several more owls flee, flying only a short distance before landing. Yellow-eyed, long-legged, brownish fluff-balls, they stare as Meads tosses another and another dead chick into the mouth of the birds' subterranean nests. Forty cavities in the hillside grassland; 40 chicken dinners delivered. By October, the owls will migrate south. Each year, a few owls return. But most don't. No one knows why.
The problem for the burrowing owls and for the new national park itself is that time isn't necessarily on the side of preservation. Global warming is producing ever-rising temperatures which, in turn, increase the likelihood of hotter BC summers, catastrophic wildfires, warming of fish-bearing rivers, and the further extinction of many marginal species. Add to these, the economic pressures to utilize the region's shorelines for tourism development and benchlands for the cultivation of grapes. (Right now, 85 percent of the South Okanagan's former wetlands and 60 percent of its grasslands have been lost to development and agriculture.) As this occurs, sections of protected lands are isolated from each other by intervening residential and agricultural sprawl. A national park becomes then a sort of refuge against encroaching civilization. That is, of course, much, much better than doing nothing. But when humankind lives in an age where it's predicted —as it is—that one million species will go extinct by the end of this century, it faces an indictment from the future that a civilization which loses its reverence for nature and its creatures is in danger of losing its way.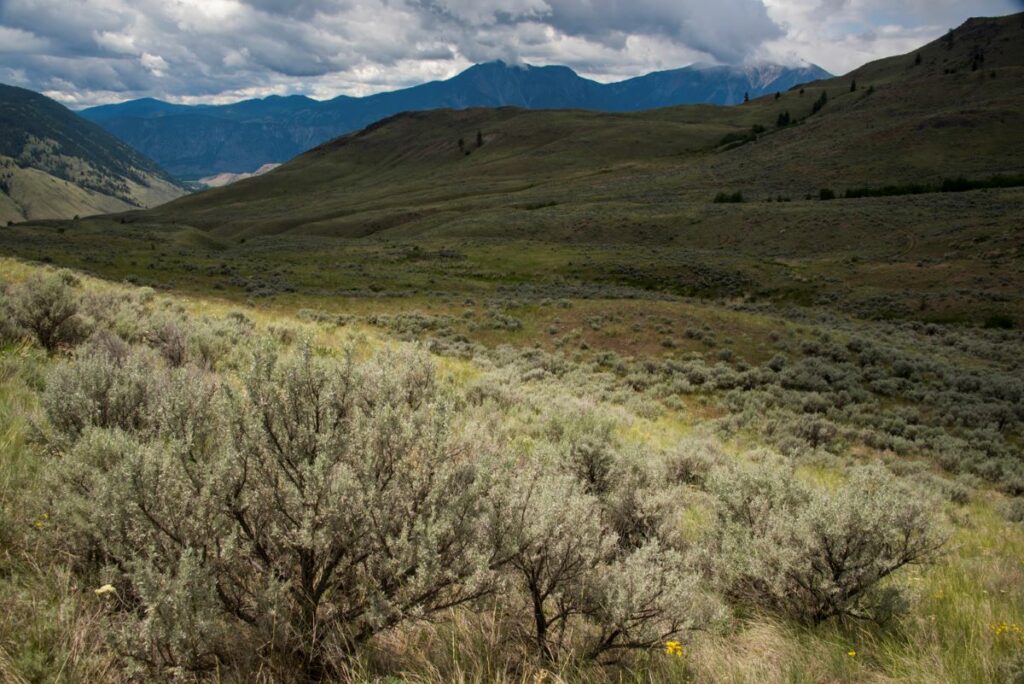 The South Okanagan-Similkameen Desert National Park Reserve, as it is currently known, is now open. But the final name, boundaries and visitor facilities will evolve as the park is created over the next few years. Two backcountry roads within the proposed park exist: one south to Kilpoola Lake and one switch-backing upward to the summit of Mount Kobau. Caution is required. Both roads are rough. A wide variety of services are located in nearby Osoyoos and Oliver. There are also dozens of wineries and wine-tasting opportunities in the park's vicinity.
The Nk'Mip (pronounced in-ka-meep) Desert Cultural Centre sits amid a 650-hectare section of Canada's only desert and celebrates the life of the Syilx people who've occupied the southern Okanagan for millennia. There's a museum, educational hiking trails, and native cultural activities. 1000 Rancher Creek Road, Osoyoos. nkmipdesert.com
The luxurious Spirit Ridge Resort & Spa is located next to the Desert Cultural Centre and just above Osoyoos Lake. It features a full complement of activities including in-house wine tastings, spa facilities, golf, horseback riding, kids' activities and nature hikes. spiritridgeresort
The Burrowing Owl Conservation Society is involved with BC-based breeding, releasing, and educating people about the burrowing owl whose BC population is less than 200. burrowingowlbc.org
Ecologist Don Gayton's wonderful book, The Wheatgrass Mechanism, is a blend of science, field research, myth and philosophy that explores the consequences of the worldwide loss of wild grassland habitat.
A Curious Scientific Fact: Animals and plants that live at the extreme edge of their natural habitat often have more genetic diversity than those that live in safer core areas. This is the case with a lot of species of Canada's new national park reserve: they have more adaptability. This means that protecting them provides these species with a greater chance of surviving global warming.
Three Cautions: The South Okanagan is often very hot in mid-summer—with temperatures sometimes reaching 40°C. Protection from the sun and dehydration is essential. Amid the grasslands, low-lying cactus is common. Heavy-soled footwear is advised. The desert is also home to rattlesnakes, so attention needs to be paid when walking there. If one hears rattling, back off!