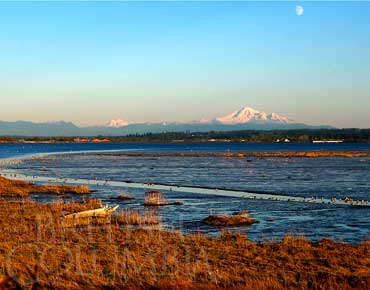 In winter, I try to make the most of the limited sunshine. To accomplish that, I head south of Vancouver across the Fraser River delta to where the southwestern tip of the Canadian mainland meets the Pacific tidal plain.
Under an open sky astride the Surrey-Delta border, Mud Bay is a trove of vitamin D-enriched ambience. Together with its bigger siblings, Boundary and Semiahmoo bays, Mud is the junior partner in a triad of shallow saltwater basins. Mud comes by its name with bald honesty: it's the beneficiary of silt deposited over time by the Serpentine and Nicomekl Rivers. The squelching, oozing muck here has elemental essence that appeals to my inner child.
Not that I want to mess about on its gleaming surface. "Stay off the snot," birder Dick Cannings cautions me with a laugh when the topic comes up. Biologists previously thought that when the tens of thousands of shorebirds poked their beaks in the mud they were feeding on small invertebrates, such as worms and shellfish. "Seems they're actually slurping up biofilm, a type of paper-thin mucus—snotty stuff that clings to the surface," he says. A flock of 100,000 migrating western sandpipers can vacuum up 20 tons in a day. Turns out that so-called "snot" is a nutritious mix of bacteria, diatoms (microscopic plants), and organic detritus.
For me, Mud's magnetism lies in its spectacular ability to reflect sunlight. In winter, long rays angle in from the southwest, saturating the colours of the landscape. I'm doubly blessed this visit. A recent dusting of snow creates a chiaroscuro effect between light and dark, further enhancing the scene. From Mud Bay, a pathway stretches 16 kilometres west along Boundary Bay. I make my way along my favourite portion, a four-kilometre stroll between Surrey's Mud Bay Park and the Delta Heritage Air Park. I keep up a steady pace with the prospect of a cup of "mud"—the caffeinated kind served at the air park's cozy coffee shop—in mind.
As always, I'm here near sunset. This is often when colours in the western skies above nearby Tsawwassen rival the northern lights in intensity. I finally tear my eyes away and shift my gaze east to watch as alpenglow gilds Mount Baker's snow-cone summit in nearby Washington State. Beyond the bays, the San Juan Islands blend with the southern Gulf Islands. In the far distance, the Olympic Peninsula's Hurricane Ridge appears to hover above Victoria. This is surely one of Cascadia's most enchanting places to be stuck in the mud.
Getting there:
Mud Bay lies 22 km south of Vancouver on the Delta-Surrey border. For Mud Bay Park, take the Highway 10 exit from Highway 99 and follow King George Highway north to the Colebrook Road exit. Travel west on Colebrook, and then south on 127A Street onto Railway Road. Alternately, take the Highway 17 exit from Highway 99 and follow Ladner Trunk Road east to Hornby Drive, then south onto 104 Street and follow signs to Delta Heritage Air Park.
Info: