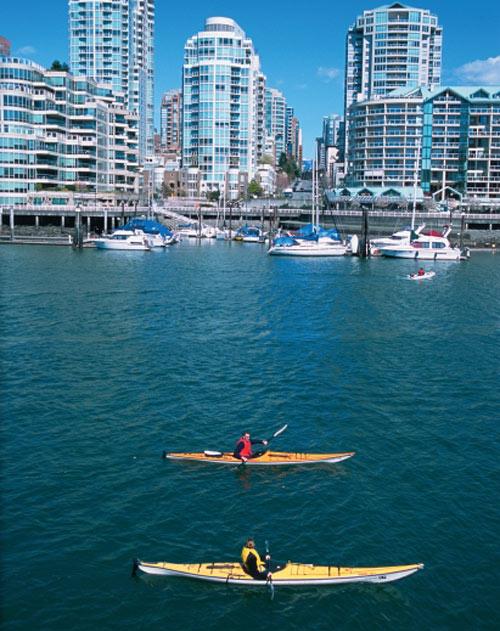 World Oceans Day is June 8, and what better way to fete the occasion than by packing up your paddles for a saltwater excursion? We've picked 7 sea trips from our Share Your BC database, all recommended by savvy kayakers like you. See the BC Marine Trails Network for more information on routes and campsites.
1. Porpoise Bay
Explore the sheltered waters of Sechelt Inlet at Porpoise Bay Provincial Park on the Sunshine Coast. Located four kilometres north of Sechelt off Highway 101. Starfish and crabs will enchant younger visitors.
2. Gwaii Haanas
Readers rave about feeling transported when they paddle Gwaii Haanas National Park Reserve, located at the south end of Haida Gwaii, an archipelago 120 kilometres across the Hecate Strait from Prince Rupert. Gwaii Haanas is only reached by sea or sky. Choose a guided tour or travel on your own. If travelling independently, reserve, pay the fee, and attend an orientation before you go.
3. Twin Islands
Curious seals may stop to watch you during a trip to Twin Islands in Indian Arm Provincial Park. The park, close to North Vancouver, contains two waterfalls and some significant archaeological sites. Twin Island was established in 1905 as one of our earliest recreational reserves.
4. Octopus Islands
The inlets of Octopus Islands Provincial Park near Powell River were the setting for happy kayaking memories for readers. The park is on the northeast side of Quadra Island and also offers swimming and scuba diving.
5. Broken Group
The Broken Group of islands, part of Pacific Rim National Park, appears on many a bucket list due its views, ancient native villages, and abundance of whales and other wildlife. The Broken Group of islands is an archipelago of more than 100 islands throughout Barkley Sound and is only accessible by boat.
6. Broughton Archipelago
Situated at the north end of Vancouver Island, Broughton Archipelago Provincial Park is a sea kayaking destination for paddlers around the world, and the province's largest marine park. Bring lots of fresh water to this remote park, located east of Port McNeill and only accessible by boat. Be bear aware.
7. False Creek
The short inlet separates downtown Vancouver from the rest of the city, and is a popular spot for all boating, including dragonboat racing and sea kayaking. The area is home to a variety of shorebirds. In 2010, a grey whale made a brief appearance in False Creek before returning to the open waters. You never know…