When I step off the ferry and onto Vancouver Island I'm awash by a sense of relief. Pushing north of Nanaimo my sister and I travel along a scenic coastal byway. Taking the 'slow road' I feel the hustle of my city routine fade away; life here seems so grounded. We're headed to Comox for a bit of a homecoming, though our parents don't live in the Valley any longer. But with so many memories and so many things to do, we'll easily occupy our time.
Whether you prefer to eat your way through a town, shop artisan markets or get into the woods, the Comox Valley is a place you can sample during all four seasons. If you're a local who can't think of a single thing to do on a 'blah' day, or a visitor wanting to know how to travel like a local, here are 50 ways to adventure through my beloved Comox Valley.
1. Explore Mount Washington
Location: 35 minutes driving time northwest of Courtenay
Website: mountwashington.ca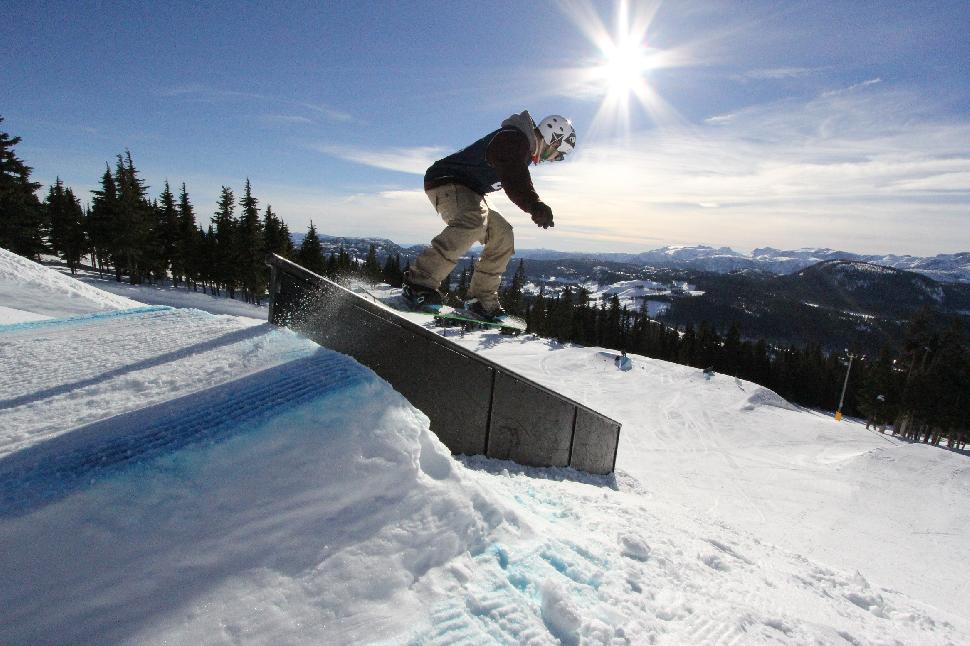 Winter & Spring: 1700 acres of terrain are serviced by 5 lifts and 4 Magic Carpets at Mount Washington Alpine Resort. That should keep skiers and boarders occupied for a weekend…or two. Nordic skiers will love 55+ kilometres of groomed winter wonderland. Hit up après-ski in the village or rent a condo for the weekend.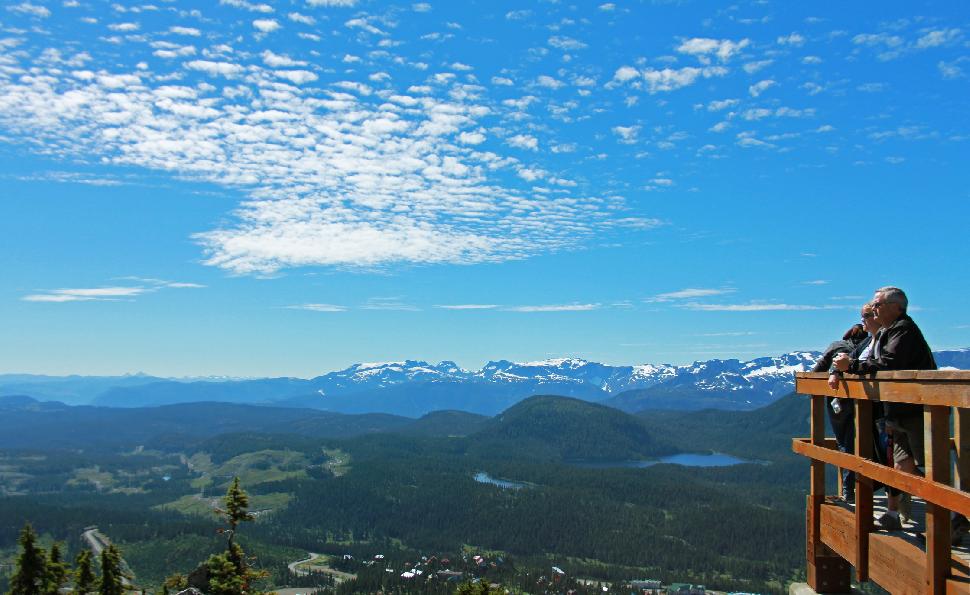 Summer & Fall: In the warmer months visitors can ride chair lifts to the top of Mount Washington for stunning views of the Comox Valley and beyond. Mountain bikers will be very happy to hear lift-access downhill biking will re-open this season. Hikers should make for the Raven Lodge and explore the trails and boardwalks of Paradise Meadows.
2. Sample Artisan Sweets at Hot Chocolates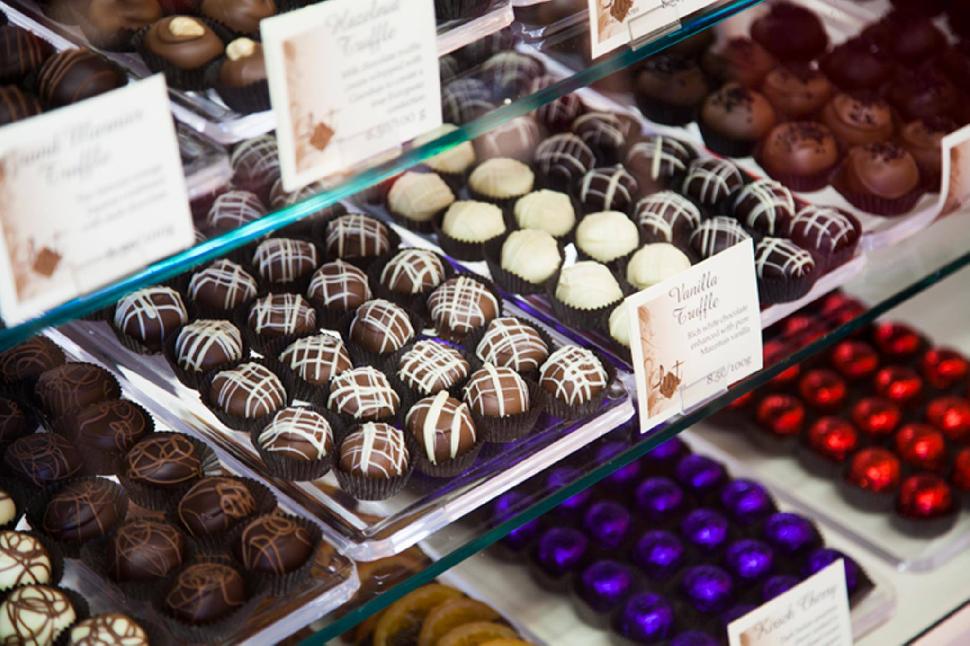 Location: 368 5th Street, Courtenay V9N 1K1
Website: hotchocolates.ca
Hot Chocolates has been a mainstay on Courtenay's boutique-lined 5th Street since 1986; so much so, locals can half-expect to find truffles in their Christmas stocking. Peruse the charming storefront for assorted hand-crafted Belgian chocolates. Fresh ingredients like house-roasted nuts will settle savoury cravings while cream, wine and fruit infusions (locally sourced, of course) will satisfy the nagging sweet tooth.
3. Bliss Out at the Kingfisher Hydropath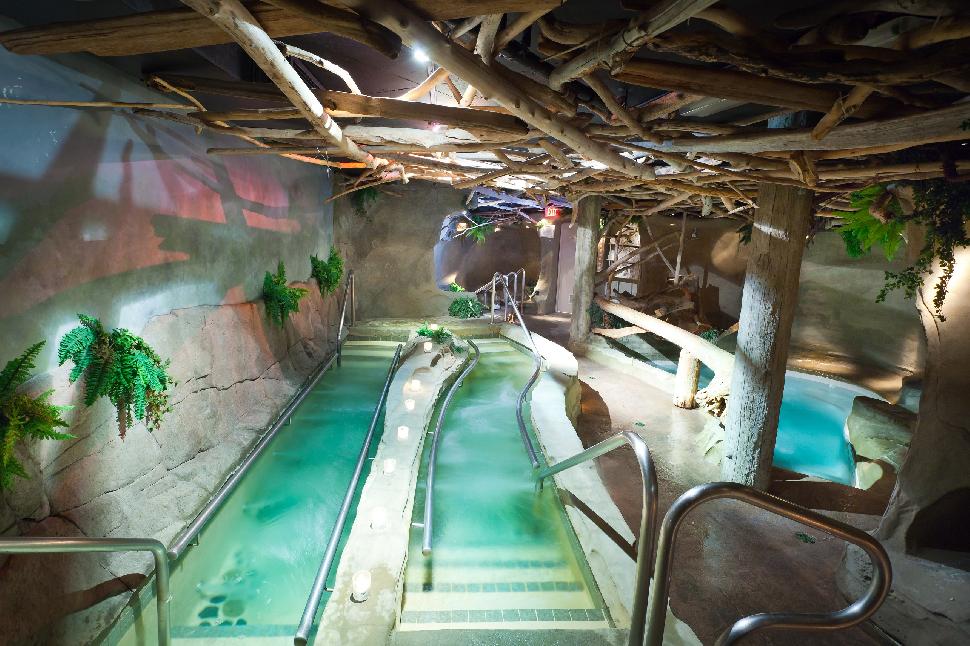 Location: 4330 Island Highway South, Courtenay, V9N 9R9
Website: kingfisherspa.com/spa-hydropath
I hate to sound trite but the Kingfisher Hydropath is my Vancouver Island Valhalla.  Arrive early to take a dip in the heated outdoor pool and hot tub, or relax in the sauna and steam cave. Next, collect your robe, don your swimsuit and sip herbal tea before being led into the Hydropath.
What exactly is a Hydropath? Descend into a what feels like an underwater sea cave and follow an indoor circuit of wellness pools. You'll encounter soothing mineral baths, a waterfall grotto, a scent-infused steam cave, stimulating glacial waterfall (optional!) and more. My favourite 'station' a the collection of four human-size tidal pools. Invigorate with a sand and seaweed body scrub which is presented on large scallop shell. Is this what it feels like to be a mermaid? Following the Hydropath relax on loungers in a tranquil room overlooking the ocean; it's pure bliss.
4. Boutique hop on 5th Street
Location: 5th Street & adjacent streets
Website: downtowncourtenay.com/businesses
Fifth Street is a local shopping mecca. Chances are if you're shopping its boutiques you'll end up chatting with the owner. Find zany gift shops, timeless book stores, wilderness outfitters, cottage-chic home stores, on point fashions, eclectic coffee shops, restaurants and everything in between.
Start out at Cliffe Avenue and 5th Street. Stroll one side of the street before making your way up to Fitzgerald Street and looping back. Looking for some java to fuel your shopping? Stop by Mudsharks Coffee for an artfully crafted espresso.  My favourite boutiques are Uranus, Hip Gifts Cool Cards, Cherry Wine Fashions, and Whale's Tale Toys.
5. Tube the Puntledge River
Location: 38 Powerhouse Road; various exit points
Make like the locals for a scenic river float. Drop in near the fish hatchery in Courtenay for a ride that will wind you through the woods. Pull ashore at Puntledge Park for a swim before continuing on. Exit at Condensory Bridge or go all the way to Lewis Park.
Note: the final leg can be ultra slow moving late in the summer; consider bringing a small paddle. Avoid fallen, half-submerged trees in the river.
6. Explore Stotan Falls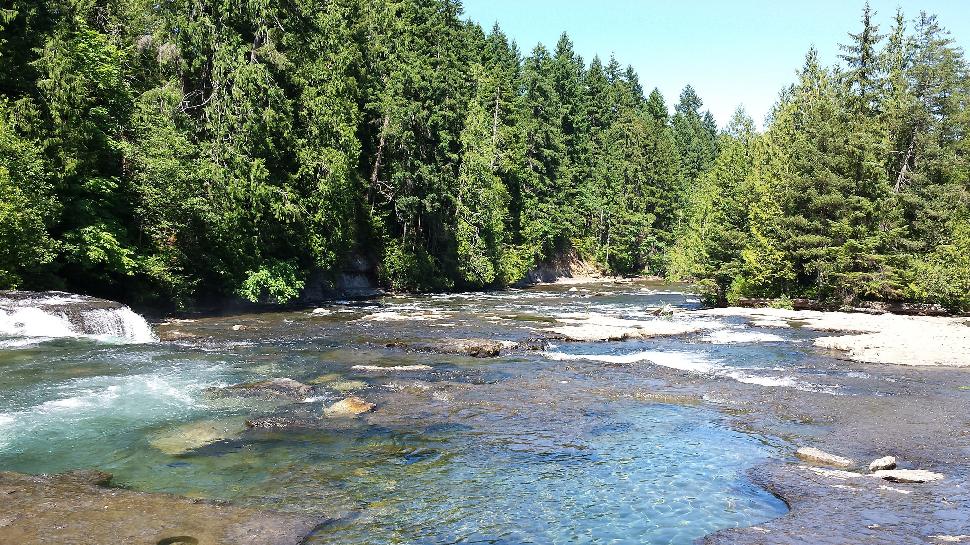 Location: Click here to see on a map
Another local hotspot in summer, these shallow river waters are a great place to cool off. I particularly enjoy the novelty of the potholes upriver. It's worth noting the falls have been closed in the past due to low water levels so check ahead. Also, there is no lifeguard on duty.
Writers's note: it has been brought to my attention that Stotan Falls are located on the private land of 3L Development. In 2015 they closed public access to Stotan Falls. Explore at your own discretion and note that British Columbia Magazine does not endorse trespassing. However, being Comox-born I can't ignore recognizing this very special place.
7. Peddle the Bear Bait Trail
Location: Comox Lake Damn Picnic Area
Website: bchydro.com/community/recreation_areas
It may have an intimidating name but this scenic trail should not be missed. It is 4.7-km long with minimal elevation gain. Park near the Comox Lake Damn Picnic Area and look for signage at the trailhead. Bear Bait follows the Puntledge River through a picture-perfect forest. Once you intersect with the unpaved road, head right. Follow it until you see a sign for the fish hatchery. Once you arrive at the hatchery you can continue down towards Barber's Hole and Nymph Falls or loop back. If you venture out on a sunny day it's worth bringing your swimsuit.
8. Have a Beach Fire at Goose Spit
Location: Hawkins Road, Comox
Website: Click here
You'll find Goose Spit Regional Park frequented by locals year-round. Stroll the shore with Fido, lay out a towel in summer or enjoy the warmth of a beach fire in one of ten dedicated pits. The popular outer shore of Goose Spit is a mix of sand and rocks decorated with driftwood. (Perfect for building a beach fort.) The inner edge of the peninsula reveals muddy flats at low tide and is a thriving habitat for water birds. Goose Spit offers ample parking and Comox operates a beach bus during the summer months.
9. Dive Kelp Forests
If you're brave enough to jump headlong into chilly coastal waters, the diving opportunities around the Valley are incredible. Great visibility offers glimpses of mischievous sea mammals and marine life includes wolf eels, octopus, ling cod, rock fish, and sixgill sharks. Some popular spots include Norris Rocks located on Hornby Island at Helliwell Provincial Park and Singing Sands near the Comox Ferry Terminal (beach dive).
Travelling further afield from the Valley you can dive intriguing artificial reefs. Just outside of Nanaimo divers can explore the former HMCS Saskatchewan, a 110-metre ex-navy destroyer escort. Further south you'll find the world's only Boeing 737 reef.
10. Kayak to Tree Island
Website: Click here
Known locally as Tree Island, this small island's formal name is Jáji7em and Kw'ulh Marine Park (or Sandy Island Marine Provincial Park.) Kayakers can make this open water paddle a half or full day trip.  For a full day trip launch near the Courtenay Air Park.  Launch from Union Bay or Goose Spit for a shorter paddle. Prefer to go with a guide? Many local kayak rental shops offer guided paddles to Tree Island.
Once on the island, enjoy sandy beaches, bird watching and explore interior trails. Tree Island is located off the northern tip of Denman Island and the beach which skirts the island changes dramatically with the tides. Be careful to watch falling tides or risk carrying your kayak the long walk back to the waterline.
11. Hit up Tribune Bay on Hornby Island
Website: gov.bc.ca/bcparks/tribune
When approaching Tribune Bay it feels as if you've stumbled into the tropics. You're greeted by a wide stretch of white sand that slips under the clear shallows. From a distance it paints a band of Caribbean-worthy azure water. The bay offers shelter from the cooler waters of the Georgia Straight making it a popular spot to swim in summer. Modest visitors should be aware that Little Tribune Beach (just west of Tribune Bay Beach and separated by a sandy outcrop) is known to be clothing-optional.
12. Savour Flavours at the annual BC Shellfish & Seafood Festival
[columns]
[column size="1/2″]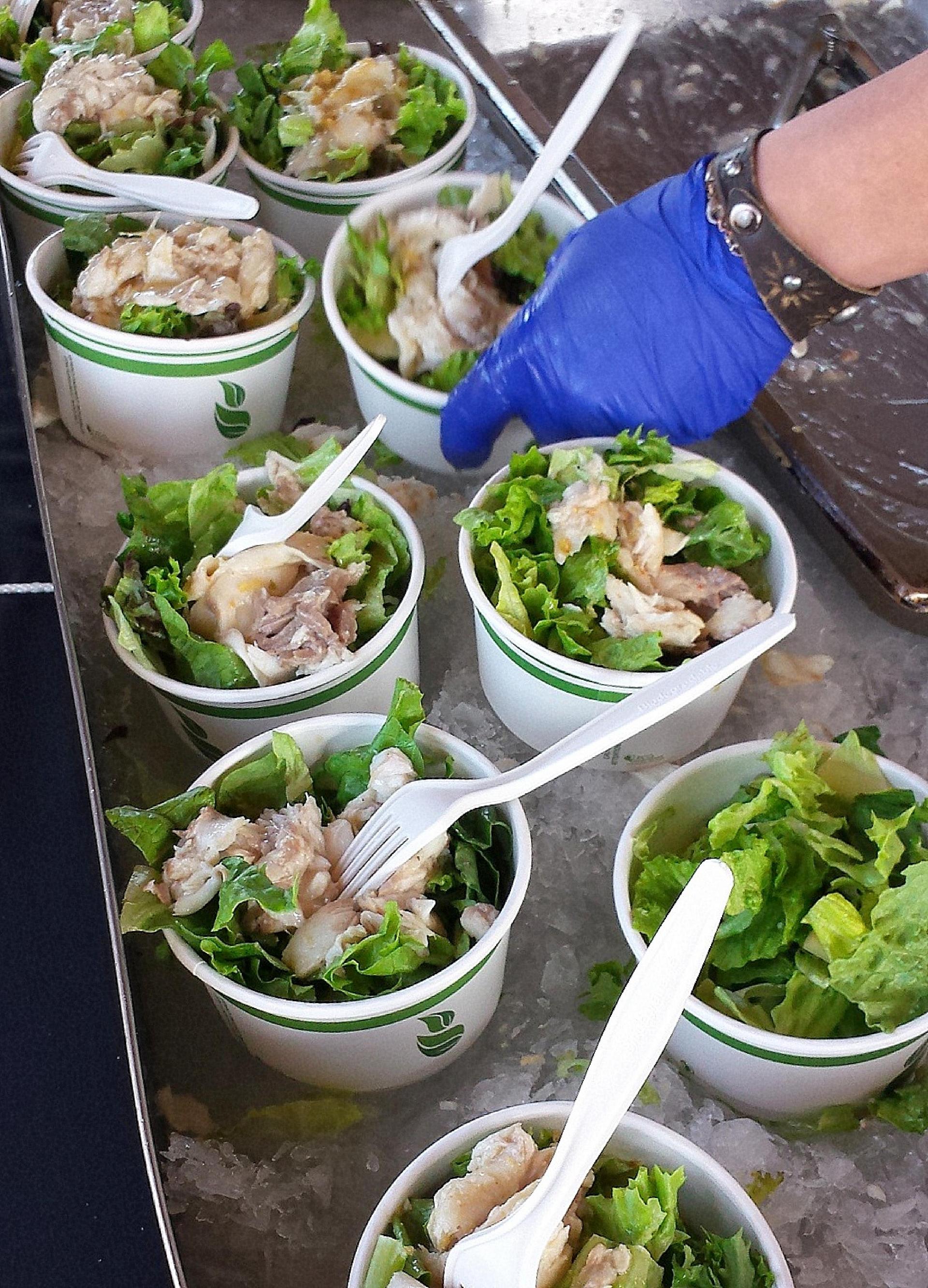 [/column]
[column size="1/2″]Location: various event venues and restaurants
Website: discovercomoxvalley.com/shellfish-festival-info
Festival dates: June 9-19, 2016
This year marks the 10th annual BC Shellfish & Seafood Festival. Learn more about seafood production and sustainability in the Comox Valley while taking in chef demonstrations and tastings. Venture on tours and charters of local shellfish farms and attend gala dinners. Foodies won't want to miss Fresh Fest which marries succulent flavours and live entertainment. Last year I attended Fresh Fest – you can read all about it here.[/column]
[/columns]
13. Get Social at the Atlas Cafe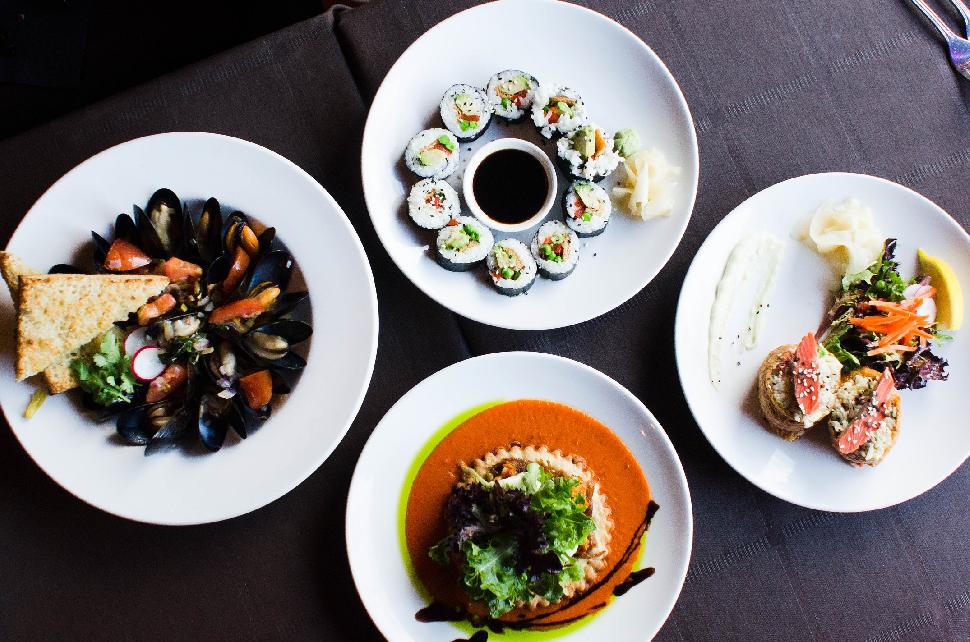 Location: 250 6th Street Courtenay, BC V9N 1M1
Website: atlascafe.ca/fresh-sheets
The Atlas Cafe might be unassuming to passersby but locals haunt this Courtenay favourite. Housed in a cozy space with gentle lighting, the Atlas has been serving up fresh plates since 1995. You'll find a rotating 'fresh sheet' pressed weekly, showcasing nourishing ingredients from Vancouver Island suppliers. The Atlas is perfect for overstuffed breakfasts or uniquely crafted cocktails, and dessert. I personally can not get enough of the crème brûlée. My insider tip: if the weather is compliant, make a reservation for the hidden courtyard patio.
14. Wander the Comox Harbour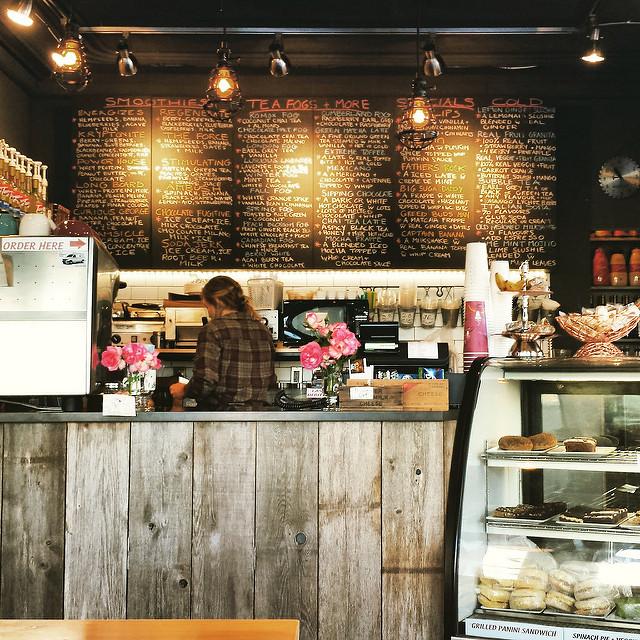 Location: 121 Port Augusta Street, Comox  V9M 3N8
Website: comoxharbour.com/comox-fishermans-wharf
Grab a coffee from my favourite cafe the Komox Grind, before wandering down to the Comox Marina. Make your way through Marina Park and then further on to the pier. The viewpoints along the pier offer unobstructed views of the Comox Glacier and Beaufort Mountain Range. It's a perfect place to catch a sunset. If your accommodations have a kitchenette, peruse the daily catch at the Comox Fisherman's Wharf.
15. Sip Local Spirits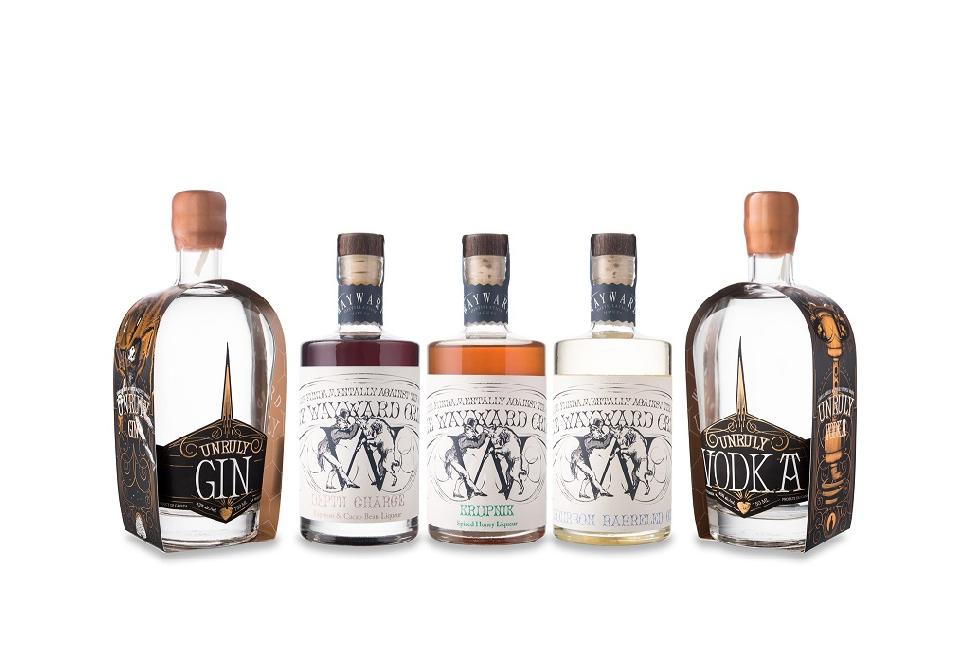 Location: 2931 Moray Ave, Courtenay V9N 7S7
Website: waywarddistillationhouse.com
Wayward Distillation House might be a newcomer to the Comox Valley but people love it. It's rated among the top ten things to do by TripAdvisor. So what's the hype about? Being an artisan craft distillery has inherent likeability but it is the first distillery to use honey as the base of its spirits. This resonated province-wide and earned it the accolade of B.C.'s favourite vodka and B.C.'s second favourite gin. You can sample the Unruly spirits yourself at Wayward Distillation's taproom. The tasting bar is open daily from noon to 6 p.m.
16. Rock out at Vancouver Island MusicFest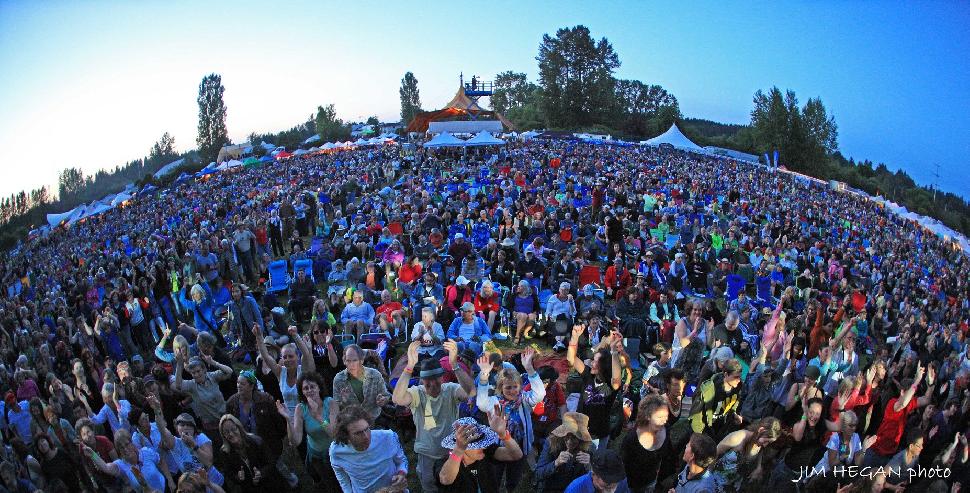 Location: Comox Valley Exhibition Grounds, Courtenay
Date: July 8-10, 2016
Website: www.islandmusicfest.com
Check out three days and nights of roots and world music from across Canada and around the world. This year six stages will host over 75 concerts. There's onsite camping near the river, plenty of kid-friendly activities, eco-education areas, workshops, crafts, food and so much more. So far the 2016 line up includes the talented 54-40 and Canadian favourite, The Trews.
17. Take in Comox Nautical Days
[columns]
[column size="1/2″]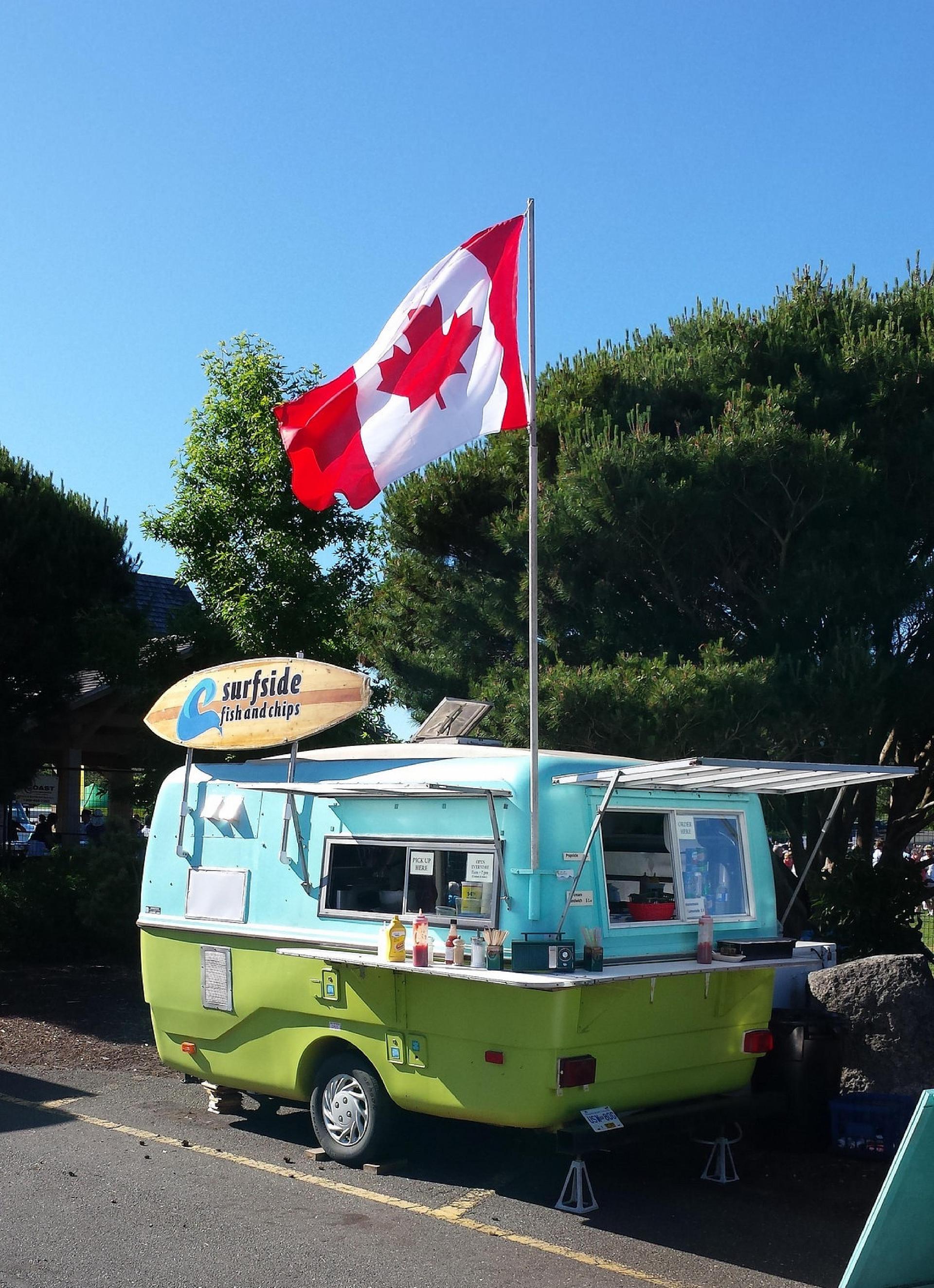 [/column]
[column size="1/2″]Dates: July 30, 31 & August 1st 2016
Location: Most activities happen at Marina Park
Website: comoxnauticaldays.ca
Each B.C. Day long weekend Comox hosts the Comox Nautical Days Festival. The attitude of this coastal town livens with games, competitions, live entertainment and local food vendors. Enjoy pancake breakfasts, a bullhead derby, Valley Idol, a fish toss, tours of navy training vessels, dragon boat races and more. The indisputable festival event highlight is an annual fireworks extravaganza. [/column][/columns]
18. Feel the Heat at Saratoga Speedway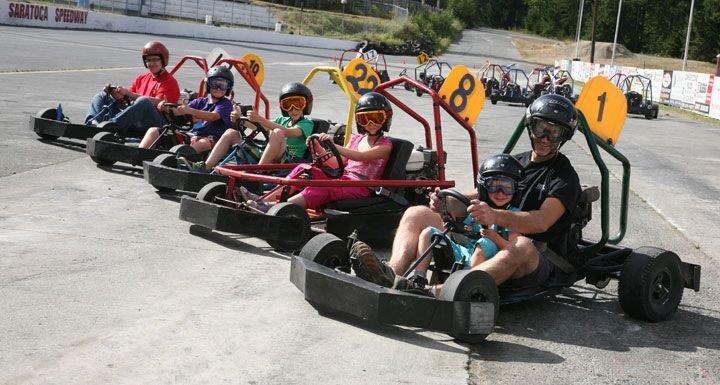 Location: 2380 Macaulay Rd, Black Creek V9J 1K4
Website: saratogaracing.ca
By day visitors can test their limits in go-karts on the 600-m racetrack. By night, attendees catch high octane entertainment. A perennial favourite is Crash to Pass though the track also hosts figure-8 competitions, hornet and bomber cars, and monster trucks.
19. Hit the Links
Golf enthusiasts will have no shortage of courses to play. From glamorous greens to unpretentious local links, there's something to challenge every skill level.
Longlands: 18-hole, par 3 located in Comox
Comox Golf Club: championship 9-hole course, par 70 located in Comox
Crown Isle: 18-hole, par 72 award winning course in Courtenay
Glacier Greens: 18-hole championship course located in Comox
Mulligans Golf Course: 9-hole, mostly par-3 in Courtenay
Sunnydale Golf & Country Club: 18-hole
Pleasant Places to Walk
20. Seal Bay Nature Park
Website: Click here
Location: Bates Road, Comox
Well maintained multi-use trails lead through this leafy seaside park that is teeming with nature.
21. Miracle Beach Provincial Park
Website: env.gov.bc.ca/bcparks/miracle_bch
Location: Black Creek
A wide stretch of sand invites families to enjoy a day at the beach. There's also a provincial campground, amphitheatre and interactive programming at Miracle Beach Nature House.
22. Paradise Meadows
Website: mountwashington.ca/alpine-hiking
Location: Strathcona Provincial Park (lot parking at Raven Lodge, Mt. Washington)
The gentle terrain of the meadows makes for a picturesque wander. In spring hikers are treated to bursts of alpine wildflowers.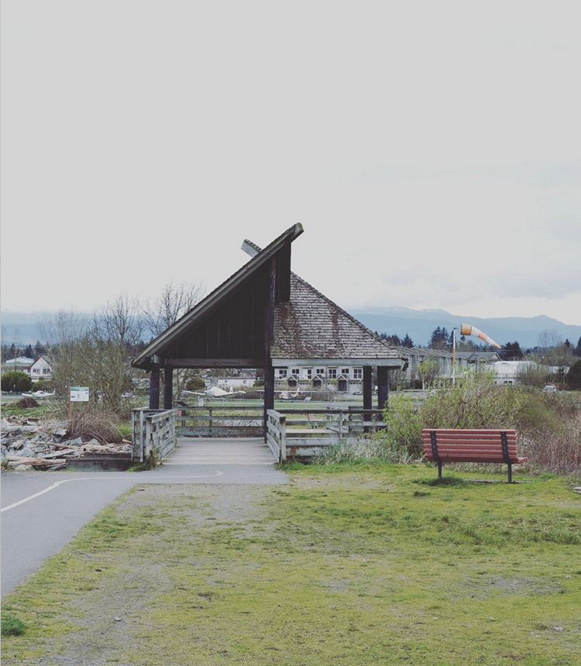 23. Courtenay Airpark
Location: Various entry points. Parking available at 20 Street, Courtenay
A paved urban route that loops around a small seaside airport. The path offers scenic views of the Courtenay River Estuary and tidal flats.
24. River Trail East
Trailhead: Comox Lake Dam Picnic Area
Website: Click here
5.5-km of multi-use trails lead users along the Puntledge River and through riverside woods. Groomed trails and boardwalks in a rustic setting.
25. River Trail West
Trailhead: Comox Lake Dam Picnic Area
Website: Click here
4-km of trail leading up the other side of the Puntledge River. Can be looped with River Trail East with some advance planning as it requires walking along roads to connect. Backroad Mapbooks are always a trusted resource.
26. Puntledge Park
Location: Courtenay
Easy walking trails through a wooded property with good access to the Puntledge River. Popular swimming hole in the summer and in fall the creeks are brimming with spawning salmon.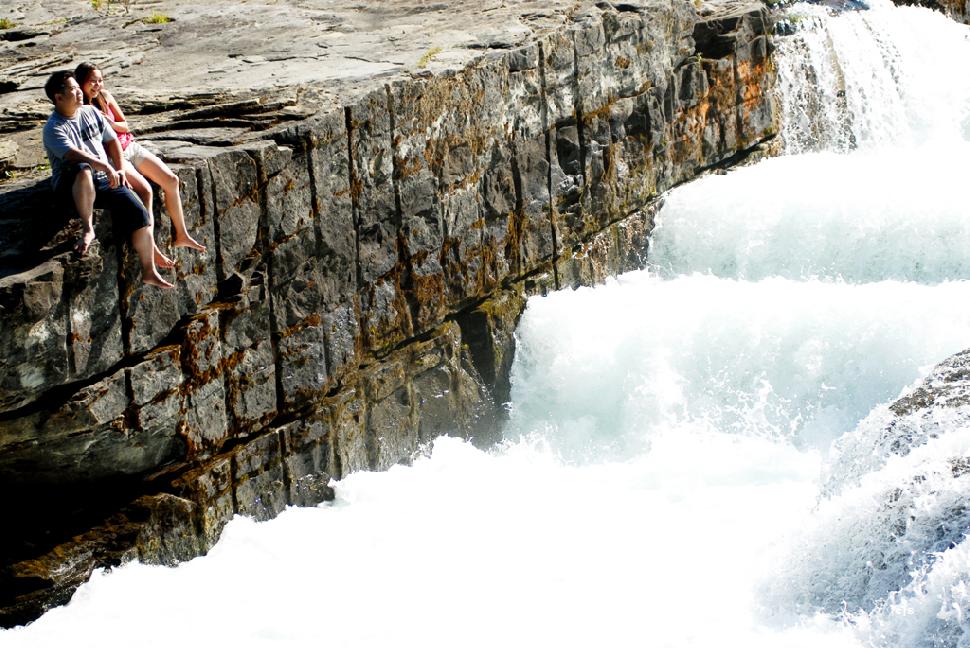 27. Nymph Falls
Location: Courtenay-Strathcona
A pretty waterfall which is actually terraced salmon ladder. Smooth exposed rock makes it a nice place to lay out but swimming is not publicly encouraged.
28. Mount Edward Albert
Website: coastalbc.com//albertedward
Location: Strathcona Park
Popular overnight hike, one done by many highschool outdoor education classes. 16-km one way winding through gorgeous forests dotted by small lakes. Make camp at Circlet Lake Campground and then push for the summit the next morning.
29. Helliwell Provinical Park
Website: env.gov.bc.ca/helliwell
Location: Hornby Island
Drink in gorgeous views of the Georgia Straight and the Coast Mountains while strolling a 5-km loop. The trails leads users along the Helliwell Bluffs.
30. Find an Enchanted Forest
Location: secret
In Fanny Bay, just south of Courtenay, there is a small parcel of intriguing forest. Simply known as the 'Wacky Woods', it is full of curiosities and hidden treasures waiting to be discovered. We'll leave out the directions so that those who truly want to seek it out can relish in finding it.
31. Explore an Abandoned Ski Resort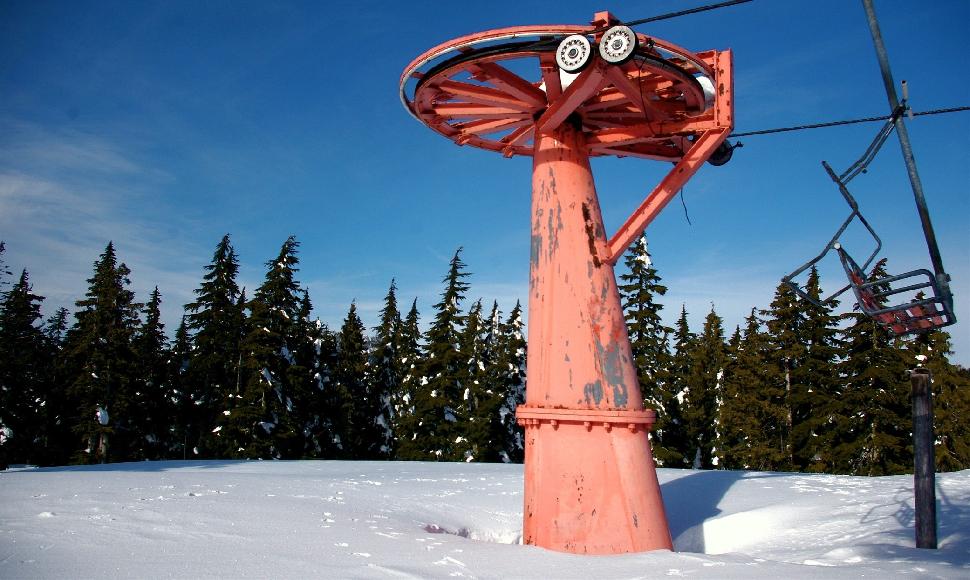 Location: Forbidden Plateau Road, Comox-Strathcona
Forbidden Plateau Ski Resort closed after heavy snowfall collapsed the roof of the main lodge in 1999. It was never rebuilt though remnants of the resort remain. Today the area offers recreation opportunities to snowshoers and hikers…and to those who have an interest in all things old and abandoned. The creepiest reminder of 90's apres-ski are the abandoned lifts.
32. Dig for Dinosaur Fossils
Location: Courtenay and District Museum & Palaeontology Centre
Courtenay may seem an unlikely place to find a palaeontology museum but no one was more surprised than a father and daughter who happened upon a great find. One day while they were fossil hunting along the Puntledge River the two discovered a group of fossilized bones. They would later discover they belonged to an Elasmosaur; B.C.'s first recorded Elasmosaur. This discovery would lead to Courtenay's establishment as a north island palaeontology epicentre.
A visit to the Centre offers a look at a cast of the famous find and specimens of other more recent discoveries. If you have the time, sign up for a fossil tour. It begins at the Centre's exhibit and then brings visitors to the banks of the Puntledge River. Who knows what you might find.
33. Explore Filberg Heritage Lodge & Park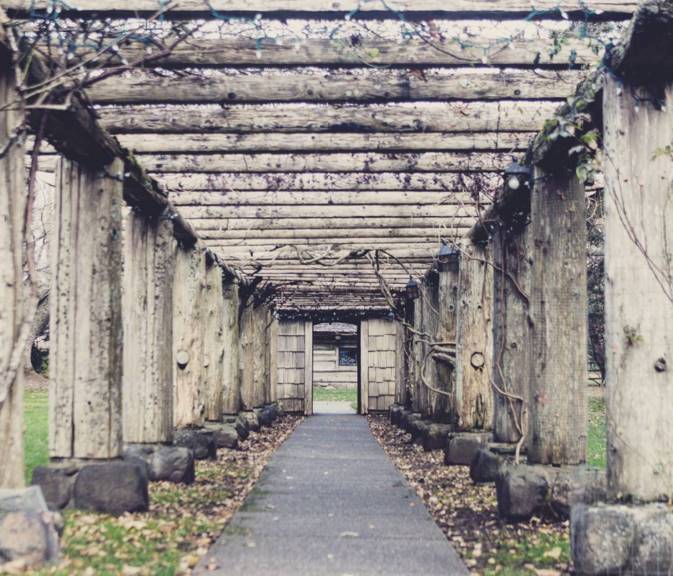 Location: 61 Filberg Road, Comox V9M 2S7
Website: filberg.com
Filberg Park is Comox's most beloved garden. This property is home to emerald lawns, fragrant blooms, a petting zoo, wishing well, tea house and heritage lodge. Each B.C. Day long weekend the park hosts the Filberg Festival, an arts and crafts market with live entertainment and food vendors. A new-ish park addition is the Comox Rotary Stage which hosts the Filberg Summer Concert series.
34. Tour Local Wineries
When I was growing up in Comox it was nearly inconceivable that the Valley should produce fine wine. Now a handful of wineries have sprung up. No doubt those who sample the vintages in local tasting rooms will end up chatting with the vintner himself.
40 Knots Vineyard & Estate Winery
Location: 2400 Anderton Road Comox
Website: 40knotswinery.com
Tasting room hours: Tuesday – Sunday 11:30 a.m. to 5:30 p.m.
Beaufort Wineyard & Estate Winery
Location: 5854 Pickering Road, Courtenay
Website: beaufortwines.ca
Tasting room hours: See updates here

Blue Moon Farm, Winery and Ciderworx
Location: 4905 Darcy Rd, Courtenay
Website: bluemoonwinery.ca
Tasting room hours: Saturdays and Sundays  from noon -5 p.m. (though best to check ahead)
Coastal Black
Location: 2186 Endall Road, Black Creek
Website: coastalblack.ca
Tasting room hours: Open 7 days a week from 11am-5pm (these hours run until October when they then switch to Saturday and Sundays only for their pumpkin festival)
35. Go for a Moonlight Paddle
Kayak after dark? You bet. Between local lakes and protected shoreline there are plenty of calm waters for paddling under a moonlit sky. Full moon dates this year are: 4/22, 5/21, 6/20, 7/19, 8/18, 9/16, 10/16, 11/29 and 12/29.
36. Saddle up for a Trail Ride
The Comox Valley's forests are an open invitation for equine riders. Large properties and rural living means a lot of Courtenay and Black Creek residents own horses or ride recreationally.
Bear Creek Ranch
Location: 3061 Macaulay Road, Black Creek
Website: bearcreekranch.ca
One on One Trail Rides
Location: 3425 Mounce Road, Courtenay
Website: Click here
Awesome Places to Take a Dip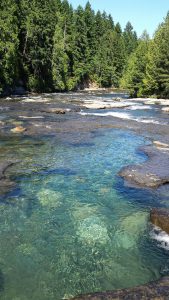 37. Comox Lake (Cumberland side)
A chilly glacial lake that is extremely popular during the summer months. A log boom offers swimmers a protected area and there's a floating dock to lounge on. Concession, washroom and campground on site.
38. Stotan Falls
Smooth rocks are a great place to lay out and the falls are a fun place to swim. If you've never cooled off in a pothole, here's your chance.
39. Goose Spit
A popular Comox beach with a mix of sand and rocks. Driftwood offers nice bench seating or a place to lay a blanket out and lean against. See description above.
40. Kye Bay
A sandy beach with shallow tidal pools, perfect for the kids. No real amenities nearby so you should pack a picnic.
41. Tribune Bay
Glorious sandy beach tucked away on Hornby Island. See description above.
42. Saratoga Beach
Considered one of the best beaches in the Comox Valley, Saratoga's sandy expanse stretches hundreds of feet towards the sea. That means there's plenty of space to claim a spot.
43. Barber's Hole
A rural freshwater swimming hole near Nymph Falls. Not exactly suited to families with strollers as you need to descend down a trail to access it.
44. Comox Lake (northeast)
Locals often swim at the site near the Comox Lake Dam Picnic Area. You'll find swimmers enthusiastically jumping off the bridge but be vigilant for loaded logging trucks passing through the area.
45. Cruise the Farmers' Market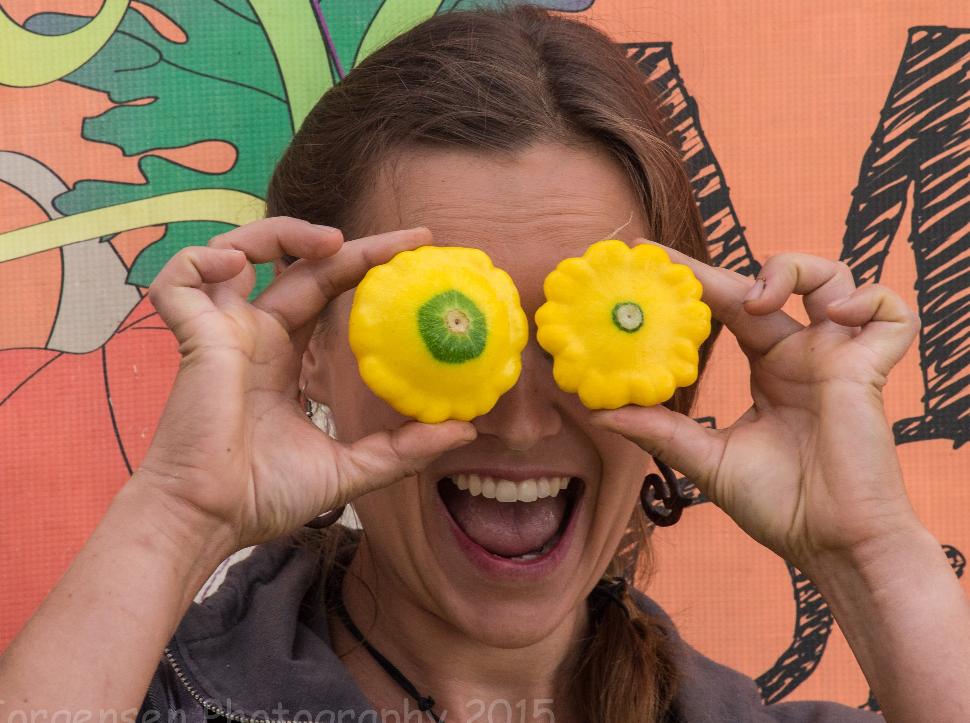 The Comox Valley is an agricultural hotspot. Home to a whopping 445 farms, its bounty is sold at local markets, exported and showcased in festivals and local restaurants. Drop the by the Comox Valley Farmers' Market for the freshest bites and artisan goodies.
Location: Comox Valley Exhibition Grounds in Courtenay
Website: cvfm.ca
Dates: Saturdays, 9 a.m. through 1 p.m.
46. Sample World Class Oysters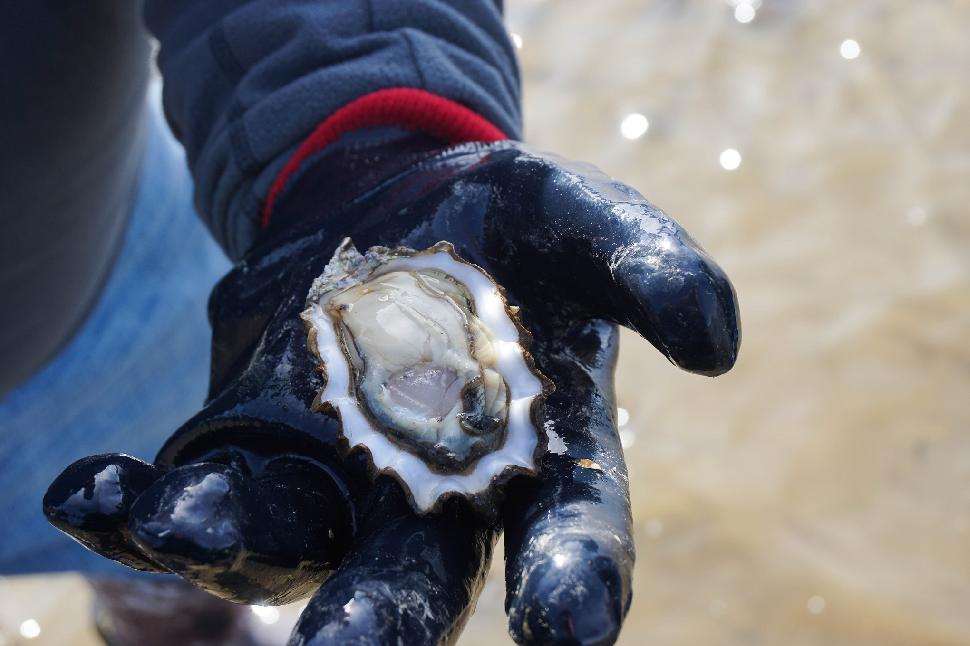 If you've been eating oysters in B.C., chances are you're already familiar with the Comox Valley's prized shellfish. The waters that envelop the Valley produce more than 50% of all of British Columbia's shellfish.
Sample them in local restaurants or buy them at Fanny Bay Oysters Seafood Shop or the Comox Fisherman's Wharf.
For a true tide-to-table experience, foodies can take a boat tour to a deep water oyster farm.  Meet the makers -and yes – a tasting is included.
47. Cast a Line
The Comox Valley boasts lakes, rivers and ocean, making it an angler's dream. Find your own secret fishing hole or let the experts navigate.
[columns]
[column size="1/2″]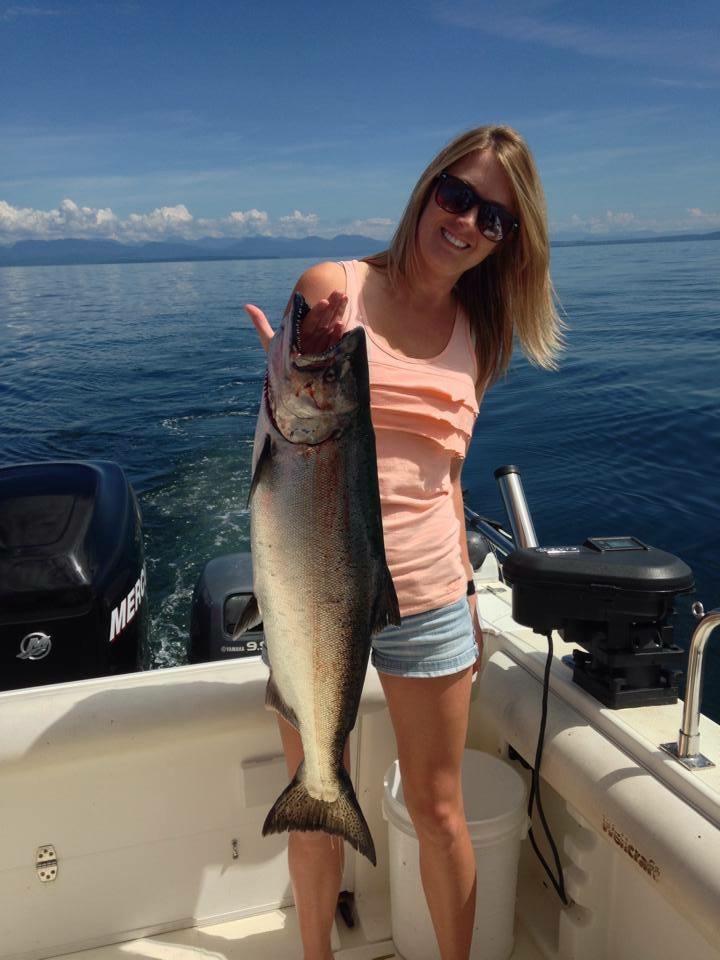 [/column]
[column size="1/2″]Cliff's Chinook Charters
Website: cccharters.ca
Island Pursuit Sport Fishing Charters
Website: islandpursuitsportfishing.com
Fishers Island Adventures
Website: fishersadventures.com
Crabby's Charters
Website: crabbyscharters.com
Vancouver Island Fishing & Marine
Website: vanislefishingandmarineadventures.com [/column][/columns]
48. Admire the Arts
Catch a live performance at the Sid Williams Theatre put on by groups including Courtenay Little Theatre and the Rainbow Youth Theatre. Check the schedule here for upcoming events.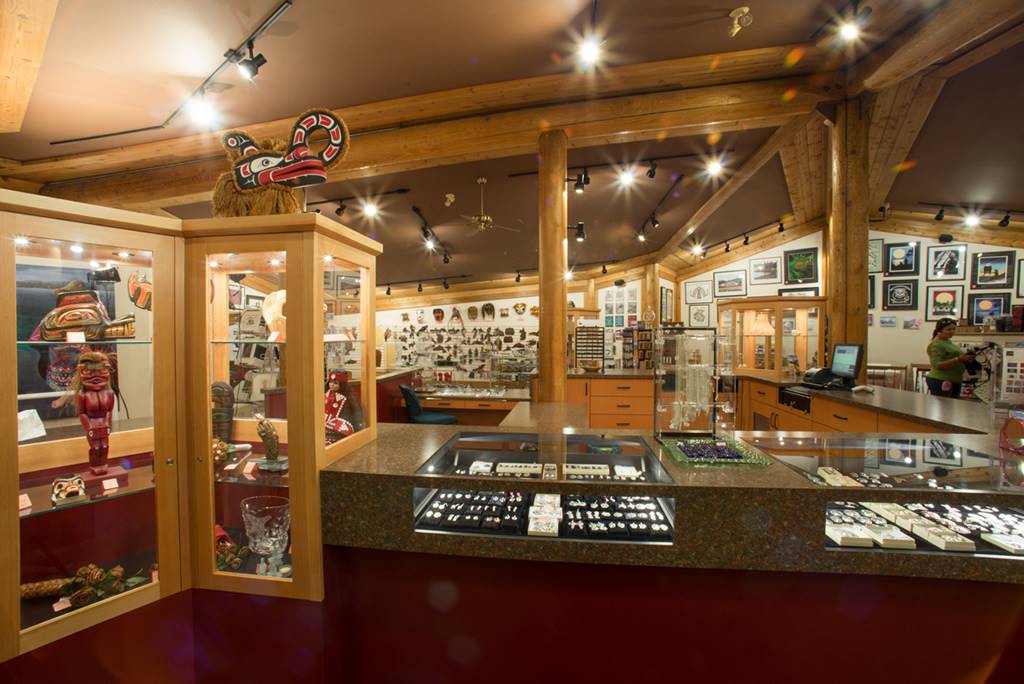 Visitors can admire First Nations culture and gorgeous artwork at I-Hos Gallery, while contemporary and experimental works can be found at the Comox Valley Art Gallery. Find the eclectic work of emerging artists at Comox's Pearl Ellis Gallery.
49. Get Cultured
Dig deeper into the Comox Valley's rich K'omoks First Nation history at the Nim-Nim Interpretive Centre.
Comox is home to CFB Comox, an air base which opened in 1942 to strategically defend against potential World War II air threats. Historic military aircraft like the CF-100 and Dakota sit retired in front of the Comox Air Force Museum and Heritage Airpark. Inside, visitors can view an extensive photo collection while learning more about local military accolades, the Snowbirds and today's search-and-rescue operations.
Take a peek back in time at the Cumberland Museum & Archives to discover its dark coal mining history. Today, the town is a mountain biking mecca and quirky boutiques and cafes line Dunsmuir Avenue.
Print this map and set out on a self-guided Comox Heritage Walk. The route takes you through some of Comox's most historic and charming neighbourhoods.
50. Sample Local Craft Beers
Back in 2002 Cumberland earned the distinction of 'Luckiest Town in Canada'. It had nothing to do with good fortunes but rather its voracious thirst for Lucky Lager. Today Lucky Lager isn't the only beer on the block. The Comox Valley has three craft breweries to get excited about:
Cumberland Brewing Company
Location: 2732 Dunsmuir Avenue, Cumberland
Website: cumberlandbrewing.com
Gladstone Brewing Co.
Location: 244 4th Avenue, Courtenay
Website: gladstonebrewing.ca
Forbidden Brewing Co.
Location: Westerley Hotel, Courtenay
Website: forbiddenbrewing.com
Visitor Information & Resources
Vancouver Island Visitor Centre
Location: 101-3607 Small Road, Cumberland (conveniently located off highway exit 117)
Website: discovercomoxvalley.com/vancouver-island-visitor-centre
Hours: 7 days a week, 9 a.m.-5 p.m.
A gorgeous, welcoming space with a friendly staff who are happy to help visitors. They can provide maps, directions, free guides, and can even book some excursions and event tickets. While you're there, don't miss the Vancouver Island Exhibit Gallery located in the same building. It's an immersive exhibit gallery that gives visitors their first taste of the Comox Valley. Sit in the 'chair lift' for a photo op, touch a live oyster and test your knowledge identifying local trees and plants.
How to get to the Comox Valley
Most people arrive these two ways:
By air –  via Comox Valley Airport (YQQ), serviced by Air Canada, WestJet, Pacific Coastal and Central Mountain Air. There are also harbour-to-harbour flights via Harbour Air from downtown Vancouver.
By ferry & car – direct to Comox from Powell River, or routes between the Lower Mainland and Vancouver Island. Ferries also connect Vancouver Island to Washington. Check routes on bcferries.com
For more ways to access the Valley consult this exhaustive guide: discovercomoxvalley.com/getting-here