First known to the Coast Salish First Nations people as "Warum Chuck," this area has been considered a spiritual and super-natural healing "hotspot" for hundreds of years. It remained undiscovered by European settlers until 1858. The story goes that a group of miners returning from the Fraser River during the Gold Rush were shipwrecked in the waters—and shocked by the warmth.
"The Baths" immediately gained popularity. Rumors spread about the medicinal healing properties of the hot springs, which were dubbed "St. Alice's Well." In the 1920s, following a fire that destroyed the original St. Alice Hotel, Harrison Hot Springs Resort & Spa was born.
Today, it is a lovely hotel, back-dropped by the shores of Harrison Lake. It'll take a few days to experience all of the luscious goods Harrison has to offer.
Most of the activities, including the pools, are only open to guests. Here are 5 reasons to visit (and stay at) Harrison Hot Springs Resort & Spa:
1. The Hot Springs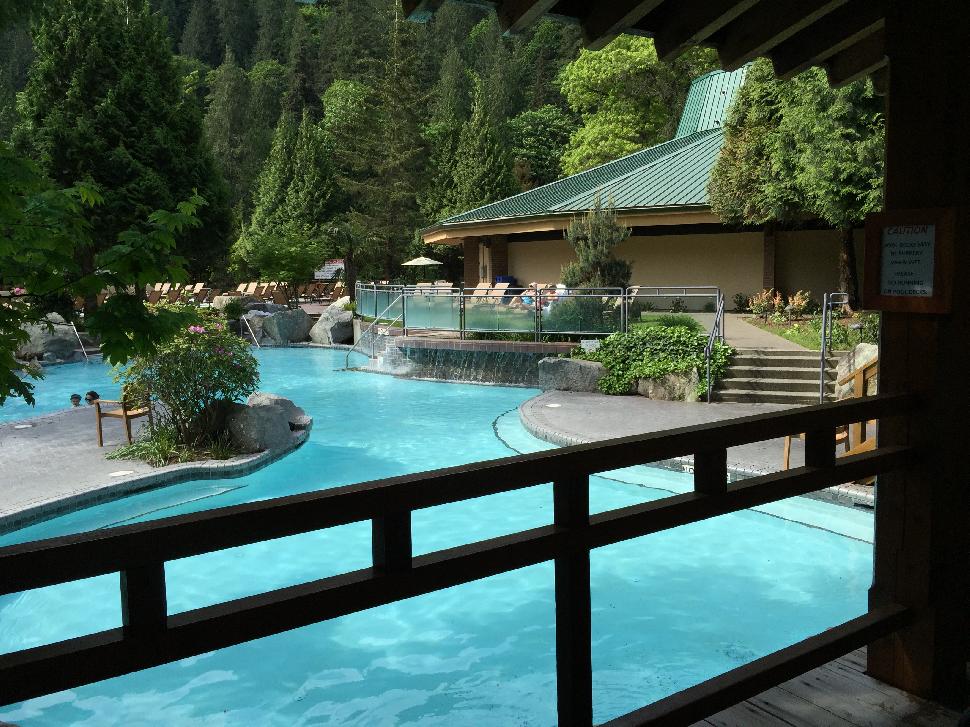 The number one reason to go to Harrison Hot Springs Resort is, of course, the hot springs. Equipped with a wading pool for toddlers and parents, a full-sized outdoor pool for families, an adult-only pool, an indoor mineral hot tub and a full-sized indoor pool, you'll have your choice of preferred bathing area. Naturally boiling water is pumped straight from the source and cooled off by fresh water to produce the perfect temperature for a healing soak.
Website: harrisonresort.com
2. The Spa
Really want to rejuvenate? The Healing Springs Spa has treatments and packages to make you forget about your stressful work life and endless to-do list back at home. Listen to the cascading waterfall and soothing music and let your worries wash away with the water.
Website: harrisonresort.com/healing-springs-spa
3. The Food
After refreshing your body in the mineral pools, don't forget about your stomach! The gourmet meals at Harrison's four restaurants range from healthy on-the-go options to formal dinners. Grab breakfast at the Lakeside Café, a casual coffee house with a mind-blowing view. For elegant dining with live music, dine in the Copper Room. Miss Margaret's Café will satisfy your Starbucks craving and the Islands Bar patio is the ideal place to meet your friends—or make new ones.
Website: harrisonresort.com/dining
4. The Golf
This top-notch golf course is considered one of the best-kept secrets in Harrison. Seasoned golfers will love the challenge of the course, which spans over 90 acres. With only nine holes, this course is ideal for a mid-afternoon getaway from the Resort & Spa—only 5 minutes away! Be sure to book a tee time in advance online.
Website: golfharrison.com
5. The Water Park
It's easy to see how Harrison Resort could be viewed as a secluded, romantic destination for couples, but it's also a prime place for family fun. Bounce around on the inflatable water park or rent bumper boats, equipped with electric water guns. Ten people can fit on a banana boat, which is pulled behind a speedy ski boat. Be prepared to get wet!
Website: harrisonwatersports.com/water-park
Harrison Hot Springs Resort & Spa has enough amenities to keep families and couples busy for days. While you're there, don't forget to explore the village of Harrison Hot Springs.