Victoria boasts the claim to fame of most haunted city in British Columbia – and for so many reasons. It seems you can walk around almost any corner and find another 'haunted' location. Many of the storied hauntings hail from Victoria's formative years and are set in historic manors and landmarks. Its unique gold rush boom witnessed a host of international characters arrive in the city; some who can't seem to rest in peace. Just in time for Halloween we reveal the top 15 haunted places in the city. And bonus: you can visit them all…but do you dare?
1. Bastion Square
Bastion Square is situated in downtown Victoria, on View and Government Streets. With harbour views, it buzzes with restaurants, pubs and cafes. In the summer, it hosts an artisan market and outdoor patios. But after the sun goes down, Bastion Square is known as one of the most haunted places in the city. Pretty much every building and alleyway around the square is said to have a ghost lurking in it.
The site of the old Supreme Court building was built upon the location of the city's jail and first gallows. Many of the men who were hung from the tree beside it still remain buried underneath the foundation.
The Maritime Museum is a focal point in the square, and is a favourite haunting place for Sir Matthew Baillie Begbie, "the hanging judge." The museum offers ghost tours from mid-October through to Halloween.
2. Beacon Hill Park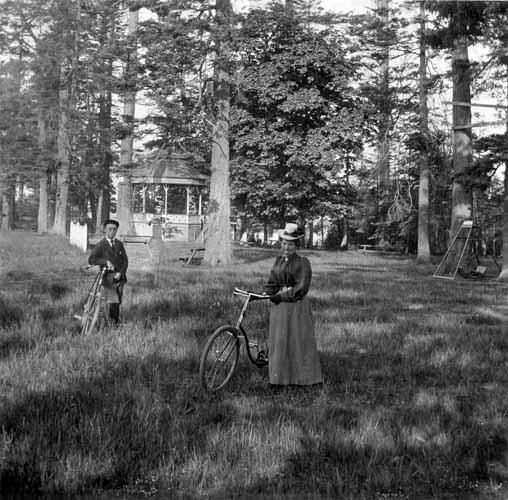 Established in 1882, this 200-acre park is the jewel of downtown Victoria. The park was named after two masts, located on a hill, that serve as a beacon for mariners approaching the city's inner harbour.
Beautiful and well groomed, with bridges, lakes, ponds and gardens, Beacon Hill Park also has a dark side. The Screaming Doppleganger is said to appear on an outcrop of rocks situated near the corner of Douglas Street and Superior Street. This is the ghost of a woman who was murdered nearby and she is often seen at sunrise.
3. Market Square
Market Square is a charming shopping experience in downtown Victoria. It's characterized by brick-and-beam buildings from the 1800s, an open-air courtyard and many unique boutiques. Don't be fooled by its pleasant present day fee. The neighbourhood was once one of vices. The ghosts that frequent Market Square are said to have been visitors of the saloons, brothels and gambling dens that once made up Johnson Street – a once-infamous red light district in Victoria.
4. St. Ann's Academy
St. Ann's Academy, located on Humboldt Street in Victoria, is a former convent school now owned by the B.C. government. This was once Victoria's first Roman Catholic Cathedral, built in 1858 and then moved and added to the school in 1886.
People have claimed to see nuns wandering the grounds in the early morning. After all, the original cemetery still remains on the grounds, and nine sisters are buried within.
Visitors have also claimed to see the ghost of Emily Carr, Victoria's famous artist and writer. Emily Carr is said to haunt several locations in the city, including her home on Government Street and the James Bay Inn.
4. Chinatown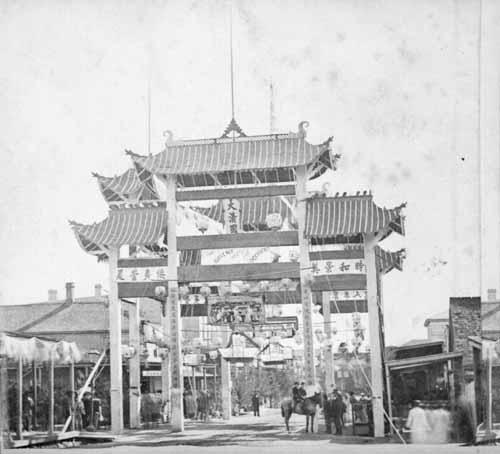 Victoria's Chinatown is well known for its ghosts and supernatural occurrences. It's rumoured there are secret tunnels, but these are only myths. The hauntings, however, are quite real. The ghost of Chung, a man who murdered his girlfriend and then fled down Fan Tan Alley, is a frequent sight. You can feel safe under the Gate of Harmonious Interest, which is decorated with symbols that are meant to drive away evil spirits.
6. Parliament Buildings
Many ghosts haunt Victoria's Parliament Buildings, a patriotic sight downtown. But the most famous haunter of all happens to be Francis Rattenbury, the architect that designed the buildings in the 1890s. Rattenbury was found murdered in his overseas home and his body is buried in an unmarked grave in England. However, some say Rattenbury continues to haunt the Parliament Buildings (his most famous work) because he craves recognition.
7. Hatley Castle

Hatley Castle sits amid Hatley Park, the grounds of Royal Roads University. The castle was completed in 1908 and currently serves as the administrative centre for the university. If Hatley Castle looks familiar then you've probably seen in film and on television. Most noteably, it was featured prominently in the X-Men series. When it's not home to mutants, it is haunted by the Dunsmuir family, who commissioned its construction.
Staff have reported some ultra spooky incidents. They include a white figure moving through the building, a woman tugging at the blankets of sleeping cadets and pots banging in the kitchen. Oh, and there's this image of an anomoly captured by a tourist.
8. Fairmont Empress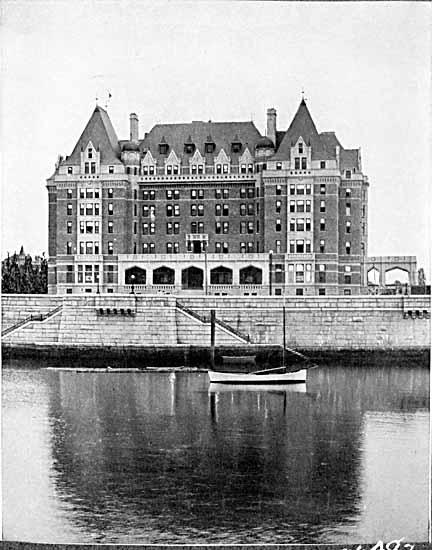 A regal sight in downtown Victoria, the Fairmont Empress is the most famous hotel in the city. Visitors have reported seeing a thin, mustached man walking the halls with a cane, and he is thought to be the hotel's architect, Francis Rattenbury. (A spirit who won't settle!) There have also been reports of a maid still cleaning long after her death, and an elderly woman, dressed in her pajamas, has been reported knocking on doors in the hotel. When guests try to help her find her room, she leads them toward the elevators before disappearing.
9. Rogers Chocolates
Rogers Chocolates, located on Government Street in Victoria, is a National Historic Site and Victoria's oldest and most haunted chocolate shop.
Charles "Candy" Rogers moved from Massachusetts to Victoria in 1885 and set up a green grocery, across the street from the current shop location. In addition to fruits and vegetables, he also sold chocolates that he had imported from San Francisco. He married Leah Morrison, a local, and since tourists and locals alike were buying up their chocolate as fast as the couple could get it on the shelves, Charles decided to start making the sweets himself. He became Canada's first chocolatier and Leah ran the storefront. Together, they established a thriving business that still runs today as a privately owned and operated retail chain.
It's rumoured that Charles and Leah still haunt the location – they often slept in the kitchen, and apparently never left. Plus, a child's hand print has mysteriously appeared on a mirror high above a door. Rather inexplicable…
10. Chateau Victoria Hotel & Suites
The Chateau Victoria sits on the site of the historic white mansion, owned by Miss Victoria Jane Wilson and her family. Soon after the hotel opened, staff reported seeing a well-dressed, old-fashioned woman sitting at the bar, now known as Clive's Classic Lounge, but she would disappear when staff tried to wait on her. Guests have also reported being delayed in the elevators, when they stop at every floor although no one pushed the buttons.
11. Craigdarroch Castle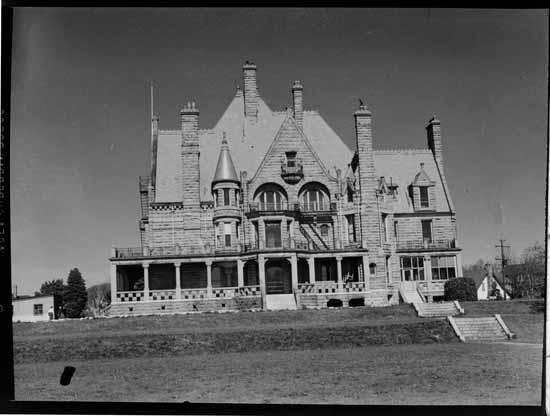 Craigdarroch Castle was built between 1887 and 1890, commissioned by Robert Dunsmuir, a Scottish immigrant who made his fortune in Vancouver Island coal. The castle sits on a hill and overlooks Victoria. Robert died in 1889, leaving his estate to his wife, Joan. The couple had two sons and eight daughters.
Although the current owners of the castle do not acknowledge that it is haunted, that doesn't stop the rumours. Visitors report seeing a little girl, as well as the apparition of a maid; a woman's feet have been seen running down the stairs, and strange music has been reported, as well. There's also this very strange story about a man ascending stairs.
12. Victoria Golf Course
Situated on Beach Drive in Oak Bay, the Victoria Golf Course is a spectacular place to play a round of 18 holes. The course was founded in 1893 and is the oldest golf course in Canada, and the second oldest in North America.
The golf course is said to be haunted by Doris Gravlin, who was strangled here by her husband in 1936. Some say Doris is the most frequently seen ghost in the city, and she tends to be seen at the golf course in April.
13. Ross Bay Cemetery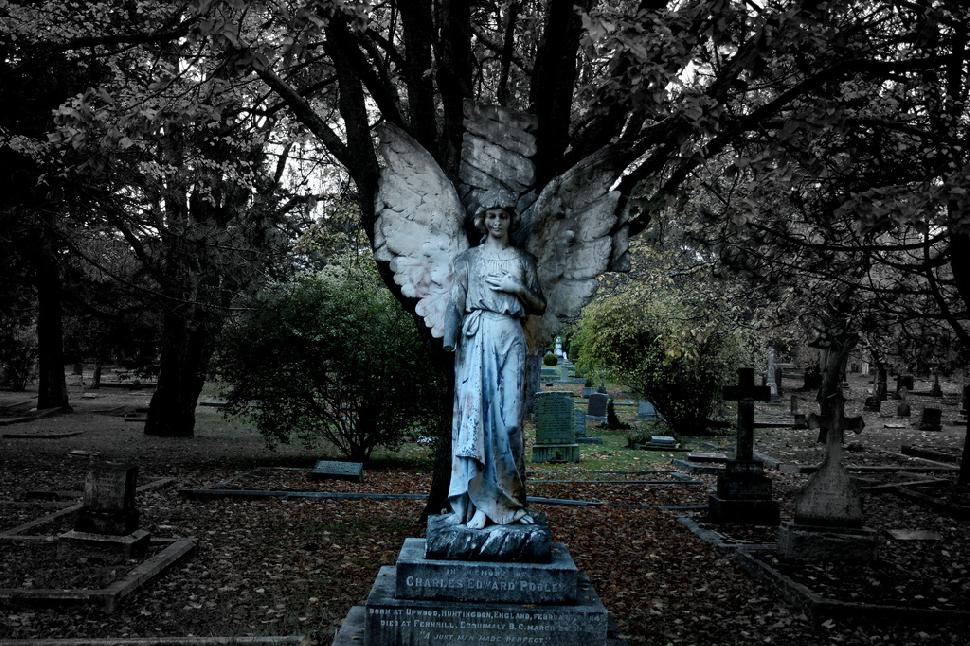 In terms of places where you'd find ghosts, a cemetery shouldn't be a surprise. Ross Bay Cemetery is beautiful, with winding carriageways, magnificent trees and plantings, graves sites with marble, sandstone and granite monuments, as well as mountain and ocean views.
The cemetery is known to have several resident ghosts, including Isabella Ross. Ross was the first woman in B.C. to own land, and her farm stood where the cemetery is now. An annual ghost tour takes place towards the end of October each year – contact the Old Cemeteries Society for more information.
14. Pioneer Square
Today, Pioneer Square is a small park that sits adjacent to Christ Church Cathedral, fronting Rockland Avenue and Quadra and Meares Streets. It was a cemetery from 1855 to 1873. Beneath the park lie 1,300 buried bodies, marked by a number of gravestones and bench tombs.
Locals report seeing ghosts – believed to be Adelaide Griffin and Robert Johnson. People have also seen a dark-haired woman in a white dress.
15. Langham Court Theatre
The Langham Court Theatre started out as a carriage house and barn at the home of Robert Ward and his family. The structure dates back to 1876. It changed hands several times before becoming the permanent home of the Victoria Little Theatre Association in 1937. The Langham Court Theatre is the name of the venue, but the Victoria Theatre Guild is the name of the society that operates it.
The theatre houses actors, actresses, workers, organizers, gardeners – and a ghost. There are varying stories about this ghost, whether she is a former stable hand or a student, but most agree the apparition is a she.
Have you ever considered these places to be spooky – haunted even?
Have you say – comment below!