Tofino's wild side with waves, sometimes gigantic, curling along endless sandy beaches, contrasts with serene rainforests punctuated by old-growth giants. I came to explore, but "What the …!" A trio of bicycles almost bowl me over while checking in at the Hotel Zed.
No question, the newly opened Hotel Zed in Tofino (joining those at Kelowna and Victoria) is eccentric, even calling itself rebellious. How was I to know it is the only hotel in the world with a bike pathway through its lobby?
We set out to explore. My wife Ally communicates with her late aunt in the psychic den. Pinballs ricochet and lights flash in the retro games arcade. We admire a Volkswagen van art installation, complete with a surfboard on top, which is made completely of driftwood. At the mini disco, we hold our ears as music blares and neon lights blaze. But the Zed also has a soft, relaxing side. A lover of the outdoors, I plan to spend time at Zed's secluded nature preserve, listening to the soothing trill and whistle of songbirds.
The Hotel Zed obviously attracts the younger set, who are captivated by the eccentric 1970s retro nature of the hotel as well as the region's vibrancy. But, as I happily discover, the Zed also caters to us older folk, especially when it comes to the gustatory pleasure of cuisine and drink.
Roar, the Hotel Zed's restaurant and bar, is fast gaining a reputation, no mean feat since Tofino bubbles over with high-end eateries. An aroma of barbecuing, herbs and smoke from open flames welcome us to Roar.
"Call me the fire starter," says executive chef Kaelhub Cudmore, pointing to his pride and joy, the only Mibrasa grill in the province.
"Roar's menu is ingredient-driven," he says, "and everything is local." He explains that wild rockfish are delivered almost straight from the boat. Naas Foods, working with Indigenous fishers, supplies Roar with fresh fish, seaweed and shellfish. Chef Kaelhub, wrapping a rockfish in seaweed along with herbs, buries it in the grill's coals. It emerges soft, tender and delicious. We quickly make our dinner choice.
The bar draws me, for it is rumoured that mixology, the fine art of cocktails, is what sets Roar apart. Dinah Kisil, the bar manager, provides the sorcery with her flair for drama, unique taste and visual art. Spurning a career in law, she turned to cocktails, deciding to become a bartender and breaking the stereotype of a profession that she says, "is populated by tattooed and bearded hipster men in suspenders and bowties."
Since then, Dinah has been making waves; OK, more like tsunamis. Before joining Roar, Dina worked at the American Bar at the Savoy in London, England, the world's best-known cocktail bar, becoming the seventh woman in 125 years to tend that bar. In Vancouver, she was mentored by a woman voted best bartender in the world in 2018.
Dinah loves to tell stories and each of the nine cocktails on the Zed menu—all created by her— has a meaning. When asked what s special about her drinks, she says, "I use local ingredients, foraging for many of them." My heart leaps when Dinah invites me to join her on tomorrow's quest for natural cocktail constituents.
In nearby Ucluelet—Ukee to locals—we enter a secluded cove at low tide. Driftwood logs are scattered among the grasses, sedges and seaweed and at the headland waves from far out in the Pacific Ocean roll in, crashing on the rocks. The fresh air and salty smell of the ocean are invigorating. Dinah and sous-chef Chad gather wild vetch, sea asparagus and Miner's lettuce under a cloudless deep-blue sky. As we forage, Dinah explains her philosophy, which contrasts with the modern outlook of consumerism and self-interest. Instead, she is a kind, caring person whose main goal she explains, "is to make a difference for the people I meet."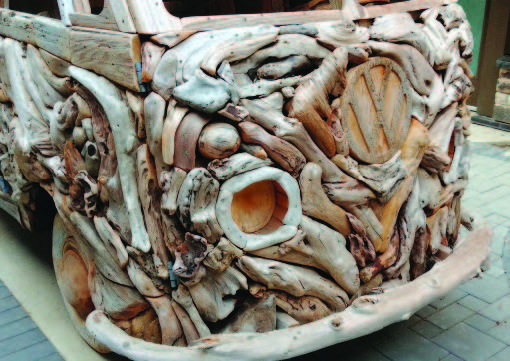 Back at the Zed, I walk to the nearby golden Chesterman Beach where surfers clad in black wetsuits cast glistening shadows in the wet sand, and a trio of colourful kites bob in a clear cerulean sky. I head for the Carving Shed at the Wickaninnish Inn, near the north end of the lengthy beach. An artist carves a polar bear design and wood chips cover the floor, creating a deep solemn quiet. Many finished carvings line one wall. A large old totem stands solemnly in the middle of the room, overlooking numerous tools and wood pieces of every size—future art pieces. The room is packed and messy but suggests a history of creativity, imagination and Indigenous culture.
Later, Ally and I sit at the Roar bar while Dinah juggles bottles and shakers preparing a Surrender to the Sea for Ally and a Lesser of Two Evils for me. Picked only hours earlier, sea asparagus garnishes Ally's cocktail, which features Seaside gin and seaweed-infused sherry softened by a watermelon liquor. "Best gin and tonic ever," murmurs Ally happily. A delicate tiny purple flower from Miner's lettuce, is a perfect, artistic contrast to the frothy egg white of my cocktail, a take-off on the pisco sour.
I close my eyes in contentment. Dina's cocktails and Kaelhub's concoctions perfectly capture both the wild, rebellious character of Vancouver Island as well as its soft, natural side.
If You Go
Hotel Zed
1258 Pacific Rim Hwy
Tofino BC V0R 2Z0
Located on the bay side with 58 rooms.
1-855-433-2323