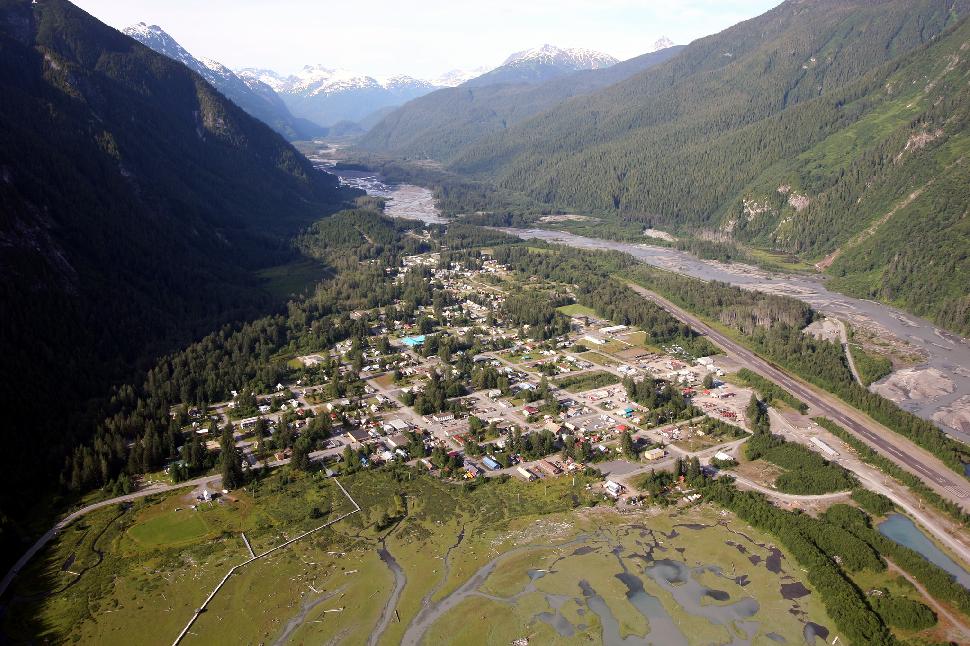 In early days, most adventurers who made their way to Stewart packed these essentials: a pick, a shovel, and a dream. Three brothers—Robert, John, and James Stewart—envisioned the remote outpost as a prosperous mining centre and port. By 1910, they were proven right. Some 10,000 people were living here, and rich deposits of hard rock gold, copper, and silver were being transported by rail to Stewart's Portland Canal, then onto world markets.
When the boom turned to bust in the late 1970s, Stewart nearly disappeared. Today, fewer than 500 people live in the community, a lonely 320-kilometre drive northwest of Terrace. Yet the Stewart brothers' vision lives on: mining continues in the area, and the Portland Canal, Canada's most northerly ice-free port, has been named a World Port. These days the rugged mountains and vast icefields that surround this isolated border community draw a more eclectic mix of visitors. Prospectors come in search of riches, but so do photographers, glaciologists, wildlife and nature buffs, and outdoor enthusiasts.
I packed my own essentials—camera, tripod, and hiking boots—and headed north to Stewart on a late summer adventure. I arrived in the early evening to an ethereal scene: waterfalls painted mountain peaks and clouds hung low under a lavender-grey sky. I walked past the brightly painted heritage buildings on 5th Avenue, looking for a bite to eat, and found Dash Mobile Bistro, a gourmet food truck in the heart of the downtown core. While waiting for my order, I chatted with chef Shawn Ackerman, who moved to Stewart in 2010 from Whistler with his partner Carly Staehlin. "People here are self-sufficient, tough, and independent, but they're also very friendly," said Ackerman. "There's a lot of civic pride. It's been a great place for us to start a business."
For its size and population, I found that Stewart offers a long list of things to do. Here are eight no visitor should miss.
1. Chill out at a glacier

Highway 37A, the only land route in and out of Stewart, is known as Glacier Highway—for good reason. Bear River Glacier dominates the landscape about 38 kilometres from Meziadin Junction and Highway 37. I was able to pull over directly across the road from the glacier, which glows blue at night, and its terminus, the ice-strewn Strohn Lake.
Viewing Salmon Glacier, the fifth largest in Canada, takes considerably more effort. A four-wheel drive vehicle and nerves of steel are prerequisites for the long ascent on an unmarked mining road. But the rough-and-tumble 1.5-hour drive is well worth the effort.
The first views of the glacier, the largest in the world accessible by a roadway, presented themselves about 37 kilometres northeast of Stewart. The rough track was originally built for the Granduc copper mine, which operated here via a 17-kilometre underground tunnel from 1931 to 1974. It zigzags across the international border several times, though the glacier lies within British Columbia.
Several pullouts offer panoramic photo ops of the icefield en route to the parking lot at the summit (watch your step when admiring the spectacular views; there are no guardrails). Copies of the Salmon Glacier Self Guided Auto Tour are available at the Stewart Visitor Centre.
2. Haunt a ghost town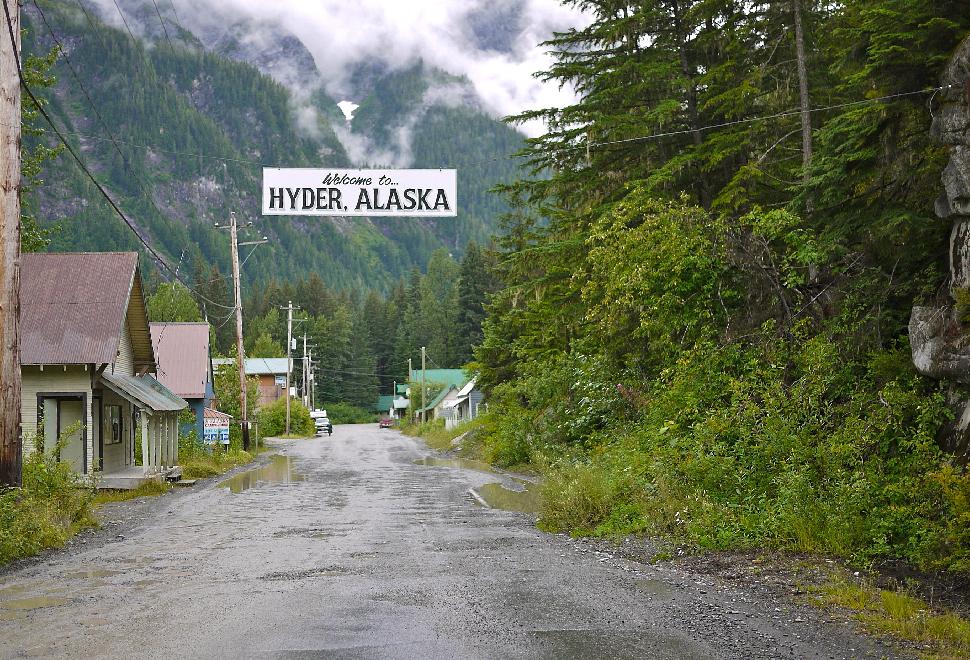 It has a Canadian area code. It draws electricity from B.C. But visitors need passports to visit the Alaskan community of Hyder, population: about 60. Like Stewart, Hyder once prospered from a gold and silver boom, but a devastating fire here in 1928 destroyed most of the town's structures.
Today Hyder, situated about three kilometres from Stewart, is described as the "friendliest ghost town in Alaska." Once I crossed the border into Alaska, the pavement dissolved into a dusty main street, lined with a handful of rapidly deteriorating storefronts. There's a post office, general store, hotel, and a couple of bars here, all with a distinctively American flavour. The two communities share municipal services, including a chamber of commerce and even a police force (the Stewart RCMP answer calls in Hyder), but I still had to show my passport on my return to Canada.
3. Watch grizzlies fish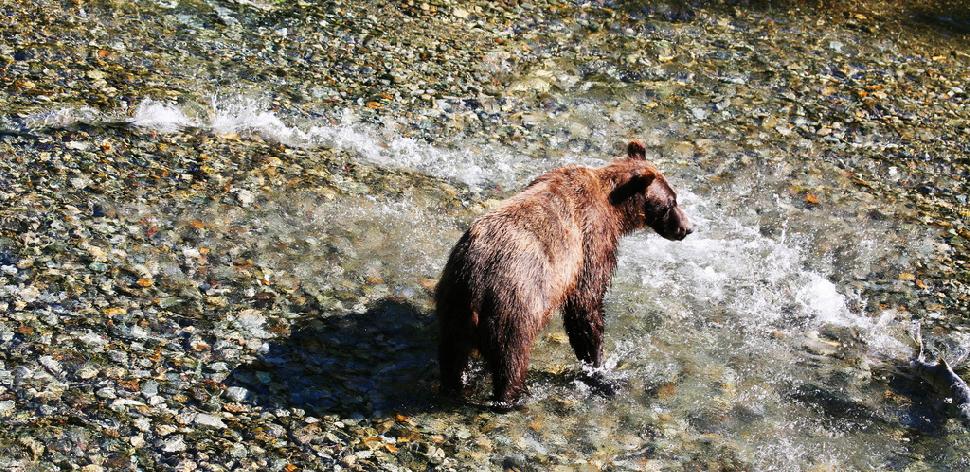 A few kilometres past Hyder, a roadside attraction pulls cars and campers off the road like a powerful magnet. The Fish Creek Wildlife Observation Site is a day-use recreation area operated by the USDA Forest Service where visitors can observe grizzly and black bears as they fish for chum and pink salmon.
It was raining softly as I padded across the raised boardwalk and joined a group of photographers. I trained my camera lens on a black bear and her cubs. When a lone grizzly bear lumbered into the creek, the sow and her offspring exited into the forest. For about an hour, I watched the hungry bruin dip his paw into the water, palm a salmon, then retreat to the bank of the creek to eat it.
4. Eat (like) a king
For its size, Stewart offers an abundance of restaurant choices, from fine dining options to pizza and beer. I perked up when I saw a sign in the window of the King Edward Hotel: "Steamed Alaskan King crab dinner, $49.99." Down on the south coast, we're accustomed to Dungeness crabs. They're delicious and lean, but cracking apart their spindly legs for the crabmeat can be more of a workout than a reward.
I treated myself to the full dinner, with potatoes, vegetables, and one glorious pound of the steamed northern delicacy, dipping each sweet morsel into melted garlic butter. Bitter Creek Café, just up the street, also offers Alaskan king crab on its menu.
5. Stroll the estuary boardwalk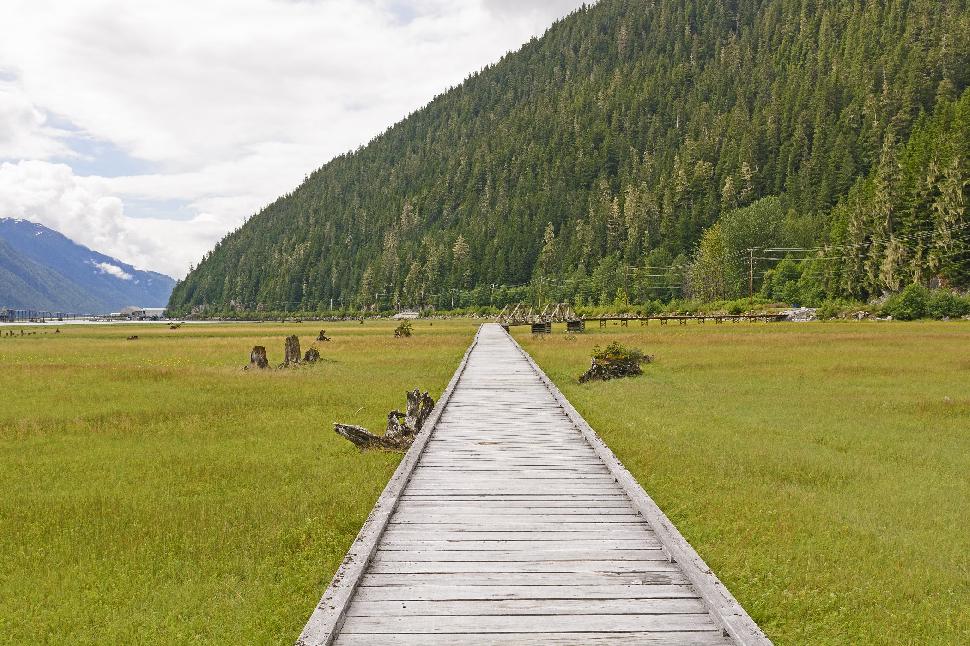 Stewart sits at the head of Portland Canal, a 114-kilometre-long fiord with a significant history that is also recognized as Canada's most northerly ice-free port. Though few traces of Aboriginal occupation remain today, Nass River nations once hunted and harvested berries in this area. Captain George Vancouver also surveyed the canal, naming it in August 1793. Today, the precious estuary ecosystem at the head of the canal can be explored via an 805-metre-long raised boardwalk that begins behind the Visitor Centre.
6. Sleep in a former brothel
Frank Kamermans, local businessman and president and CEO of Mountain Boy Minerals, restored many of the heritage buildings in Stewart, including those that comprise his Ripley Creek Inn complex. One of the homes, Gunanoot Place, has a particularly colourful past: it was a brothel in the 1930s. Now the small clapboard house is a quiet retreat for families, offering a kitchen, living room, and two comfortable guest suites, all overlooking the mountainous mouth of Portland Canal and the expansive, green estuary.
7. Go back in time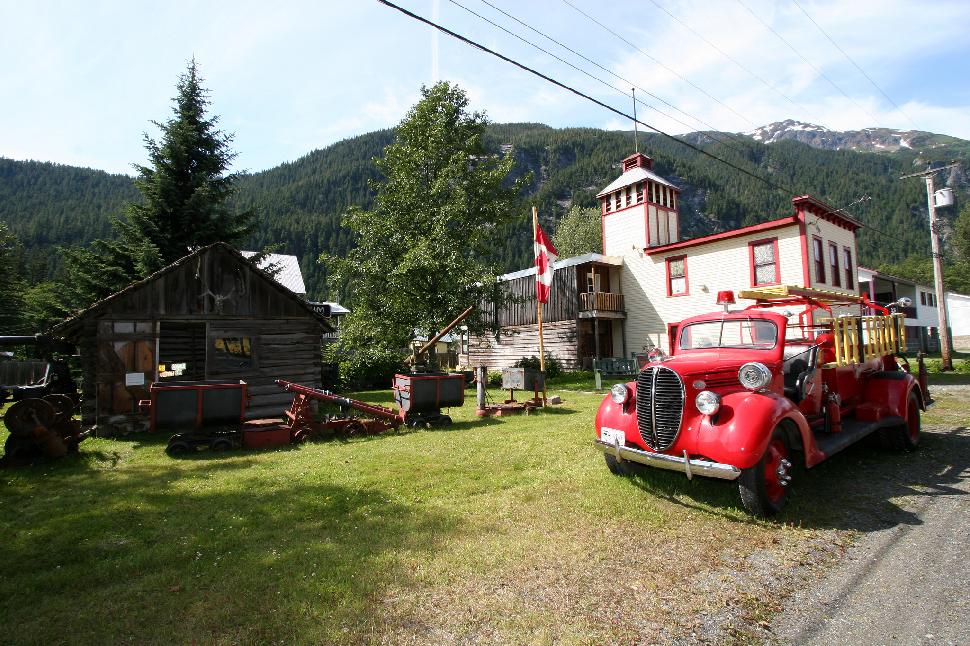 View artifacts from the town's rich mining history at the Stewart District Museum, including an oversized two-person chainsaw, a M74 avalanche gun, and photographs from the area's three largest mines, Granduc, Silbak Premier Mine, and the Big Missouri Mines. Other exhibits at the museum include displays related to the four major motion pictures filmed in the area: Insomnia (2001); Bear Island (1978/'79); The Thing (1981); and Leaving Normal (1992), as well as snowshoes worn by a horse.
Pick up the Walking Tour of Historic Houses and Buildings in Stewart to learn more about significant structures. Don't miss Frank Kamermans's peculiar Toaster Museum, a collection of hundreds of vintage toasters and other breakfast appliances, now on display at The Rookery restaurant.
8. Stretch your legs
Hike through history on one of the area's many trails. A short, easy trail on the Stewart side of the border follows the original rail bed leading out of town, then climbs the historic sluice box for another 750 metres to "Barney's Gulch." There, the trail splits into two. Left takes you another 900 metres up the gulch to a waterfall; right leads you down to a picnic table and a viewpoint of Stewart and the Portland Canal.
The Titan Trail, near Hyder, is a moderate-to-difficult 7.7-kilometre trek that follows an old mule trail to the historic Titan Mine site. Drive north of Hyder for 6.8 kilometres along the Salmon River Road to the trailhead on the right-hand side of the road. For more trails, lookouts, and recreation sites, pick up a map at the Stewart Visitor Centre.
Getting there
The community of Stewart sits at the head of Portland Canal on the British Columbia- Alaska border, a 1,500-km drive from Vancouver. Or fly from Vancouver to Terrace, the nearest city centre, then drive northwest for 320 km. Note: Black and grizzly bears are frequently sighted in the area. Be bear aware (bearaware.bc.ca)
Info
Eat
Dash Mobile Bistro, 515 5th Avenue (dashbistro.com). Food truck with covered deck offers gourmet eats and treats (and the best cheeseburger you'll ever taste). Open from May 23 to October 15.
The Rookery/Toaster Museum Cafe, 313 5th Avenue. Serving tasty, creative breakfast and brunch selections with local produce and fresh, free-range eggs.
Bitter Creek Cafe, 311 5th Avenue (250-636-2166). Casual fine dining surrounded by antiques and vintage photographs in the historic Bayview Hotel. Summer only.
King's Table Dining Room, King Edward Hotel, 405 5th Avenue (250-636-2244). Traditional eatery, best known for its nightly Alaskan king crab dinner.
Sleep
Ripley Creek Inn (250-636-2344). Upscale, 17-room inn adjacent to an estuary, offering rooms in a main lodge of a restored heritage building.
The King Edward Hotel & Motel, 405 5th Avenue. (250-636-2244) kingedwardhotel.com. Basic accommodation; motel rooms offer kitchenettes.
Rainey Creek Municipal Campground (250-636-2537). Grassy tent sites in a forested setting adjacent to a salmon stream; electric hookups for RVs. Walking distance to downtown.
Have you ever visited Stewart?
Tweet us a picture or show us on Instagram (use #ILoveBC)